Robert Mueller Ignores Rudy Giuliani's Threats to End Trump-Russia Investigation Before Midterms Deadline
Special counsel Robert Mueller is continuing his probe into Russian interference and possible collusion with the Trump campaign in the 2016 election despite a claim by President Donald Trump's lawyer Rudy Giuliani that the deadline to close it has passed.
Giuliani has stated for weeks that based on Department of Justice guidelines, last Saturday, September 1, was the cutoff for Mueller to complete his investigation before it could affect the outcome of midterm elections taking place on November 6.
"I always thought that was the day to make some decision," Giuliani said in an interview, according to Bloomberg on Tuesday.
However, Mueller has not responded to Giuliani's demand, and continues his probe.
Newsweek subscription offers >
Furthermore, Giuliani's claim may be baseless.
"The whole idea that there's this magic deadline is ridiculous," Mimi Rocah, a former federal prosecutor for the U.S. attorney's office in New York told Bloomberg.
Giuliani was referencing a 2012 policy memo that former Attorney General Eric Holder issued stating that "prosecutors may never select the timing of investigative steps or criminal charges for the purpose of affecting any election."
The policy is under review by the Justice Department. "Several department officials described a general principle of avoiding interference in elections rather than a specific time period before an election during which overt investigative steps are prohibited," a July report by the department's inspector general states.
No determination has been made as to whether it should be updated, two people familiar with the issue told Bloomberg.
Giuliani, who is against Trump doing a sit-down interview with Mueller because he suspects it could be a trap for committing perjury, also said that such an interview would be "out-of-bounds" and that Mueller would have to subpoena Trump to interview him.
"If he subpoenas us he sets off a legal battle right before the election," Giuliani opined. "I don't think he is going to do that."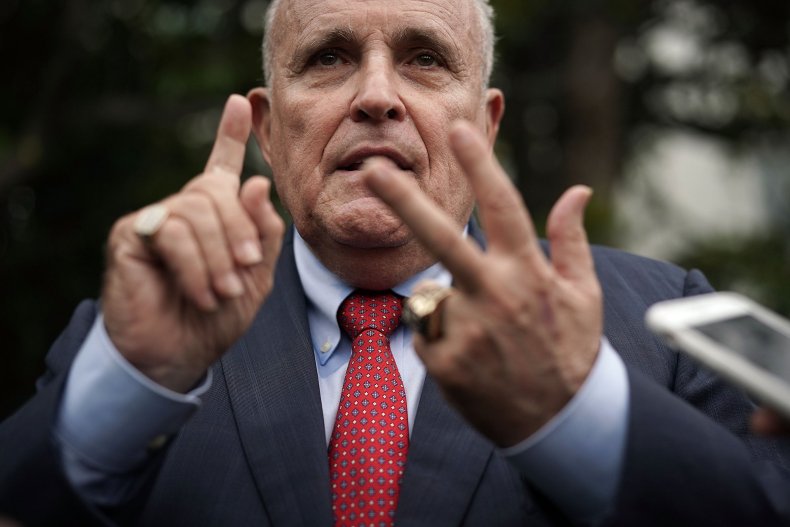 Giuliani has made various claims on television that have been undercut by the president and other Trump administration members. Last month, while arguing that Mueller was attempting to get Trump to commit perjury, he said, "truth isn't truth." Giuliani later clarified his remark.
John S. Martin, who preceded Giuliani as U.S. Attorney and became a federal judge, told The New Yorker in a story published Monday that Giuliani is "making arguments that don't hold up" and that "he's not looking anything like a good lawyer today."
Giuliani recently claimed he and the rest of Trump's legal team may invoke executive privilege to prevent Mueller from releasing the final report of his investigation.
Robert Mueller Ignores Rudy Giuliani's Threats to End Trump-Russia Investigation Before Midterms Deadline | U.S.