Robert Mueller Hearings Had Lackluster Viewership, Millions More Watched James Comey and Brett Kavanaugh
The ratings are in and Robert Mueller's 7-hour marathon testimony to the House Judiciary and Intelligence Committees didn't enthrall the American people in the way Democrats might have hoped it would.
About 13 million Americans watched the hearing, on average, according to statistics released by Nielsen. That falls way short of the 16 million eyeballs Trump's former, now imprisoned, lawyer and fixer Michael Cohen drew in this February and the 19.5 million who tuned into former FBI Director James Comey's Congressional testimony in June of 2017.
Topping all of the hearings on the Hill as of late was Supreme Court Justice Brett Kavanaugh's confirmation hearing last year: 21 million Americans watched that (Dr. Christine Blasey Ford, who also testified, was likely an additional draw).
When it came to Mueller's testimony, Fox News Channel led the way for daytime television viewership during the Wednesday hearings with an audience of 3.03 million. Fox News beat the second-most viewed channel, MSNBC, by 26 percent. ABC came in third, followed by CBS and NBC.
Nielsen ratings do not count online streams, so the number of Americans who watched the hearing live is probably quite larger than 13 million.
But it's likely then that the majority of TV viewers watching Mueller testify were partisan, tuning into either Fox News or MSNBC, whichever backs their leaning. The viewership also skewed conservative, in addition to edging out MSNBC, Fox News viewership beat CNN by more than 100 percent.
In the lead up to the Mueller hearing, Democrats had lofty dreams that the special counsel who investigated Russian meddling in the 2016 presidential elections and possible obstruction of justice by President Donald Trump would forcefully change people's opinions of the president. This, according to pundits on the left, could be akin to the 1973 Watergate hearings that helped uncover former president Richard Nixon's crimes and swayed public opinion dramatically.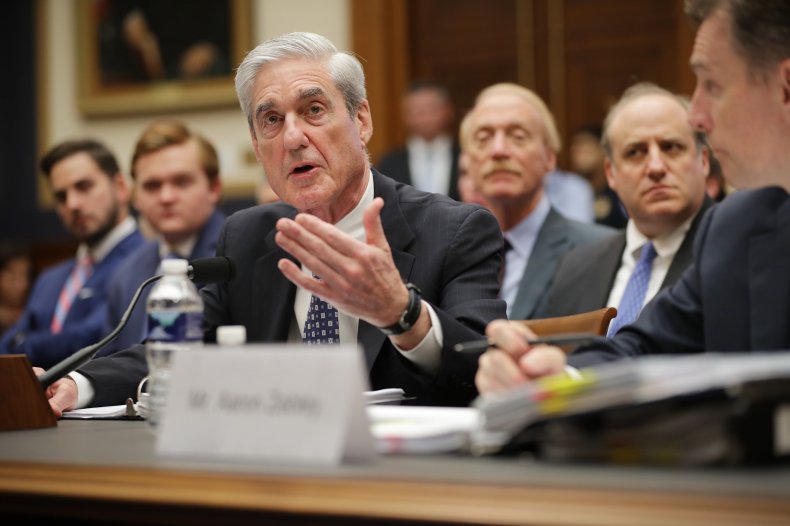 But Mueller's testimony was dry, he often referred Representatives to the 400-plus page report he wrote from his investigation, and deflected nearly 200 answers.
"If you showed up expecting a Broadway show, sure, you may have been disappointed," Democratic Congressman and former 2020 candidate Eric Swalwell said Friday.
Still, Democrats got the sound bites they wanted out of the now-retired FBI director.
House Judiciary Committee Chair Jerry Nadler began the trial with a bang, asking, "Did you totally exonerate the president?" Mueller simply responded, "no." That one word answer refuted the Republican talking point that the president had been fully exonerated and that Mueller had found no evidence of collusion or obstruction.
Mueller also issued stern warnings about Russian agents seeking to influence future elections. "They're doing it as we sit here and they expect to do it during the next campaign," he said. Mueller also noted that future political campaigns may ask foreign adversaries for dirt on their opponents. "I hope this is not the new normal, but I fear it is," he said.
This story has been updated to reflect revised Nielsen rankings.