Robert Mueller Has Finished His Report—Here's What Happens Next and When the Public Will Actually See It
Special counsel Robert Mueller has concluded his investigation into Russian meddling in the 2016 election and submitted his report to the Justice Department for review by Attorney General William Barr.
President Donald Trump said this week that he had no problem sharing the final document with the American public, but we won't get to see the report right away. Here's what happens next.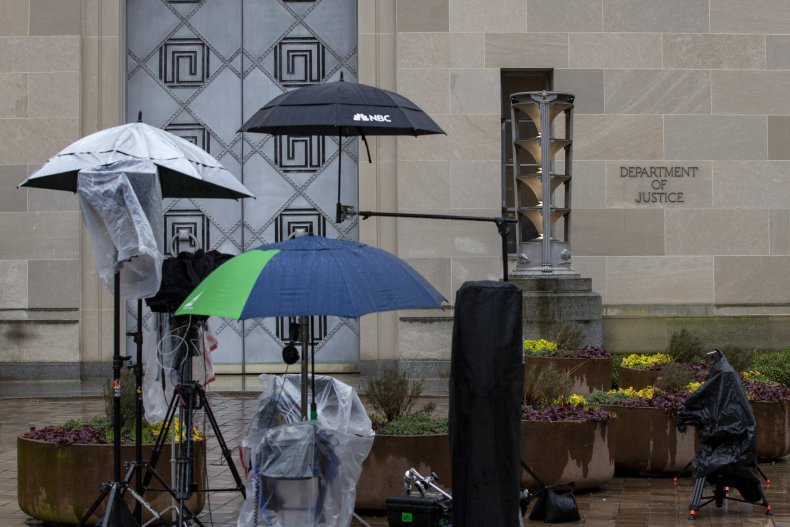 When Will We Be Able to See the Full Report?
This isn't yet clear, or guaranteed.
Barr, who has overseen the investigation, has said he wants to release as much information to the general public as possible, but he will ultimately decide and likely write the memo that the public sees. That means that what we end up reading will be in his words, not Mueller's, Barr said during a hearing last month.
For now, Barr said in Friday's letter to Congress that he is currently "reviewing" Mueller's report and he "may be in a position to advise [them] of the Special Counsel's principal conclusions as soon as this weekend."
From there, it will still be up to Barr if and when the public sees this information, if at all.
What Will Be in Barr's Memo?
Barr said that there will likely be two reports in the end, a confidential version meant for high-ranking Department of Justice officials and another for ranking members of the House and Senate Judiciary committees and the public. The level of detail in the congressional memo is also unclear, as Barr is only required by law to tell Congress that the investigation has concluded and describe any situations in which he believed Mueller's recommendations were unwarranted and were not pursued. His Friday letter stated that there were "no such instances."
The report could also be pretty short. The Department of Justice only requires that Mueller submit a report that explains whether he recommends or does not recommend pursuing prosecutions and give his reasoning.
Will We Hear From Mueller?
It seems unlikely that Mueller or Barr will hold a press conference with the information or the results of the report, but Congress could attempt to subpoena Mueller and his report.
House Judiciary Chairman Jerrold Nadler, a Democrat, has suggested that he might try to do just that. House Intelligence Committee Chair Adam Schiff, also a Democrat, has said that he will attempt to subpoena all of the information that went into the report, including interview transcripts.
President Donald Trump, however, has purview over the Department of Justice and could direct them to refuse the subpoena, if he so wishes.
Is Impeachment Coming?
It's very, very unlikely. House Speaker Nancy Pelosi and Senate Minority Leader Chuck Schumer have made it pretty clear that unless the findings of this report are shocking, they will not pursue impeachment of President Trump. And from everything we've heard so far, they won't be.