Robert Mueller Shoots Down Conspiracy Theory Peddled by Donald Trump that CNN Was Tipped Off About Roger Stone Arrest
Donald Trump and his longtime adviser Roger Stone have repeatedly accused CNN of being tipped off before Stone's televised arrest last month, but special counsel Robert Mueller has refuted their claim.
"The Special Counsel's Office is aware of no information indicating that reporters were given any advance knowledge of a possible indictment from the Special Counsel's Office," Mueller's team wrote in a court filing on Friday.
The office added that Stone provided "no information to contradict the public statements" of CNN, in which the media organization said it had no prior knowledge that the arrest was going to take place.
Stone was arrested by the FBI in his Florida home during a predawn raid on January 25. He was indicted on seven counts in connection with Mueller's ongoing investigation into Russia's election meddling in 2016 and possible collusion with the Trump campaign. The charges against Stone involve obstruction of justice, witness tampering and five counts of making false statements.
The early-morning arrest was caught live on camera by CNN reporters, prompting some to speculate how the news organization knew that the raid was going to happen. Fox News and conservative media outlets have accused CNN of being tipped off by the special counsel prior to the arrest.
"Of course CNN talked to Mueller's people before the raid. There was never any doubt about that," Fox's Tucker Carlson said after the arrest, without providing any evidence for the claim. "All the barking aside, Mueller wanted the raid on Roger Stone's home caught on tape and publicly aired as a warning to other disobedient witnesses about what can happen to you if you step out of line."
According to CNN's David Shortell, reporters had noticed grand jury activities in Washington, D.C., the night before and on a journalistic hunch thought that something was likely to happen at the Stone residence.
Trump responded to the arrest just hours after it occurred, writing on Twitter that Mueller's Russia investigation is the "Greatest Witch Hunt in the History of our Country! NO COLLUSION!" The president also wrote that "Border Coyotes, Drug Dealers and Human Traffickers are treated better" than Stone.
He also pushed the false narrative further, writing in the tweet: "Who alerted CNN to be there?"
CNN tweeted back at the president, writing that its "ability to capture the arrest of Roger Stone was the result of determined reporting and interpreting clues revealed in the course of events. That's called journalism. #FactsFirst."
Stone urged a federal judge last week to order Mueller's office to prove that it did not tip off CNN about the indictment.
Meanwhile, Stone's wife, Nydia, has been raising money from the CNN controversy. According to the Associated Press, she has used Newt Gingrich's email distribution list, which includes roughly 250,000 addresses, to request contributions to her husband's legal defense.
In the email, Nydia Stone described the raid as "terrifying" and claims that her husband is facing "fabricated" charges that prosecutors are using to try to get him to turn on the president. She wrote that they are seeking donations for what could be a $2 million defense.
Earlier this week, a federal judge placed a gag order on Stone after he posted an inflammatory photo of the judge on Instagram. Stone has had multiple prime-time interviews since his arrest. He even starred in a video about how to dress for a court appearance.
"I abused the order, for which I'm heartfully sorry," he said in court about the photo. "I'm kicking myself over my own stupidity."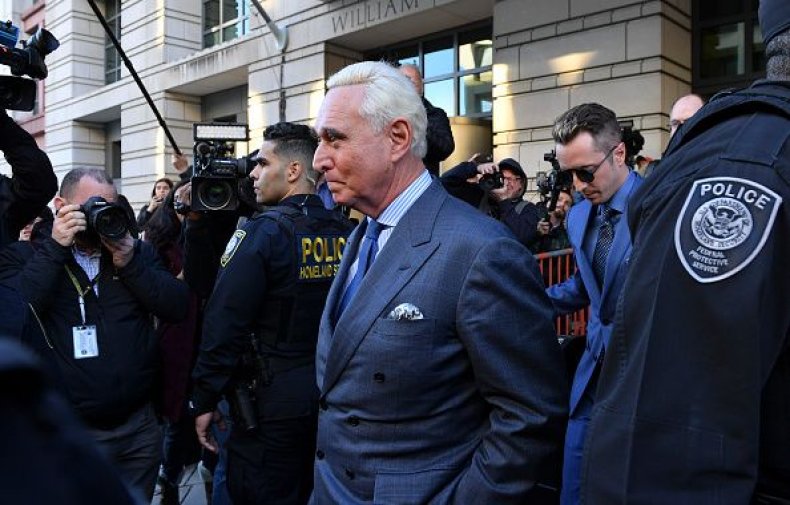 Correction (02/22/19, 5:50 p.m. ET): An earlier version of this story incorrectly labeled Fox News as conservative media. While they have many conservative-leaning hosts, this is not reflective of the network as a whole.