'Robert Mugabe Has Destroyed the Dreams of Generations:' Zimbabwe's Protesting #ThisFlag Pastor, One Year On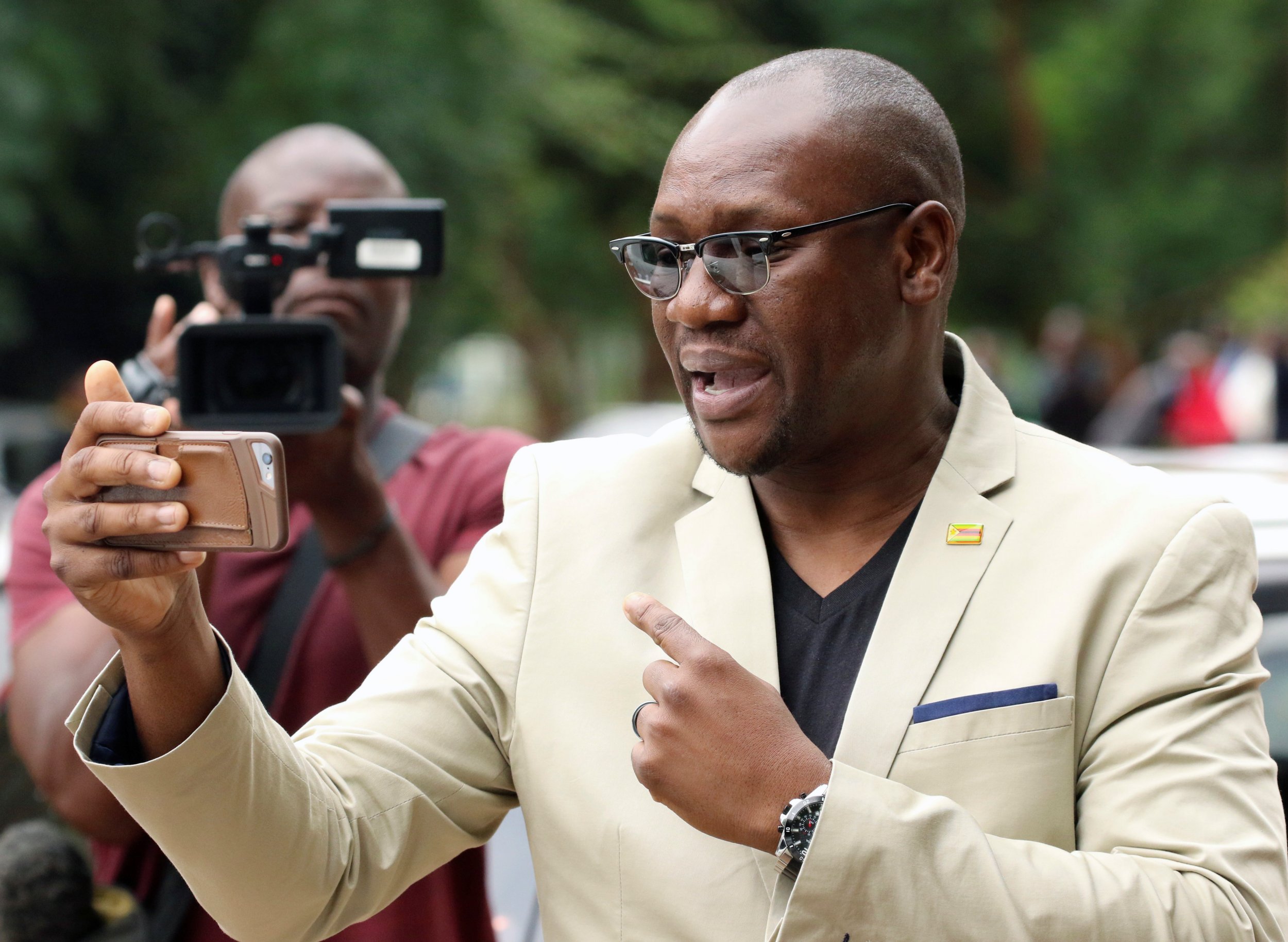 Zimbabwe's Evan Mawarire has had a tough year.
Enraged by the dire economic situation in his country, the 40-year-old pastor from the Zimbabwean capital Harare released a homemade video in April 2016. Draped in the country's flag, Mawarire lamented the state Zimbabwe found itself in and the leadership vacuum created during President Robert Mugabe's 37 years in power.
That video fueled a social media campaign—#ThisFlag—that in turn inspired widespread protests and a national shutdown in July, the biggest protest for a decade in Zimbabwe. Police arrested Mawarire and charged him with treason; he was released following a public outcry, and fled to neighboring South Africa and then to the United States for safety. But in February, the protesting pastor returned to his homeland, where he was arrested upon arrival.
But Mawarire remains uncowed. "The fear is there—that you could get arrested, that you could get abused and you could get abducted like people have been abducted in Zimbabwe before and we've never known what's happened to them. But the hope of a Zimbabwe that is better is a stronger force than the fear of retreating and leaving it as it is," the pastor tells Newsweek at the Oslo Freedom Forum, a conference for human rights activists in May.
Read more: This new party in Zimbabwe wants to mobilize the diaspora to get Mugabe out
It's unlikely that Mawarire's troubles in Zimbabwe are over. Though a court freed him on bail in February, Mawarire is facing charges of subverting a constitutionally-elected government, which carries a maximum penalty of 20 years imprisonment. Mawarire has previously said he fears a similar fate as others who have spoken out in Zimbabwe, such as Itai Dzamara, a journalist and friend of Mawarire's who disappeared in March 2015 following criticism of Mugabe and hasn't been seen since.
And with Zimbabwe preparing for its next general election in 2018, Mawarire could find himself facing even further scrutiny—and vitriol from the government—if he decides to run for president.
"I haven't yet made the decision whether I'll run in the elections or not," says Mawarire, who is keen to emphasize that change in the southern African country must come from a grassroots movement, not a political figurehead. But it's clear that should his supporters continue to call for his candidacy, he would find it difficult to say no. "Me deciding to run for president shouldn't make a difference in anyone's mind [about] what comes first. It's Zimbabwe that comes first. Having said that, I do strongly believe it is time for Zimbabwe to have some fresh ideas, fresh legs," he says.
Mawarire's rise in Zimbabwe comes at a time when Zimbabweans are disgruntled by living standards in the country. High unemployment, widespread poverty and government corruption have all contributed to making life miserable for many citizens. Economically, Zimbabwe is facing huge challenges: It has had no national currency since 2009, when the Zimbabwean dollar collapsed under massive hyperinflation; and a crippling lack of foreign exchange—Zimbabwe has at least nine currencies in use—has led to the reserve bank printing its own money. Bond notes, as they are known, have no value outside Zimbabwe, and while the reserve bank has said they will retain a 1:1 ratio with the U.S. dollar, traders are reportedly now offering to convert bond notes into real dollars at premiums of up to 30 percent. The economy shrank by 0.3 percent in 2016 and is likely to contract by 2.5 percent in 2017, according to the International Monetary Fund.
"There is no cash in the banks, there is no investment coming into the country, there is no employment, there is no industrialization happening in the country," says Mawarire. "We have gotten to that point once again, like [in] 2007-08 when we're about to fall off the cliff."
The popularity of Mawarire and other social media campaign calling for action in Zimbabwe—#Tajamuka, which means "Let's Act," is another hashtag that has gained traction—may be partly a result of political stagnation in Zimbabwe among the opposition, as well as the government. Mugabe's two main challengers in the 2018 election, Morgan Tsvangirai and Joice Mujuru, have both been on the political scene for more than three decades each. Both have also been tainted, by some degree, by association with Mugabe: Tsvangirai served as prime minister in a coalition government from 2009-2013, while Mujuru was known as Mugabe's "daughter" before being dismissed from the ruling ZANU-PF coalition in 2014 following accusations that she was trying to overthrow the president.
Tsvangirai and Mujuru have recently pledged to form a grand coalition to challenge Mugabe. Asked whether he would be willing to collaborate with them, Mawarire is non-committal. "Anyone who is working for Zimbabwe is an ally, so whether you are Joice Mujuru or Morgan Tsvangirai or anybody else—if your heart is for Zimbabwe, to the point that you will disown corruption and that you will work hard to abolish injustice and you will work hard to take away the poverty, then you are an ally," he says. But Mawarire makes it clear he has so far been reluctant to work with established political parties "because the citizens need to be aware that it's possible to bring change" without doing so.
Mawarire and other protesters are motivated by sheer fatigue with Mugabe. The 93-year-old president— the world's oldest non-royal head of state —is the only leader Zimbabwe has known since independence in 1980. While Mugabe's ZANU-PF is, in many parts of Zimbabwe, synonymous with the state, the veteran leader has suffered rebellions from prominent war veterans —who hold a privileged position in the country—as well as factional infighting in his own party as potential successors position themselves to strike in the case of his eventual demise. Mugabe's rule has also brought a climate of repression to the country: A 2017 Afrobarometer survey found that while 32 percent of respondents approved of the president's work over the previous 12 months, 62 percent felt "not at all free" to speak out against Mugabe.
Yet speaking out is precisely what Mawarire intends to continue doing. Asked what he thinks Mugabe's legacy will be when the president finally retires or dies, Mawarire is as scathing as he is mournful. "Robert Mugabe will be remembered as somebody who could have built ZImbabwe into being a proud nation," he says, "but instead will be remembered as somebody who presided over the destruction of the dreams of many generations."