'Why Do Whites Still Have Power in Your Country?' Zimbabwe's Robert Mugabe Taunts South Africa Over Nelson Mandela Legacy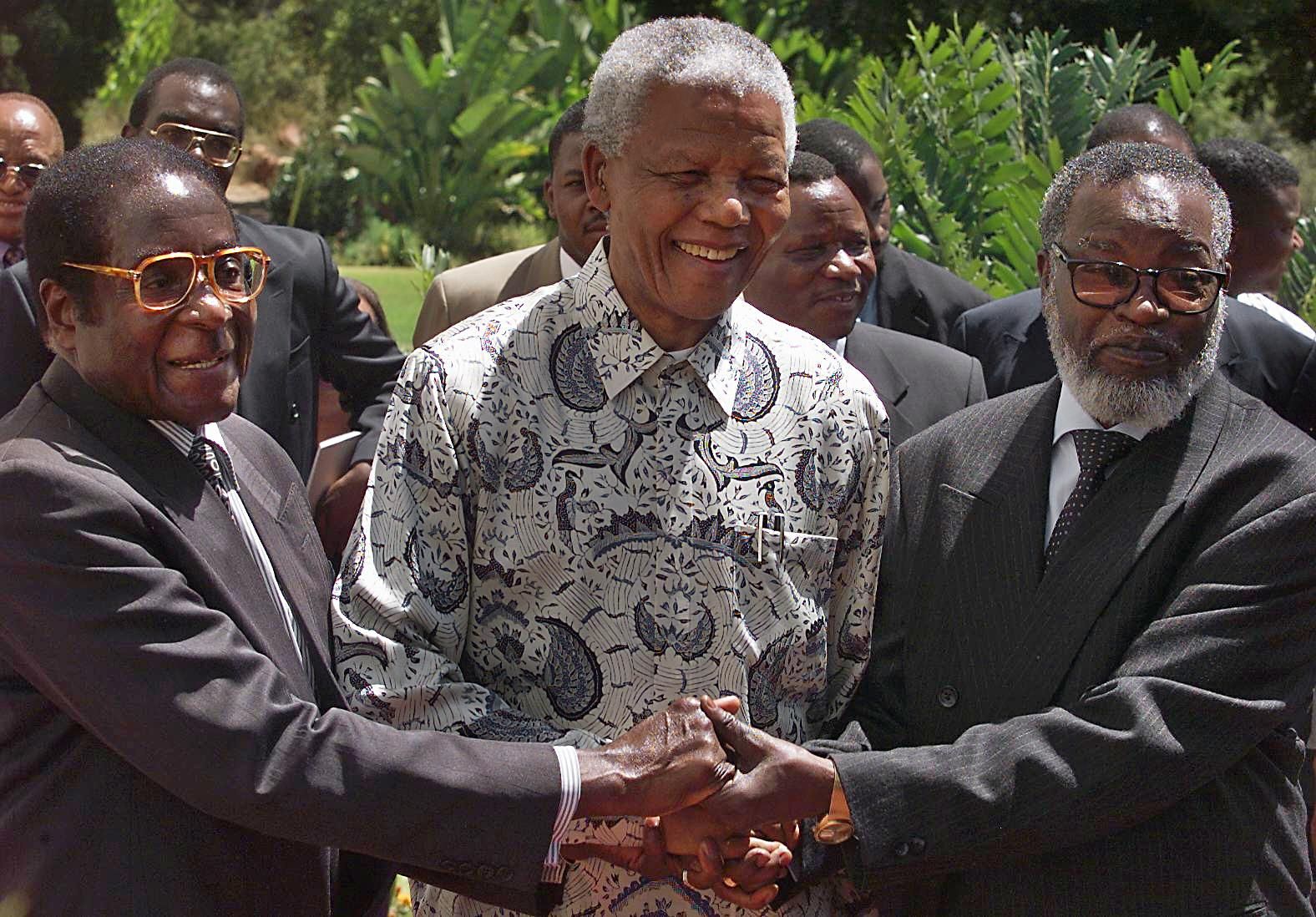 Zimbabwe President Robert Mugabe attacked South Africa over the weekend for affording white people too much power and pointed the finger of blame at Nelson Mandela, the country's first black president.
Mugabe, 93, spoke Saturday at the funeral of two former members of Zimbabwe's ruling ZANU-PF coalition in Harare, Zimbabwe's capital.
South Africa abandoned apartheid, a system of enforced racial segregation and white-minority rule, in 1994, when Mandela, then president of the African National Congress (ANC), was elected as president for South Africa's first multiethnic government. But racial inequality remains a hot-button issue in South Africa.
"I asked one of the ANC ministers, 'How come whites have been left with so much power [in South Africa]?'" Mugabe said Saturday, South African news site eNCA reported. "And he said it was because of your friend Mandela. He is the one who made mistakes."
Related: Grace Mugabe calls on followers to "respect women" after fleeing South African assault allegation
Speaking about Mandela's role in negotiating an end to apartheid with F. W. de Klerk, then president of South Africa, Mugabe said Mandela had insisted on carrying out the negotiations alone.
"He said to everyone, 'Go back home, and I will go alone.' Yes, he might have been a lawyer, but support was needed," said Mugabe.
The Zimbabwean leader has been in power since 1980, when the country became independent from its British colonizers. Mugabe fought in the liberation war and frequently uses incendiary rhetoric and tactics toward the country's white minority.
Mugabe sanctioned a controversial land reform program in 2000 that saw squatters and ZANU-PF loyalists remove white farmers from their land in Zimbabwe, sometimes with violence. Several white farmers were killed as a result of the land reform program, but Mugabe recently said that their killers would not be prosecuted.
Mugabe, the world's oldest serving head of state, has also pledged to redistribute land held by the remaining white farmers in Zimbabwe to the country's youth.
South Africa has had only black presidents since the end of apartheid in 1994 and the influx of black citizens has increased massively in recent decades. But according to data from the last census in 2011, white South Africans still earn six times more than their black counterparts. Unemployment is also six times higher among blacks than whites.
Racial tensions regularly boil over in South Africa, where blacks make up a 79 percent majority and whites a 9 percent minority. A South African court convicted two white farmers last week of attempted murder and kidnapping after they beat a black man and forced him to get into a coffin in an incident that was captured on video.