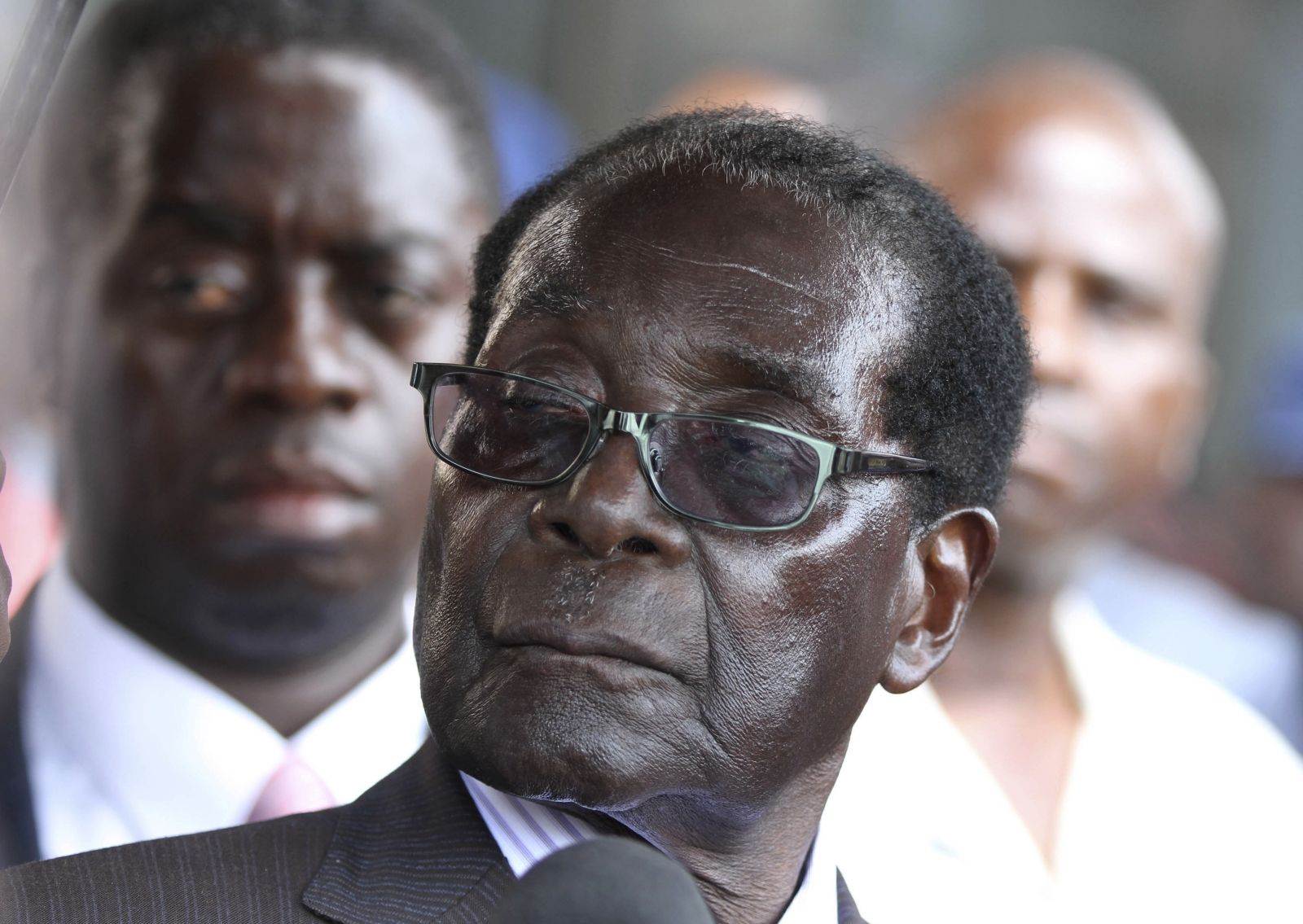 HARARE (Reuters) - President Robert Mugabe on Friday said veterans of Zimbabwe's independence war had indicated they wanted him to retire and he would consider it if they asked him directly.
Mugabe, at 92 Africa's oldest leader, pointed out however that others had tried to push him out in the past and failed.
He told supporters at a rally in Bindura, north of Harare, that leaders of the Zimbabwe Liberation War Veterans Association (ZLWVA) were pushing for him to step down.
Mugabe, himself a war veteran and patron of the ZLWVA, said the organization would hold a "frank" meeting with him in the first week of April, where the veterans should freely express their views.
"They have this thinking that the president has overstayed and should go. So war veterans come to Harare ... so that we can discuss this. No one should intimidate anyone," Mugabe said in his native Shona language.
"We will be saying: speak your mind. I will leave if that's what you want. It has to come through the party. But will that help you at this moment?"
Friday's comments are likely to be met with scepticism, coming from a man who has ruled Zimbabwe since independence from Britain in 1980.
War veterans have been key to the veteran leader's re-election at polls since 2000.
Last month police fired tear gas and water cannon to disperse veterans who had planned a march on ZANU-PF's headquarters, amid tussles between party factions over who should succeed Mugabe.
Zimbabwean media has quoted ZLWVA chairman Chris Mutsvangwa, fired from the cabinet by Mugabe two weeks ago, as accusing some members of the ruling ZANU-PF party of trying to manipulate the president by rallying behind his wife Grace.
Earlier this month Mugabe said his successor must be chosen democratically by the ruling party, but that it would not be his wife as some have speculated.
Mugabe said on Friday former army general Solomon Mujuru, husband of former Vice President Joice Mujuru, had failed to get him to retire ahead of elections in 2008.
Mujuru died in a fire at his farm in Aug. 2011. His wife Joice was fired from the vice-presidency in Dec. 2014 over accusations of plotting to remove Mugabe from power and launched a new political party on March 1.
Mugabe said he was surprised by calls for him to step down midway through his five-year presidential term.
"Wait until we go to congress. If there are those you think can do a better job than the president, you then choose them. If congress approves them, fine," he told Friday's rally.
ZANU-PF's next leadership congress is due in 2019, a year after a presidential vote. No senior party members are expected to openly challenge the veteran leader.