The man that some believe to be an infamous unidentified hijacking suspect, D.B. Cooper, has died. Robert Rastrack passed away from natural causes at his home in San Diego on Tuesday at the age of 75.
The former U.S. Army paratrooper is frequently discussed as the main suspect in one of the most famous and mysterious hijackings in history. On November 24, 1971, an unidentified man hijacked a Boeing 727 flying from Portland to Seattle.
The man, who was described by fellow passengers as in his mid-forties, identified himself as "Dan Cooper" when he used cash to purchase a one-way ticket for the 30-minute flight. Carrying a black attaché case, once up in the air he informed a flight attendant that he had a bomb.
Cooper demanded $200,000 ransom as well as four parachutes (two primary and two reserve). After being informed that his demands had been met, the plane landed at Seattle-Tacoma Airport. After the money and parachutes were delivered, Cooper ordered all passengers and two of the flight attendants off the plane.
He then outlined a plan to the crew to take off and fly to Mexico City. Once airborne, the four remaining people onboard were told to remain in the cockpit. When the plane finally landed, they found that the airstair at the rear of the plane was open and Cooper was gone.
Five aircraft were trailing the hijacked passenger jet and not one of them reportedly saw Cooper jump or could pinpoint a location where he could have landed. Despite a thorough FBI investigation that was arguably the most extensive in U.S. history, no significant evidence was found and the whereabouts of D.B. Cooper or the ransom money remain unknown.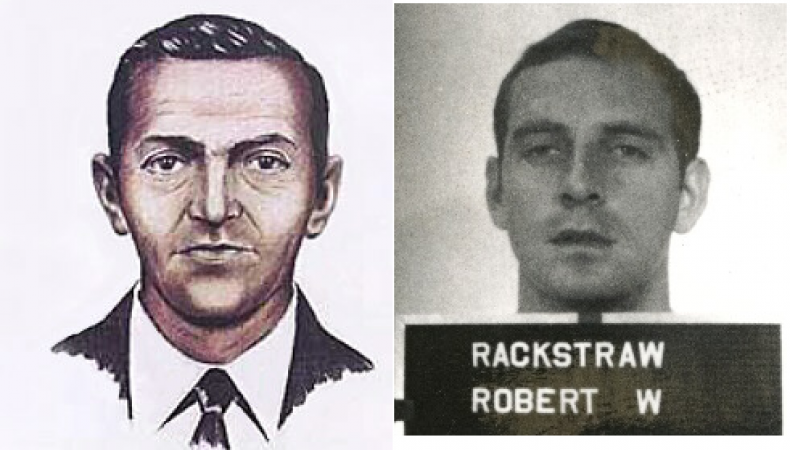 But in 2016, a four-hour miniseries on the History Channel titled D.B. Cooper: Case Closed? by filmmaker Thomas Colbert linked Rackstraw to the crime. The Ohio native's paratrooping skills and explosives training was used as evidence he had the capability to pull off the hijack.
Dismissed from the army in 1971 for falsifying his college records and lying about his rank and medals, Rackstraw went on to lead a colorful life. He piloted planes across Iran, was apprehended on suspicion of stealing dynamite and was charged with the murder of his stepfather before being acquitted by a sympathetic jury.
Rackstraw would go on to attempt to fake his own death in 1978 by crashing a rented airplane into Monterey Bay, California, but was found by investigators a few months later and charged with stealing an aircraft and passing bad checks.
After spending two years in prison, he later called news stations claiming to be Cooper, but when confronted by Colbert in the series, denied involvement and said that his previous admission was a stunt.
"While my cold case team believes he was Cooper, he also was a husband, father, grandfather and great-grandfather. Our condolences to the family," said Colbert, according to the San Diego Union-Tribune.
The FBI officially closed the Cooper case without resolution in 2016.