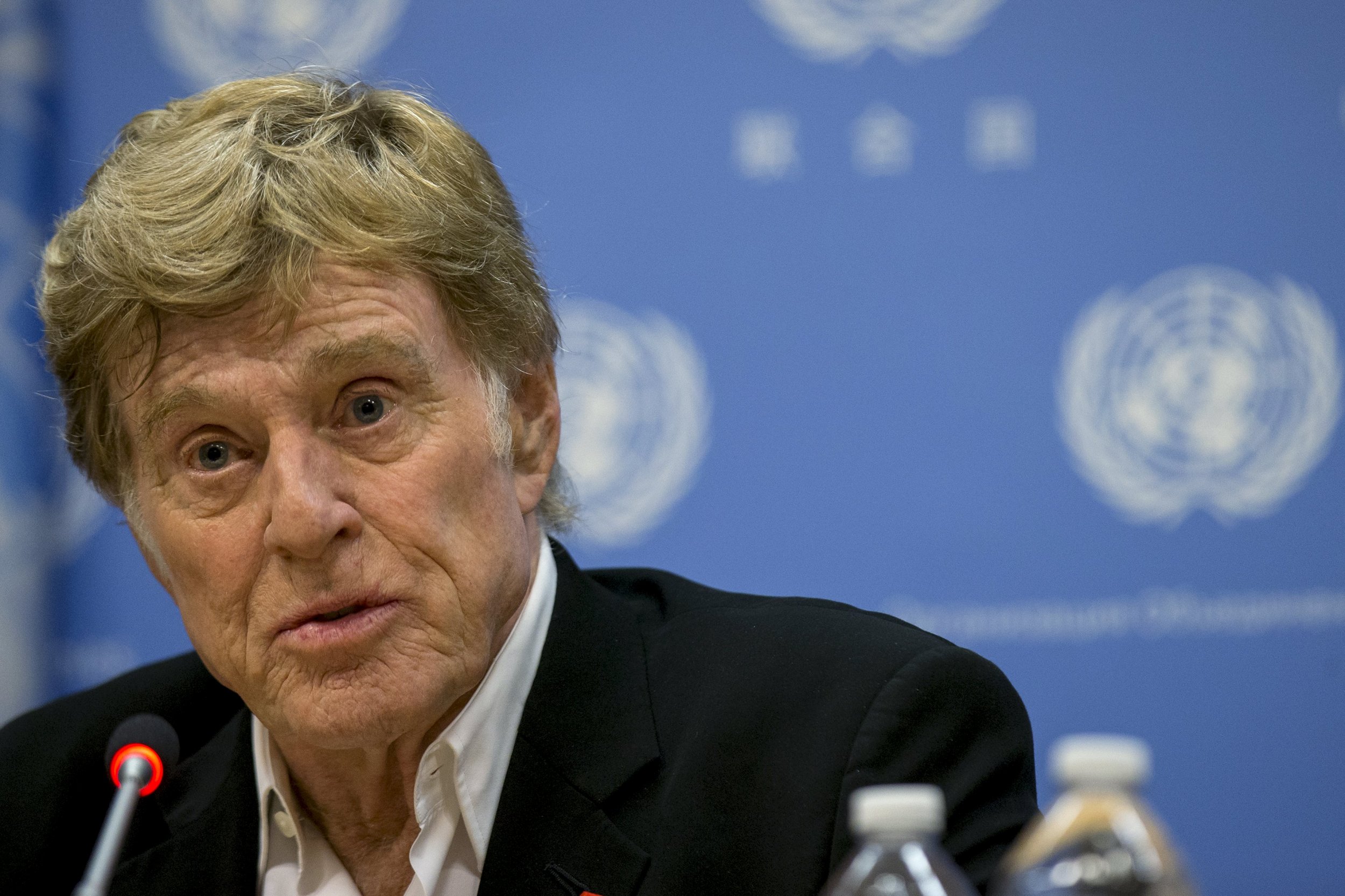 Oscar-winning actor and director Robert Redford addressed the United Nations Monday, urging world leaders to take bold and immediate action on climate change and to adopt a climate agreement at a global climate conference in December.
Redford, who referred to himself as "an actor by trade but...an activist by nature," spoke at a high-level event on climate change attended by U.N. Secretary-General Ban Ki-moon, international diplomats and climate activists. The 78-year-old, who founded the Sundance Film Festival and is best known for such films as All the President's Men, Butch Cassidy and the Sundance Kid and The Sting, said he has been an environmental campaigner for more than 40 years.
At the climate change event, which was held Monday, discussions were held to generate "political momentum" ahead of the global conference in December.
"Nothing less than the state of our planet is hanging in the balance, and the imperative for action should not be more clear," Redford said at the event. "Today we can no longer claim ignorance as an excuse for inaction."
"Unless we move quickly away from fossil fuels, we're going to destroy the air we breathe, the water we drink, the health of our children, grandchildren and future generations," Redford said.
Redford is the latest prominent American actor to address climate change at the U.N. In September, "What's Possible," a short film narrated by Morgan Freeman focusing on ways to combat climate change, was screened at the U.N.'s Climate Summit in New York, where the newly minted U.N. "messenger for peace," Leonardo DiCaprio, spoke.
Redford mentioned Pope Francis's recent public stance on climate change and said taking action on climate change is a "moral imperative." Earlier this month, the pope tweeted that "the earth, our home, is beginning to look more and more like an immense pile of filth." Redford also mentioned the heat wave in Pakistan earlier this month, which has claimed more than 1,200 lives and saw temperatures reach as high as 113 degrees Fahrenheit in Karachi last week. Last month, a heat wave in India also claimed the lives of hundreds of people.
"Everywhere we look, moderate weather seems to be going extinct," Redford said.
In December, more than 190 world governments will meet in Paris to try to create a new climate agreement that would limit global warming to 3.6 degrees Fahrenheit—from what temperatures were before the Industrial Revolution—by 2020. In addition to environmental disaster, some studies suggest that climate change is related to violent conflicts throughout the world, most recently the ongoing civil war in Syria. At the 2009 climate conference in Copenhagen, the world's richest countries agreed to provide $30 billion in "fast-start" financial assistance to poorer countries to help them invest in clean technology. Assistance is expected to increase to $100 billion by 2020, although recipient countries want an agreement in place beyond 2020, The Guardian reports.
At the Paris conference, the European Union is expected to agree to cut its emissions by 40 percent by 2030, compared with levels in 1990, and the U.S. will offer to slash carbon emissions by 26 percent by 2025, compared with 2005 levels, The Guardian reports. China, whose carbon emissions surpassed those of the entire EU in September, says its carbon levels will peak in 2030 as part of the agreement.
On Monday, Ban expressed his frustration over the pace of the U.N. climate change talks and said negotiations are moving "far too slow" during opening remarks at the meeting.
"It's like snails, moving [at] snail's pace. The key political issues are still on the table," said Ban. "With only 10 days left, negotiating days, I really count on leaders, presidents, prime ministers and ministers to exercise their political direction so that this negotiation will move much faster."
"We are all responsible for this crisis," Redford told conference attendees Monday. "Your mission is as simple as it is daunting: to save the world before it's too late."