Robert Rodriguez Talks 'The Limit' and VR Filmmaking
Robert Rodriguez is no stranger to new technology. His widely acclaimed 2005 graphic novel adaptation, Sin City, was among the first films to be shot primarily on a digital backlot. As he sees it, he was using a digital camera back when digital was still "a dirty word." With his most recent release, a short film made for VR headsets, Rodriguez pushes the tech envelope yet again.
The Limit is a short movie starring Michelle Rodriguez, Norman Reedus and the viewer. Because the movie is made for VR headsets, the viewer is placed right in the action. And there's a ton of action, with The Limit taking you on car chases, skydives and more.
Although a seasoned director, Rodriguez had to experiment with the new equipment while filming The Limit. "It was harder to plan shots, because we'd ask 'how close does the truck have to be to the main car when you're filming?'" Rodriguez told Newsweek. "I don't know! In a movie I can always use a longer lens to get closer, but this is all a super wide lens. We won't really know until we get there."
Rodriguez was also tackling other unknowns of VR filmmaking. "The [production company] STX people were saying, 'you can't do POV, you can't do jump cuts, it'll disorient the audience,'" said Rodriguez. "I said that is the only way this will work." In fact, Rodriguez deliberately wrote many of the perceived shortcomings of the medium into the script as a way to test them out.
The production company felt jump cuts or hectic action scene might disorient the viewer. So Rodriguez built that sense of bewildering dizziness into the experience, adding scenes with abrupt moments such as the viewer character being hit by a car. "If the character is disoriented in the story, that actually makes it more immersive if you are disoriented as well," he explained. "If there are jump cuts and glitches, that makes sense if you were just hit by a car. I thought that could work to our advantage."
Rodriguez also knew he needed strong performances to keep the experience immersive. He knew just who he wanted to cast when he walked on the set of Alita: Battle Angel one day and saw Michelle Rodriguez looking comfortable in a motion capture suit.
"I asked her if she had experience with this before and she said it was her first day," Rodriguez said. "Whenever I give Michelle a call and say I'm doing something experimental, she just shows up. She's so badass like that. She's game for anything, and is a great storyteller too. I love working with her. Plus, she's just so cool. Who's a better costar than her?"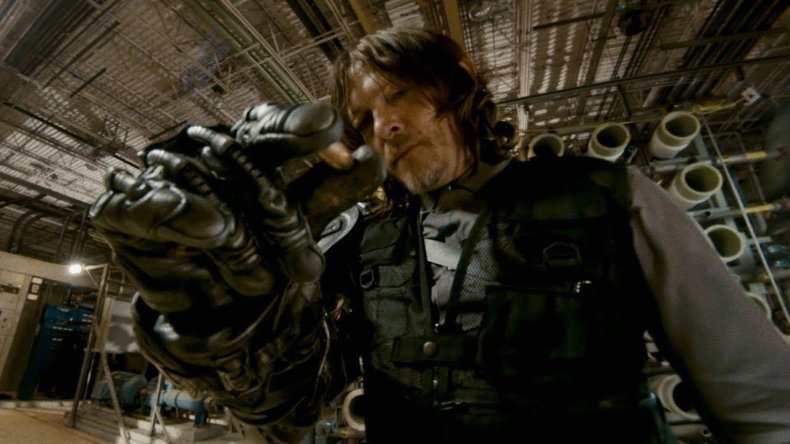 Rounding out the headliners for The Limit is The Walking Dead's Norman Reedus, who Rodriguez says also enjoys experimental projects. "Norman is the kind of guy where if I gave him a call and said 'this is a really strange thing that nobody has done before, come check out this movie and you can be in it.' And he shows up in two seconds," he said. "I called him the week before, he didn't need a lot of pre-planning. Those are the kind of collaborators you need in the Wild West."
Rodriguez kept The Limit short at around 20 minutes, unsure how long a viewer would want to wear a VR headset. "After watching it they [STX] were kicking themselves because they wanted it longer. They wanted to just keep watching," he said. "We realized we probably could have gone longer."
Don't expect this to be the final VR project from Rodriguez. "I would love to do more in the VR cinematic world," he said. "I knew as soon as we were getting into this first one, we would think of other ideas that can only be done in VR. It's never a waste of time to experiment in a new medium, because it always gives back with more ideas. And there aren't any rules yet, because it's so new."
The Limit is now available to download on the iOS and Android App Stores as well as the Steam, Oculus, Daydream, PlayStation VR, Viveport and Windows Mixed Reality stores.
So what do you think? Have you watched The Limit or any other movie made for VR? What other movie innovations have you seen recently? Let us know your thoughts in the comments section below.