Robin Williams Left 'Unprecedented' Mark on Suicide Hotlines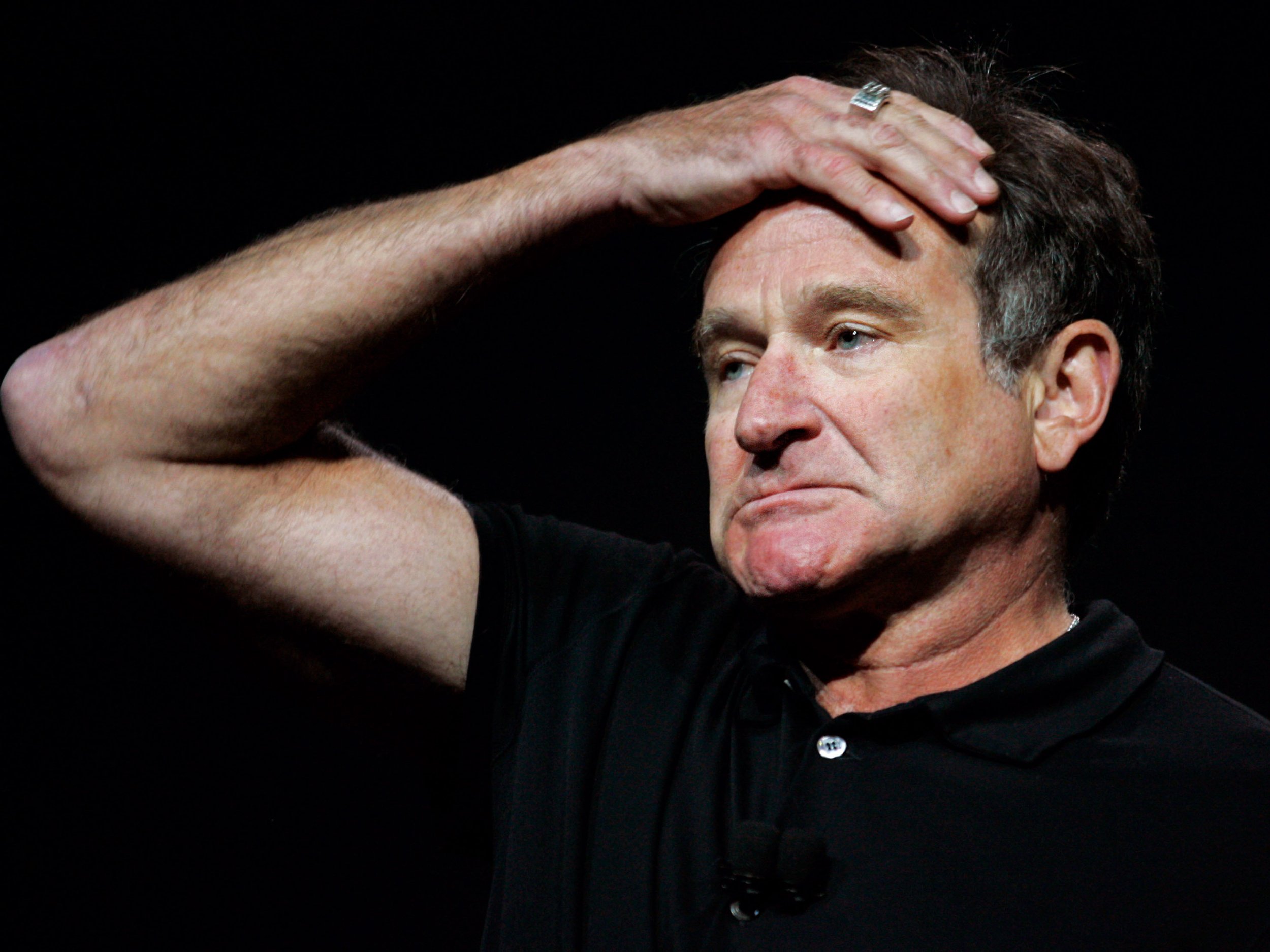 Robin Williams took his own life a year ago today, and suicide prevention experts are still trying to make sense of the "unprecedented" impact his death has had on mental health.
When any high-profile suicide takes place, mental health workers fear a contagion effect. In 1962, Marilyn Monroe's probable suicide was followed by a substantial spike in the national suicide rate.
But resources for those at risk have grown tremendously in the five decades since Monroe died, and Williams's August 2014 death occasioned a very different kind of spike: a drastic rise in calls to suicide-prevention hotlines, according to data provided to Newsweek.
In July 2014, the National Suicide Prevention Lifeline was receiving about 3,500 calls a day. That number rose threefold the day after Williams's death. It remained about 50 percent higher than usual for a week and, in the year since, has set a new baseline for what the organization considers normal.
That could mean more people are at risk, but it also means more people are asking for help—and knowing where to find it. The lifeline continues to receive several hundred more calls a day than would be expected with its normal rate of incline, director John Draper tells Newsweek.
"Right now, it's more like 4,300 to 4,400 calls a day," Draper says. "It really was and continues to be a milestone event in the history of the National Suicide Prevention Lifeline. It wasn't a big explosion, then a blip," he says, calling the impact of Williams's suicide "unprecedented."
While there have been other high-profile suicides, few figures as famous or internationally beloved as Williams have taken their own life in at least two decades. The event was especially shocking because Williams was far more known for his comedy roles than his struggles with depression.
The last time experts feared a similar epidemic of copycat suicides was in the weeks following singer Kurt Cobain's death in 1994. But disaster was averted—the suicide rate in the Seattle region went down instead of up. In a 1996 study published in the journal Suicide and Life-Threatening Behavior, psychologist David A. Jobes argued that crisis centers and responsible media coverage helped stave off a copycat epidemic.
The lifeline began its 24-hour operation a decade later, and media guidelines for best practices in reporting on suicide have become commonplace. Call volume to the hotline number (1-800-273-TALK) typically spikes at times of national crisis, like a hurricane or terrorist attack. But the magnitude of calls following Williams's death, Draper says, suggests that more people than ever are accessing resources.
The impact has continued into this calendar year. In 2015, visits to the American Foundation for Suicide Prevention's web site have been up 60 percent. Local call lines have also seen an impact; the Crisis Services hotline in Buffalo, New York, for instance, says that it has seen a 15 percent increase in call volume during the first seven months of 2015 compared with the same period in 2014. Executive director Jessica C. Pirro notes Williams's suicide and encouragement to seek help as a possible cause.
"At the time of the loss [of Williams], there was such an enormous spike in interest in the whole topic of suicide," says Robert Gebbia, the CEO of the American Foundation for Suicide Prevention (AFSP). "We saw increases at the time in calls to the crisis line, visits to the website.… Like most things, it certainly waned a bit. But I think there was a lasting bump in interest in our society by people around the country."
Much has changed since Cobain died, Gebbia says. The stigma of discussing suicide has faded somewhat since 1994, and social media has become a major venue for talk about depression.
"I think there was a lot more information about causes, resources, the notion that this is something that could be prevented in many cases," Gebbia says. "We saw less sensational reporting." There were exceptions, like stories calling Williams's death "a cowardly act" or questioning why anyone with money and fame would be driven to suicide. The AFSP took exception to this, framing suicide as a mental health issue rather than a choice.
Draper, too, says the media handled the story of his death well, crediting some news outlets for avoiding sensationalistic language and emphasizing mental health resources.
Gebbia is curious to see whether referrals to mental health providers have gone up in the past year. That data is not yet publicly available; nor is information on any effect Williams's death may have had on national suicide rates.
But broader changes in the national conversation are easier to spot.
"In past times, people were afraid to talk about this," Gebbia says. "People were afraid to admit that they made a suicide attempt, or hid the fact that they lost a loved one to suicide. But I think all that is changing. The Robin Williams story is a part of that change."
Note: The National Suicide Prevention Lifeline can be reached at 1-800-273-8255. Suicide warning signs are listed here.
Correction: This article originally incorrectly stated that the Crisis Services hotline in Buffalo, New York, has seen a 15 percent increase in call volume during the first seven months of 2015 compared with the same period in 2015. This was compared to the same period in 2014.