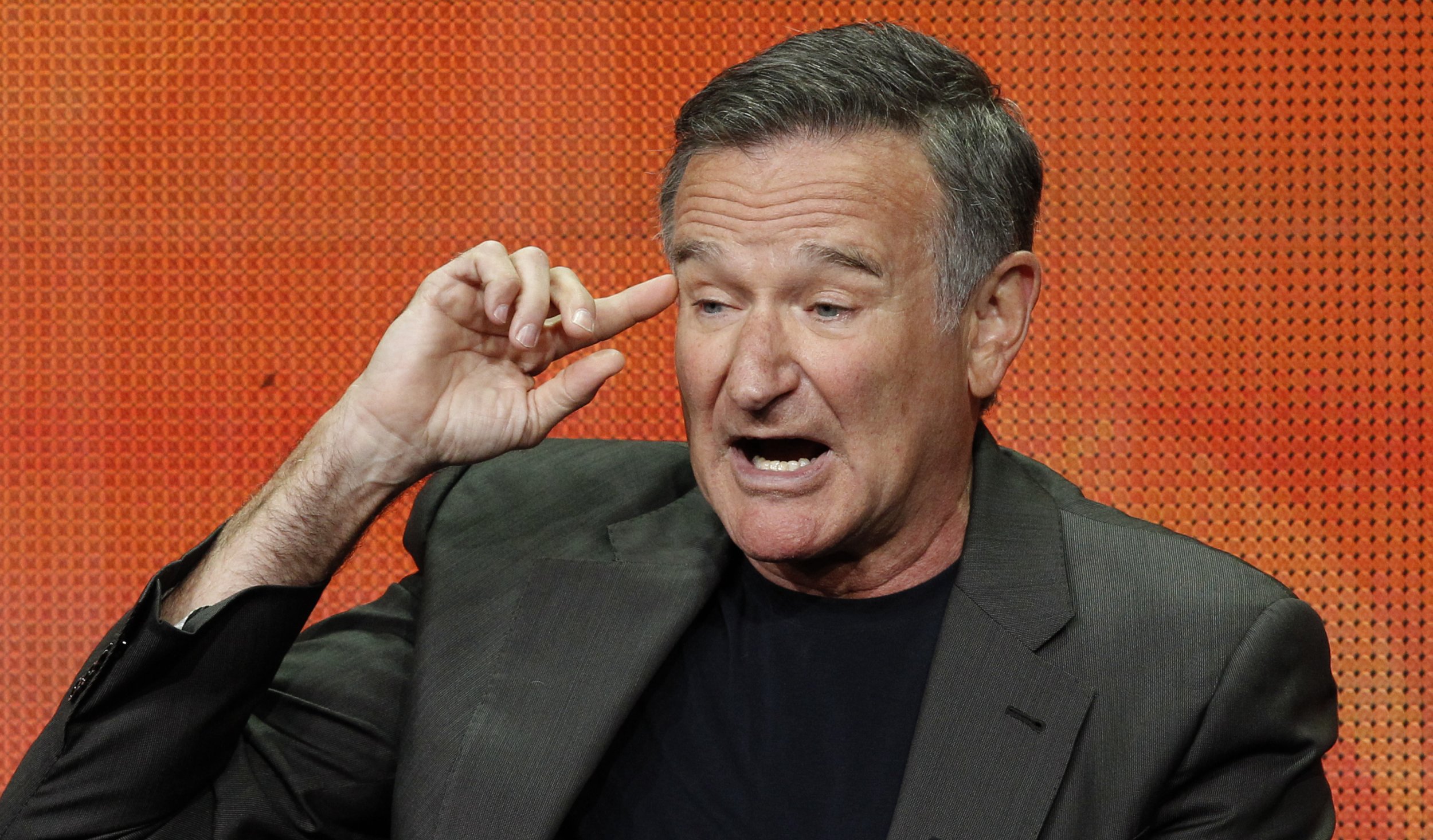 Actor and comedian Robin Williams, 63, was found dead in his home in Triburon, California, on Monday, according to a release from local police.
Late Monday evening, the Marin County Sheriff's office released a statement that suggests Williams's death may have been a suicide by asphyxiation. Around 11:55 a.m., responders received a 911 call reporting that a man was unconscious in his home. Shortly after, at 12:02 P.M., Robin Williams was pronounced deceased at the scene.
"On August 11, 2014, at approximately 11:55 am, Marin County Communications received a 9-1-1 telephone call reporting a male adult had been located unconscious and not breathing inside his residence in unincorporated Tiburon, CA. The Sheriff's Office, as well as the Tiburon Fire Department and Southern Marin Fire Protection District were dispatched to the incident with emergency personnel arriving on scene at 12:00 pm. The male subject, pronounced deceased at 12:02 pm has been identified as Robin McLaurin Williams, a 63 year old resident of unincorporated Tiburon, CA.

An investigation into the cause, manner, and circumstances of the death is currently underway by the Investigations and Coroner Divisions of the Sheriff's Office. Preliminary information developed during the investigation indicates Mr. Williams was last seen alive at his residence, where he resides with his wife, at approximately 10:00 pm on August 10, 2014. Mr. Williams was located this morning shortly before the 9-1-1 call was placed to Marin County Communications."
Williams's wife, Susan Schneider, confirmed the news Monday evening. "This morning, I lost my husband and best friend, while the world lost one of its most beloved artists and beautiful human beings. I am utterly heartbroken," she wrote in a statement. "On behalf of Robin's family, we are asking for privacy during our time of profound grief. As he is remembered, it is our hope the focus will not be on Robin's death, but on the countless moments of joy and laughter he gave to millions."
Williams first gained widespread acclaim as an actor in 1978 for his quirky performance as the alien Mork on Happy Days spin-off program Mork & Mindy. In 1998, he won the Academy Award for best supporting actor for his role in Good Will Hunting, as therapist Sean Maguire. Williams also received Oscar nominations for his performances in Good Morning, Vietnam (1987), Dead Poets Society (1989) and The Fisher King (1991).
The Chicago-born actor attended the prestigious program at Juilliard, and was just one of two pupils accepted that year. (The other was Christopher Reeve, who became a dear friend.)
Williams's distinctive humor brought laughter to millions. As an actor he was known for a quick wit and impulsive comedic approach. Producers would reportedly leave blank moments in scripts so that Williams could do as he did best: improvise. "No matter what people tell you, words and ideas can change the world," the actor once said.
Williams had suffered from substance abuse problems since the 1980s, notably with cocaine and alcohol, and was sober for more than two decades before a relapse in 2006. In July 2014, Williams checked into a Minnesota rehab to "fine-tune and focus on his continued commitment" to sobriety, according to his publicist. As of late the actor had been battling severe depression, according to a statement released Monday evening by his press rep, Mara Buxbaum.
Last fall, Williams debuted his CBS comedy, The Crazy Ones, which wasn't picked up for a second season. He had recently signed on to resurrect his role as Mrs. Doubtfire in a sequel. The third installment of the Night at the Museum franchise, featuring Williams as the fast-talkin' Teddy Roosevelt, is set for release this December.
Fellow actors and comedians took to social media to express their sadness over the loss. Fans are also sharing condolences on the last photo Williams posted to Instagram, of him and his daughter, Zelda.