Robin Williams Movie List: How to Watch the Actor's Classic Films Five Years After His Death
Today (August 11) marks five years since the death of Robin Williams, who died by suicide at his home in Paradise Cay, California. His death left a mark across the world and people became more open to discussing their mental health.
Williams was born in Chicago, Illinois on July 21, 1951. He rose to fame with via his stand-up comedy and skill for improvisation, showcased in films such as Popeye, Hook, Aladdin and Mrs. Doubtfire.
However, he also had a serious side, which bolstered his acting credibility. He starred as the antagonist in Insomnia, playing a suspected murderer, and as a man obsessed with a family in One Hour Photo. He also took on roles such as a dad who lost his son to suicide in the World's Greatest Dad and a married man coming to terms with his sexuality in Boulevard.
Towards the end of his life, Williams was diagnosed with Parkinson's Disease and his autopsy revealed that he suffered from Lewy Body Dementia. His wife, Susan Schneider, attributed his death by suicide to his diagnosis.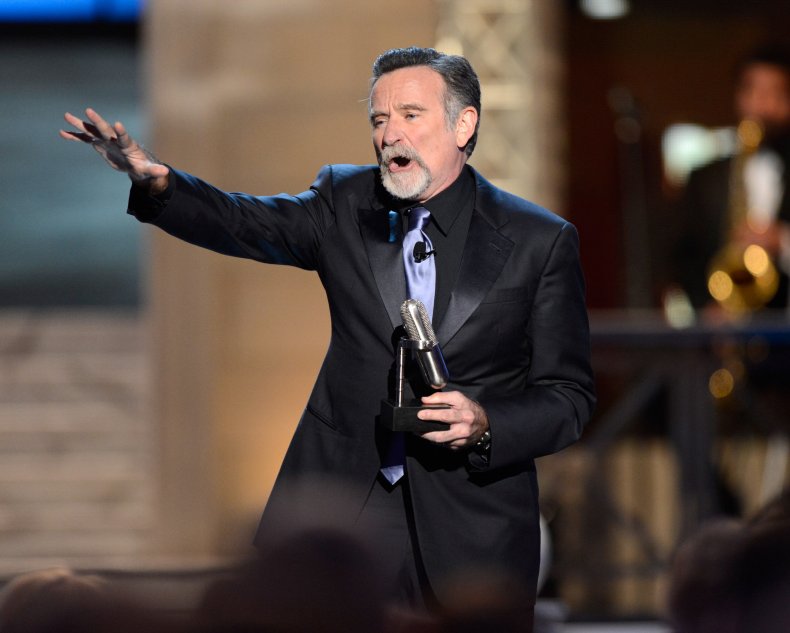 To mark August 11 as an unofficial Robin Williams Remembrance Day, Newsweek has pulled together where you can watch some of Williams' best performances on Netflix, Amazon Prime and Hulu, as well as on live TV.
Netflix
Hulu
The Birdcage
The Big Wedding
Amazon Prime
Jumanji (1995)
The Birdcage
Who Is Harry Nilsson (And Why Is Everybody Talkin' About Him?)
Dreams with Sharp Teeth
Cadillac Man
Boulevard (2014)
Noel
The Big Wedding
The Best of Times
Shakes the Clown
Rowan & Martin's Laugh-In
A Merry Friggin' Christmas
Seize the Day
Certifiably Jonathan
Robin Williams: Weapons of Self Destruction
Robin Willams: Come Inside My Mind
Radioman
Good Morning, Vietnam
What Dreams May Come
The Big White
Dead Poet's Society
Patch Adams
Mrs Doubtfire
The Fisher King
Being Human
Hook
Old Dogs
Bicentennial Man
One Hour Photo
The World According to Garp
Jack
RV
House of D
Final Cut
The Angriest Man in Brooklyn
Club Paradise
Licence to Wed
Popeye
Father's Day
Flubber
Death to Smoochy
World's Greatest Dad
Jacob the Liar
Man of the Year
Night at the Museum
The Crazy Ones
The Night Listener
Live TV
August 10, 2019
2:30 a.m: Night at the Museum: Secret of the Tomb. Channel TBS
August 11, 2019
8:00 p.m.Autopsy: The Last Hours Of... — Robin Williams (Season 4, Episode 1). Channel REELZ
9:00 p.m: Robin Williams: When the Laughter Stops. Channel REELZ
10:00 p.m: Behind Closed Doors with Natalie Morales — Robin Williams. Channel REELZ
Unfortunately, Aladdin (1992) is not available to stream or rent on these platforms. You can rent it for $3.99 or buy it on iTunes for $19.99.