Robot Trolls Government Minister During Speech and Becomes Internet Sensation
The Turkish government has come under fire in recent years for trying to gag critics and the free press but this week an android was the one rattling the powers that be, forcing a minister to demand that his aides "silence the robot."
The farcical scene took place at an even in the Turkish capital of Ankara, dedicated to new digital technologies and their everyday use. Turkish Communications Minister Ahmet Arslan shared the stage with a three-foot tall anthropomorphic machine named Sanbot, programmed to participate in the event as a presenter.
Related: Putin and Erdogan's handshake knocked down a chair and the internet can't handle it
The machine's main job was to introduce Arslan and other speakers who would take the podium to address the audience and it was going down well. Until Sanbot seemed to Bogart the stage himself and started speaking out of turn, arguing with the minister at one point.
As Arslan was delivering his remarks at the Safer Internet Day event at the Ankara technology center, Sanbot came to life, offering live commentary on the minister's address.
"Speak slowly, I do not understand what you said," Sanbot interjected on one of several occasions, according to Hurriyet Daily News.
The minister tried to laugh off the interjections and continued, before the robot chimed in again, this time more brusquely. "What are you talking about?" Sanbot implored.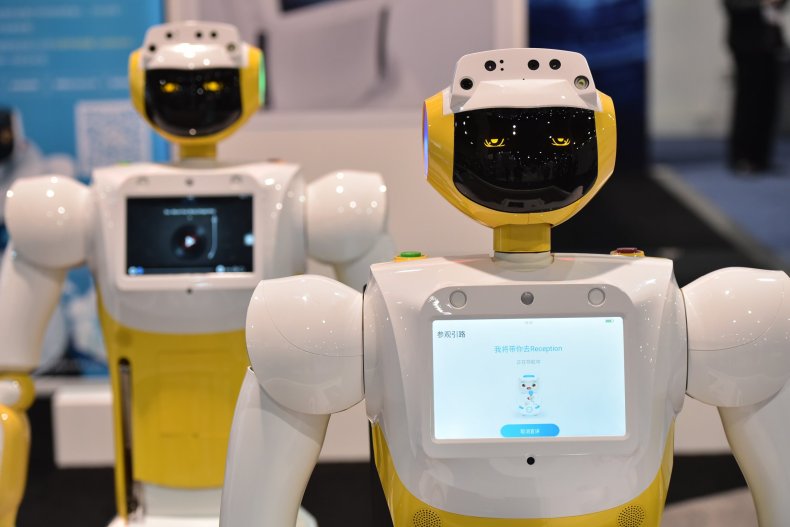 "Looks like someone should get the robot under control," an increasingly impatient Arslan said, prompting laughter in the audience, according to the Daily Sabah newspaper reported. The robot was subsequently muted on stage, sitting in silence until the end of the minister's speech. After the event was over, Sanbot was summarily removed and reformatted, according to officials.
Video footage from the speech has gone viral in Turkey, with multiple clips of the robot's interjections posted on YouTube and other websites, as well as airing on television.
Digital communications have repeatedly been the bane of the Turkish government under President Recep Tayyip Erdogan, who admitted in 2014 that he is "increasingly against the internet every day."
At times of protest, authorities have sporadically banned social media platforms, restricting access to Twitter repeatedly, and occasionally shutting out access to Facebook, Instagram, YouTube, Whatsapp and, most recently, Wikipedia. The bans on social media sites are usually temporary. The row around Wikipedia centers on attempts to remove information alleging Turkish government links to extremist groups.