Robots of the Future: First Robot Cop to Join Dubai Police Force in May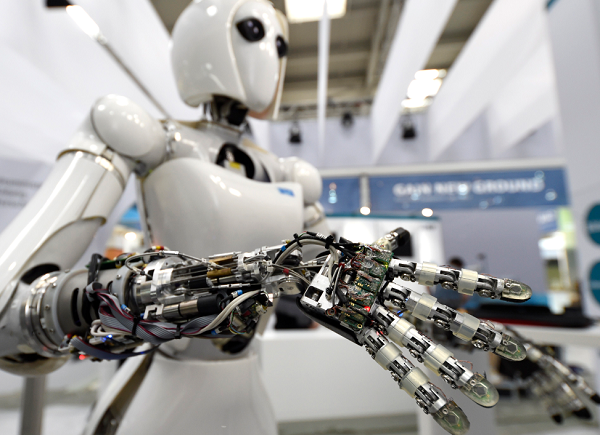 The first robot cop is expected to join Dubai's police force in May. Officials in Dubai unveiled plans to introduce a robotic police officer to the United Arab Emirates during a policing forum recently and said they intend to have robot cops serving as about 25 percent of the force by 2030.
The robot officer, which will be the first of its kind in the UAE, is an example of officials' plan to turn Dubai into one of the safest cities on Earth with the help of technology and robots. Authorities also announced plans to introduce a DNA data bank in effort to track criminals.
"We planned for a security system for the future of the city to tackle future crimes. By 2025, Dubai will be one of the best five cities in the world on security level," said Director of the Future Shaping Centre of Dubai Police Brigadier Abdullah Bin Sultan said during the event held on March 13.
Police officials said they hope the use of artificial intelligence will cut costs and said the DNA data bank and use of robots could potentially reduce the chances of "mysterious or unknown" crimes committed in the city.
Brigadier Khalid Nasser Al Razouqi, Dubai Police's general director of the Smart Services Department, told Gulf News the department plans to make everything "smart" in Dubai Police.
"By 2030, we will have the first smart police station which won't require human employees," Rozoqui said. "We are aiming to implement many smart police mechanisms, including the smart police station and robots, and adopt artificial intelligence."
Dubai police showed off their first robot cop model during the Gulf Information Technology Exhibition (GITEX) in 2016. The prototype robot officer, which was made with IMB's supercomputer, Watson, roamed freely around the event and was capable of saluting and greeting visitors with a handshake.
It is unclear exactly what Dubai's first robot police officer's specific job role is expected to be, however, during the 2016 GITEX event officials said the robot will feature a touchscreen body that residents can use to report crimes and pay fines. The robot will also be capable of scanning faces and will be able to spot people approaching about 30 feet away.