Robots Replace Workers in Vineyards as Wineries Struggle with Labor Shortages
Machines already pick about 90% of the grapes used to make wine in the U.S., but full adoption of machine use for the growing, pruning and harvesting process hasn't yet occurred.
But the COVID-19 pandemic and a continuing labor shortage has accelerated the move toward nearly complete automation in one of America's most valuable industries.
Kaan Kurtural, a viticulture specialist at UC Davis' Department of Viticulture and Enology, told Newsweek the changing economic reality is making machine use increasingly appealing to winemakers.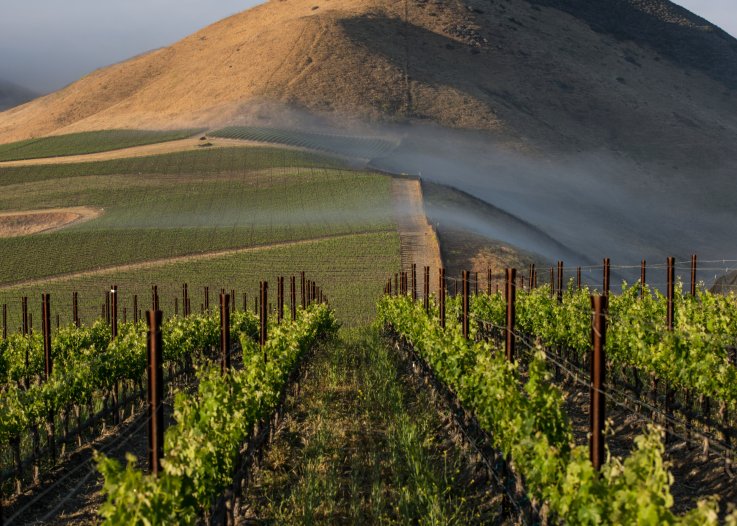 "We started having the economic need to do a lot of the practices mechanically because there's just not enough people to do this work," said Kaan Kurtural, a viticulture specialist at UC Davis. In the photo above, a vineyard in Santa Ynez, California, is photographed on April 3, 2020.
George Rose/Getty Images
"We started having the economic need to do a lot of the practices mechanically because there's just not enough people to do this work," Kurtural said.
Kurtural described agricultural workers available for labor at California wineries as "virtually nonexistent" in a news release Monday from UC Davis. He told Newsweek the decline in labor began impacting wineries in 2008, and has persisted to this day.
"It's not easy to fill the positions because our agricultural industries are our rural industries, and people have to drive to these jobs," Kurtural said. "They do not pay much, and work is difficult. There's also the social stigma associated with doing agricultural labor."
There has been a gradual decline in legal workers employed in America's agriculture sector over the last few decades. According to U.S. Department of Labor (DOL) data, about 88% of farm workers were legally authorized to work in the U.S. in the late 1980s. That number dropped to 51% by 2016, with U.S. citizens representing only 29% of all agriculture workers employed throughout the country.
As patterns in the U.S. agriculture workforce changed, California winemakers began using machines to pick grapes in the 1970s, and quickly embraced the process when they realized the product was more dependable and of higher quality when harvested by machines.
"The quality of the fruit from these plants is much, much better," he said. "Winemakers are preferring this fruit to hand-farmed fruit."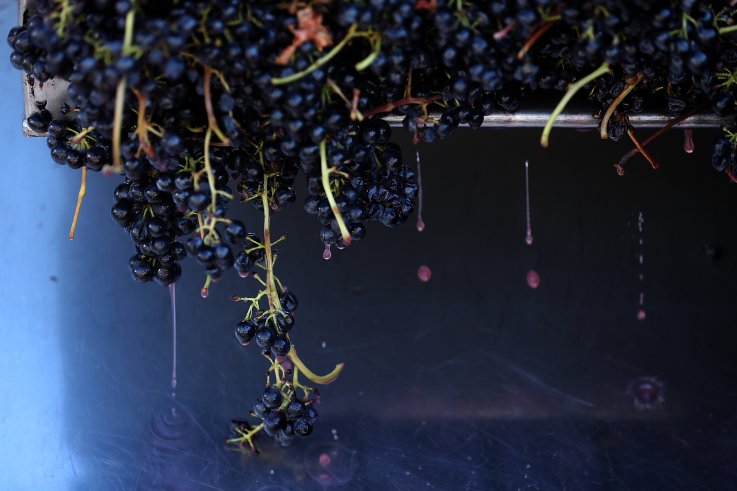 Freshly harvested Syrah grapes and grape juice fall from a bin into a de-stemming machine on October 25, 2017 in Kenwood, California.
Getty Images
Kurtural said wineries have begun expanding the use of machines for other steps in the grape-growing process. According to the UC Davis review, which includes tips for winemakers on which machines to deploy and when to use them, using machines to prune vines can save a winery between 60% and 80% of the money they would ordinarily spend to employ workers for the same task.
As an example, Kurtural said a typical day's work at a vineyard might require a 32-person team and a crew boss. But a machine can cover the same ground with only two people needed to perform operational duties.
Adopting machines for the work will eliminate positions that are going unfilled, and replace them with with jobs that require training, and which pay better, Kurtural said.
"The positions require a college degree—at least a bachelor's degree—because this is like an assistant manager's position," he said. "Someone has to operate these machines."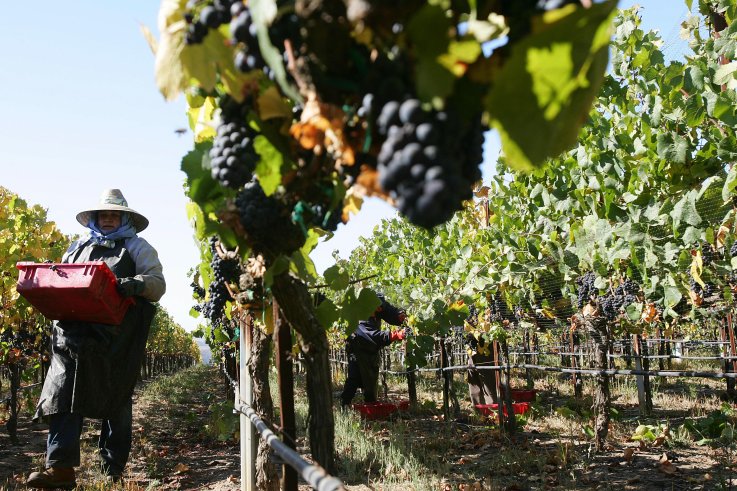 Farm workers harvest Pinot Noir wine grapes at the Byron Vineyard and Winery in Santa Maria, California on October 9, 2006.
ROBYN BECK/AFP via Getty Images
In anticipation of wineries' increased reliance on machines for vineyard management, Kurtural said researchers at UC Davis have developed new trellis systems that are cheaper to install and more climate resistant than traditional vineyard trellises.
"They make a better product in the field, and they pick easier—and that's what the winemakers prefer, as far as the quality that's coming from these grapes," Kurtural said of the new trellis systems. "That has been a major influence in growers switching over to this system, because they have a more consistent product that's easier to produce with better quality."
Kurtural said wineries are already expanding their machine use, though he said it will likely be "a couple more years" before the process of "Henry Ford-ing the system" is complete.
"Grapes are easy to grow, but they're easier to grow if you have a lot of people or if you have these machines," he said. "It takes a lot of hands to make a bottle of wine."