Rochester Police Chief, Command Team Retire Amid Investigation Into Daniel Prude Death
Less than a week after the death of Daniel Prude was made public the backlash against the Rochester Police Department became so immense that Chief La'Ron Singletary and a number of other leaders decided to step down from their position.
Singletary announced his retirement on Tuesday, saying that he wouldn't "sit idly by" while outside entities attempted to destroy his character. The police chief came under fire for allegedly playing a role in covering up Prude's death on March 23 after officers put a hood over his head and held his face to the pavement for two minutes.
The police chief initially told Rochester Mayor Lovely Warren that Prude, 41, died of a drug overdose while in police custody and the mayor said on Thursday that she didn't see the video of the arrest until August 4.
"I have addressed with the police chief how deeply and personally and professionally disappointed I am for him failing to fully and accurately inform me about what occurred with Mr. Prude. He knows he needs to do better to truly protect and serve our community and I believe that he will," Warren said during a briefing.
Singletary said in a statement he spent two decades serving the community with "honor, pride and the highest integrity" and that the police department and greater community know his "reputation and what I stand for."
"The mischaracterization and the politicization of the actions that I took after being informed of Mr. Prude's death is not based on facts, and is not what I stand for," Singletary said.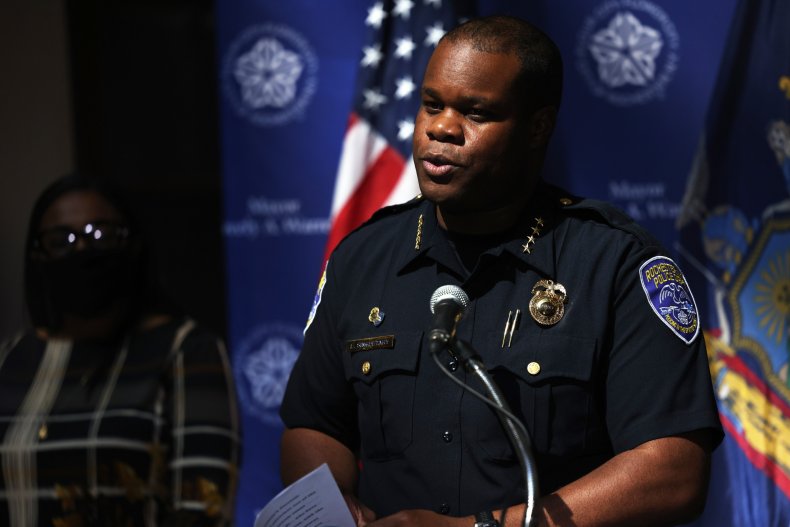 Along with Singletary, Deputy Chief Joseph M. Morabito and Deputy Chief Mark Simmons will retire, and possibly other senior commanders, Warren said during a city council meeting. She said the chief wasn't asked to resign, adding that she believed he was "giving his very best" and that he felt his career and integrity was "challenged."
Newsweek reached out to the Rochester Police Department for comment but did not receive a response in time for publication.
On the night of his death, police found Prude running naked in a street. Prior to his arrest, the 41-year-old was released from the hospital following a mental health evaluation that was conducted following a 911 call from his brother, Joe. During his arrest, Prude stopped breathing and was taken to a hospital, where he died two weeks later after being taken off life support.
Outrage over Prude's death ignited after his family released body camera video from his arrest on September 2. On September 3, officials suspended the seven officers involved in Prude's arrest. Two days later, State Attorney General Letitia James announced she would form a grand jury and conduct an "exhaustive investigation" into Prude's death.
"II applaud Attorney General Tish James for taking swift, decisive action in empaneling a grand jury—justice delayed is justice denied and the people of New York deserve the truth," Governor Andrew Cuomo said in a statement.
Warren said she wasn't aware if the resignations were effective immediately. In the event protests continue on Tuesday night, she said she was unsure who would take over command of the police department but stressed the need to find an interim chief.