Rochester Police Document Reveals Department Wanted to 'Make' Daniel Prude a 'Suspect'
Handwritten edits on at least two documents related to Daniel Prude's death pushed for him to be named as a suspect in a burglary case the Rochester Police Department was investigating.
Among the incident reports included in the 323 pages released by the city on Wednesday was one from Officer Mark Vaughan. On it, he listed Prude as an "individual," in the box marked for "victim type," but someone circled the information with a red pencil and wrote, "Make him a suspect."
Vaughan wrote his report for a "non-criminal incident," after he responded to a report of a male wearing a white tank top and long johns who was previously at Strong Hospital for being suicidal. He was later called to a Metro PCS store for a burglary alarm, a call Officer Paul Ricotta also answered.
Ricotta's incident report listed the suspect as being unknown, but a note written in a red pencil instructed him to "list Daniel Prude as [suspect.]" Originally listed as a "criminal mischief" instance, the note in red pencil said to add burglary because video footage shows a suspect break the window and enter the store. An incident report Ricotta filed the next day for burglary listed Prude as a suspect.
It's unclear who made the notes. Newsweek reached out to the Rochester Police Department for comment, but did not receive a response in time for publication.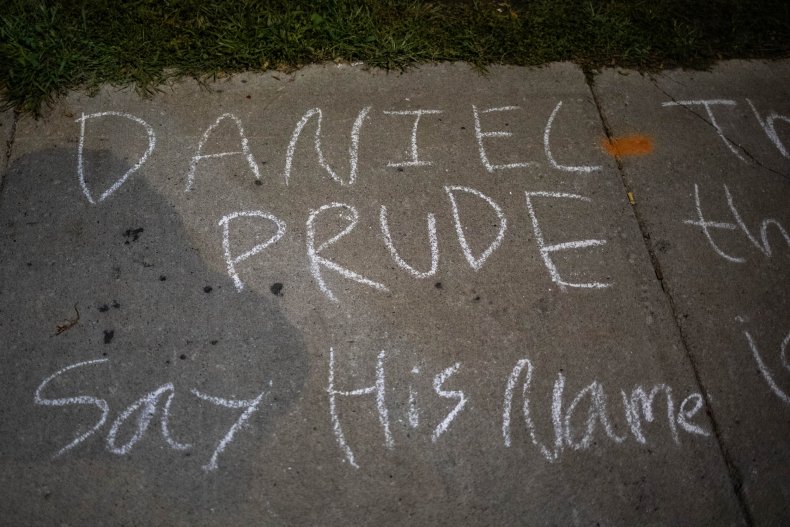 Prude, a 42-year-old Black man, died after police pinned him to the ground. At the time, officers were told he was on PCP. During the arrest, Vaughan wrote in his report that Prude told officers to "give me that gun" and spit in the direction of officers, prompting them to put a spit hoot on him. While being detained, Prude stopped breathing and died at the hospital a week later, where he had been in the ICU.
Footage of the incident was released months later after Elliot Shields, an attorney for the Prude family, filed a Freedom of Information Law request for it. The delay in the release of the footage of Prude's death led to accusations of a cover-up, one that the Rochester Police Department denied.
In June, Mark Simmons, now interim chief of the Rochester Police Department, emailed Chief La'Ron Singletary, advocating for the denial of Shields' request because they didn't "want people to misinterpret the officers' actions with any recent killings of unarmed black men by law enforcement nationally."
"That would simply be a false narrative, and could create animosity and potentially violent blowback in this community as a result," Simmons said, and Singletary "totally" agreed.
Singletary announced his resignation on September 8, saying that he wouldn't sit "idly by" while people attempted to destroy his character. Before his retirement could go into effect, Mayor Lovely Warren fired Singletary following a review of the city's role in Prude's death.
"This initial look has shown what so many have suspected, that we have a pervasive problem in the Rochester Police Department," Warren said in a statement. "One that views everything through the eyes of the badge and not the citizens we serve. It shows that Mr. Prude's death was not taken as seriously as it should have been by those who reviewed the case throughout City government at every level."