The head of a police union in Rochester, New York defended officers after body camera videos showed officers handcuffing and pepper spraying a distressed nine-year-old girl.
Officers had responded to the report of "family trouble" at a home on Avenue B at around 3:30 p.m. on Friday, Rochester Deputy Police Chief Andre Anderson said at a news conference on Sunday.
The body camera footage showed officers pushing the girl into the snow and handcuffing her as she yelled repeatedly for her father. When the girl repeatedly refused to sit inside a police vehicle, an officer sprayed her with a chemical irritant.
Police Chief Cynthia Herriott-Sullivan confirmed the irritant used on the girl was pepper spray at a news conference on Sunday.
Warning: These videos contain content viewers may find disturbing
"I'm not going to stand here and tell you that for a 9-year-old to have to be pepper sprayed is OK. It's not," Herriott-Sullivan said. "I don't see that as who we are as a department, and we're going to do the work we have to do to ensure that these kinds of things don't happen."
However, Mike Mazzeo, president of the Rochester Police Locust Club, the union representing uniformed officers, told reporters the girl "could have been hurt worse."
"[The officer] made a decision there that he thought was the best action to take. It resulted in no injury to her," he told reporters. "Had they had to go and push further, and use more force, there's a good chance she could have been hurt worse."
Mazzeo added: "It's very very difficult to get somebody into the back of a police car like that. And she's nine years old. Imagine what happens when we have a full grown individual."
At a news conference on Sunday evening, Mazzeo said the girl had previously had an encounter with police in November.
"I'm not saying there's not better ways to do things, but let's be realistic here in what we're facing… It's not TV, it's not Hollywood," he said. "We don't have a simple… be able to put our hands and have somebody instantly handcuffed and then comply. It's not a simple situation."
At the news conference, Anderson said the girl was suicidal. "She indicated she wanted to kill herself and she wanted to kill her mom," he said.
Anderson said the girl had initially tried running away. In the footage, the girl is seen repeatedly screaming "I want my dad" as officers restrained her.
When officers pushed her to the ground, she begged them to stop while lying in the snow, the footage shows. She was wearing a black hoodie and patterned leggings.
Anderson said officers had tried to put her in the back of a police car so she could be taken to hospital. He said the girl refused, thrashed around and at one point, kicked an officer in the chest, knocking his body worn camera to the ground.
"It did not appear as if she was resisting the officers, she was trying not to be restrained to go to the hospital," Anderson said.
The video shows the girl telling officers she did not want to get in the car until she had seen her father. The officers at the scene initially attempt to calm the girl, but grow increasingly impatient.
"Get in the car, I'm done telling you," a male officer is heard telling her.
When the girl asks for someone to get the snow off her, an officer replies: "You had your chances."
At one point, an officer standing at the the opposite passenger side door tells the girl: "Sit up, you're acting like a child."
"I am a child, what the f**k?" she responds.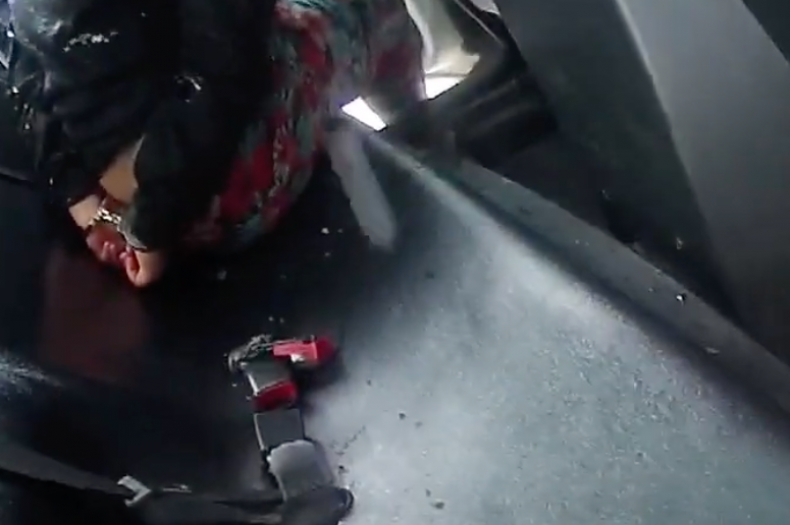 Later, a female officer attempts to convince the girl to sit inside the vehicle before threatening to pepper spray her if she doesn't oblige.
"Come on, I'm gonna pepper spray you and I don't want to, so sit back... this is your last chance otherwise pepper spray is going in your eyeballs," she says.
As the girl continues to plead for her father, a male officer says: "Just spray her... just spray her at this point."
The girl screamed and yelled for someone to wipe her eyes before the officers placed her fully in the vehicle and shut the doors. "Unbelievable," an officer said.
Anderson said the girl was taken to Rochester General Hospital and was later released.
At the news conference before the release of the body camera videos, Rochester Mayor Lovely Warren expressed her concern for the "child that was harmed during this incident" and said she had spoken to the girl's mother.
"I have a 10-year-old child, so she's a child, she's a baby. And I can tell you that this video, as a mother, is not anything that you want to see," Warren said.
"We have to understand compassion, empathy. When you have a child that is suffering in this way, and calling out for her dad, I saw my baby's face in her face."
Warren said she has directed the police chief to conduct a "complete and thorough and transparent" investigation of the incident. She added that she welcomes the review of the incident by the city's police accountability board.
The Rochester Police Department has been contacted for additional comment.
The Rochester police department has faced scrutiny since body camera footage released months after the death of Daniel Prude last year showed officers had placed a hood over his head and pressed his face into the pavement.