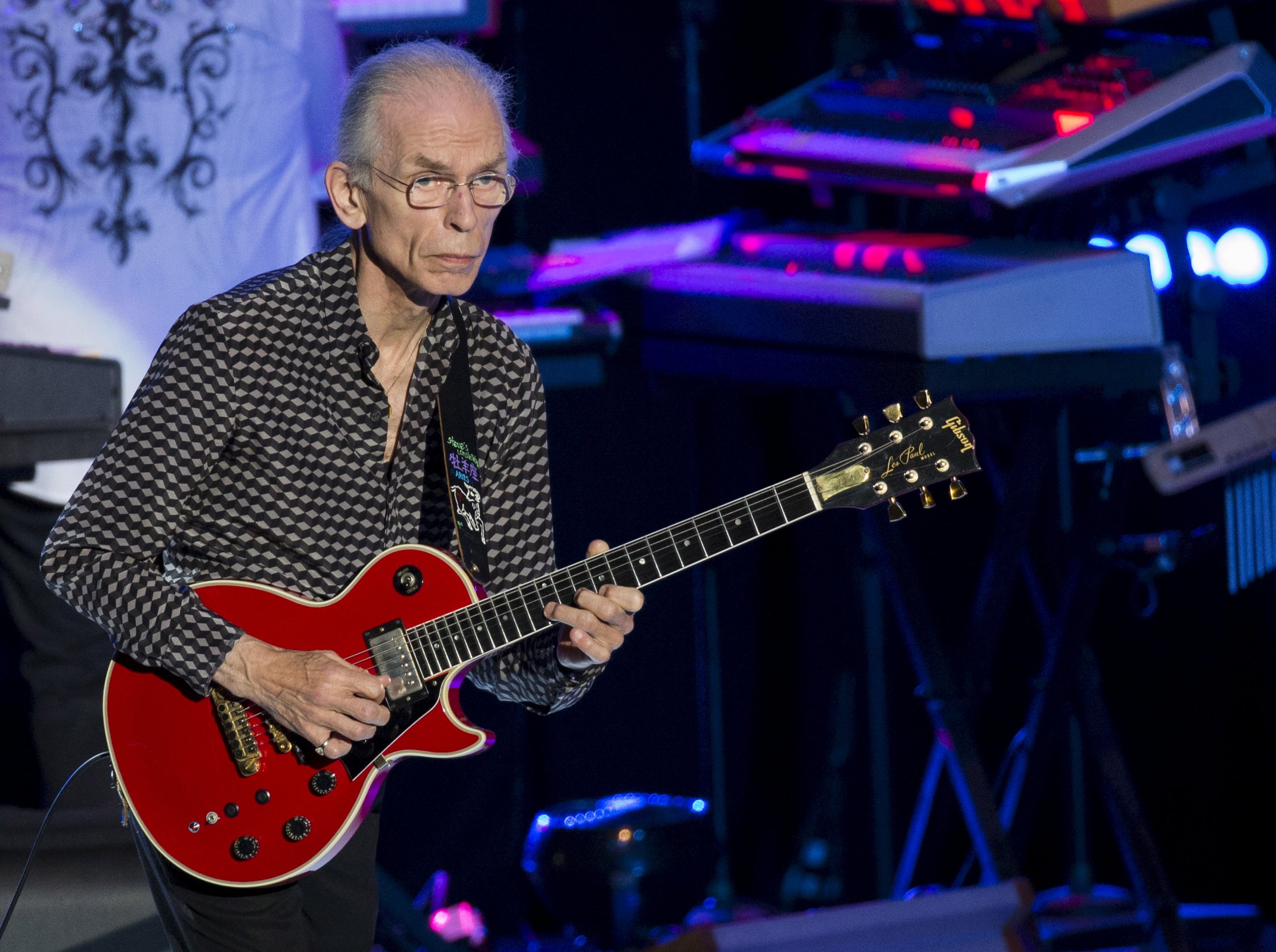 Across the past four decades, Yes endured a long-distance runaround. The members of Journey had to keep reminding themselves: Don't stop believing. And the Electric Light Orchestra (ELO) wondered if it would require strange magic for this day to ever arrive.
On Tuesday morning, the Rock and Roll Hall of Fame announced that this trio of classic rock bands would at last be inducted come April. The arena rockers join '60s folk singer Joan Baez, grungers Pearl Jam and the late rapper Tupac Shakur to fill out the 2017 class.
The latter three were no-brainers, even though Shakur becomes the first solo rapper to be inducted. Seattle's godfathers of grunge were elected in their first year of eligibility—acts do not become eligible until 25 years after the release of their first album or single—but that surprised no one who is an inveterate subscriber to Rolling Stone: Lead singer Eddie Vedder has been featured on the mag's cover seven times.
Why does that matter? The magazine's founder, Jann Wenner, is a co-founder of the hall, which was established in 1983, and he has been a fixture on its nominating committee for all 32 classes. Fairly or unfairly, Wenner, 70, has long been portrayed as the hall's gatekeeper, and he has done little to disguise his disdain for '70s arena rock and/or classic rock. Despite their massive international success, ELO, Journey and Yes have never made it "on the cover of the Rolling Stone" (as Dr. Hook and the Medicine Show sang), while the Jonas Brothers have appeared twice.
In 2013, when prog-rock legend Rush was finally inducted 14 years after it first became eligible, guitarist Alex Lifeson released his animus by babbling nonsense words while staring down Wenner for nearly three minutes. The Canadian trio's achingly devoted fans howled.
Related: An ode to guitar wizard Steve Howe
Despite creating some of the most iconic songs in the history of rock 'n' roll and selling out basketball arenas (and the occasional football stadium) throughout the 1970s and '80s, ELO, Journey and Yes never basked in the magazine's glow either. When in 2003 Rolling Stone released its list of the 500 Greatest Albums of All Time, based on input from musicians, critics and industry figures, this trio was shut out. While commercial and critical success are not congruent, Journey has sold more than 48 million albums—only 18 artists already in the Hall of Fame have sold more.
Moreover, when Rolling Stone in 2004 released its 500 Greatest Songs of All Time list, these three bands again failed to make the cut. Yet their songs have been sewn into the fabric of some of the most memorable films and TV shows of the rock 'n' roll age. Yes's "I've Seen All Good People" is used in the 2000 film Almost Famous, the semiautobiographical coming-of-age tale of former Rolling Stone writer Cameron Crowe, to demonstrate a young teen's musical awakening. Director Paul Thomas Anderson used ELO's "Livin' Thing" to close out Boogie Nights, and Journey's "Don't Stop Believing" is inextricably linked to the final scene from HBO's The Sopranos.
Steve Howe, the prodigiously gifted guitarist of prog-rock pioneer Yes, was sanguine after the band got the good news 26 years after first becoming eligible. "It's a bit like waiting for a train," said Howe, who will take part in the New York induction ceremony on April 7, one day before his 70th birthday. "Maybe it's on time and you just noticed waiting. I don't regret the wait. I just feel this must be the right time."
Journey has put out 18 Top 40 singles during its often critically maligned run that began in the late '70s, but the band was not even put on the ballot until this year. Lead singer Steve Perry, he of the ethereal vocal range, stopped performing with the band in 1991 and has become somewhat of a recluse (though he does venture out to attend San Francisco Giants games). The band's lead guitarist, Neal Schon, insists that the critical drubbing stopped mattering to him long ago. "Maybe [the criticism bothered me] when I was younger, but I soon got a grip on it," Schon told Rolling Stone. "You're not going to please everybody."
Of the three bands, ELO has the most credibility with the black boots and blue jeans crowd. More of their songs remain staples on FM radio, and lead singer/songwriter Jeff Lynne earns extra credit for being a member of the Traveling Wilburys, the moonlighting all-star band that also included legends Bob Dylan, George Harrison, Tom Petty and the late Roy Orbison.
Rock 'n' roll is the lingua francaof outcasts, so it is ironic to think that an artist might be excluded from the Hall of Fame for not being cool enough. For appealing to the dorks. Yet that's always been the knock on these bands, particularly Journey and Yes. Your older brother or sister had a poster of Led Zeppelin's Robert Plant holding a dove onstage on his wall, not one of Journey's Perry (some dudes rock tight jeans really well and others don't). Teenagers sneaking a drink or a puff in their parents' garage don't listen to these bands; adolescents playing Dungeons and Dragons do.
In recent years, the Hall of Fame has finally relented from its "Smokin' in the Boys' Room" approach, as uncool or cool-for-the-wrong-reason groups such as Chicago, Kiss and the aforementioned Rush were finally invited. With Tuesday's announcement, the hall may finally be admitting that freaks and geeks are welcome. As are '70s and early-'80 arena rockers.
Still, members of Styx and REO Speedwagon shouldn't be holding their breath.
****
Here are three songs from each group. Electric Light Orchestra: "Livin' Thing," "Strange Magic," "Mr. Blue Sky." Journey: "Ask the Lonely," "Still They Ride," "Stone in Love." Yes: "Roundabout," "America," "Leave It."
****
Read more from Newsweek.com:
- Tupac and Pearl Jam among impressive class of Rock and Roll Hall of Fame inductees
- The Rock and Roll Hall of Fame moves into a new era with its latest batch of nominees
- Rating the rock gods of 'Vinyl'