Why The Rock Asked Logan Paul to Delete All Photos of Them Together
Logan Paul has detailed his heartbreak over the end of his friendship with his "hero" WWE legend Dwayne Johnson, aka The Rock, resulting in what he called "one of the saddest moments" of his life.
The Rock asked the controversial YouTuber turned boxer to delete all photos of them together after he was involved in the Japan suicide forest controversy.
"After Japan happened, obviously found myself in a hole—rightfully so—that I had never been in before," Logan said of the situation during an appearance on the True Geordie podcast, posted on Twitter on Monday.
The now 27-year-old discussed his infamous "suicide forest" stunt which prompted outcry in late 2017/early 2018. He had posted a vlog from Japan's Aokigahara forest that showed a dead body—an apparent suicide.
The forest at the base of Mount Fuji in Japan is a spot known locally for the many suicides that occur there.
The incident prompted a widespread backlash at the time over the depiction of suicide by Paul, who later apologized, saying: "From the bottom of my heart, I am sorry." The video was also removed.
A result of this controversy was Johnson distancing himself from the content creator, which Paul described as "so sad."
The two had developed a friendship when making Vine videos together over a few years prior.
"I got a call from my publicist who also repped Dwayne "The Rock" Johnson and she's like, 'Hey Dwayne's asked that you remove every picture and video that you've done with him and maybe in the future the relationship can be reconciled but for now he basically wants nothing to do with you,' which I also understood," Paul told fellow YouTuber True Geordie.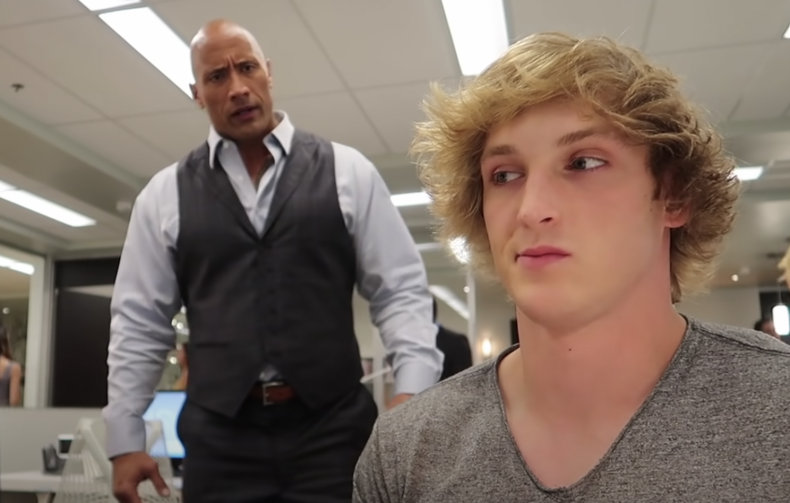 "I get it. You know, I made a grotesque error and he has had things happen in his life where like a lot of people that incident affected him in a personal way," he continued.
"So I understood it and that was the other part... you sleep in the bed you make, right?"
Paul added that he "wished" Johnson would have reached out to him personally following the incident. Newsweek has contacted Johnson's representative for comment.
"But I just wish I'd gotten like a call or a text or something because I thought we had a healthy relationship, an open line of communication," he said. "And I was so sad that my hero wanted nothing to do with me. And I was sad because I understood it, I really f***ed up."
Paul added: "I was so disappointed in myself, and so I vowed to get better, I vowed to change, time passed, I start doing well... I just wanted to be able to build a relationship with Dwayne."
During the interview, Paul said he received an Instagram message from Johnson a few months ago about a funny video he shared "as if nothing ever happened."
If you have thoughts of suicide, confidential help is available for free at the National Suicide Prevention Lifeline. Call 1-800-273-8255. The line is available 24 hours every day.