'Not a Chance': Rock Climbers Sleeping in Mid-Air Tents Shocks Viewers
If you attempt to ascend what is widely considered to be one of the most difficult mountains to climb in the world, you will have to endure many things—including sleeping in a tent hanging in mid-air.
A clip of climbers mountainside on the Dawn Wall of El Capitan in Yosemite National Park has been upvoted over 40,000 times on Reddit's "Oddly Terrifying" forum. It features a video of three climbers inside their tents, suspended an unspecified distance up in the air.
The clip is actually from a January 2022 climb involving Belgian climbers Siebe Vanhee and Sebastien Berthe.
"Ascending the ropes every day to the pitches we want to work is exhausting," Vanhee posted on January 22 on his Instagram page. "The best way to save energy is to just camp on the wall! And wall life is so amazing!"
The Dawn Wall of El Capitan is located on the north side of Yosemite Valley. Boasting about 3,000 feet from its base to the summit, climbers scaled "The Nose"—one of the mountain's original technical routes–since the 1950s.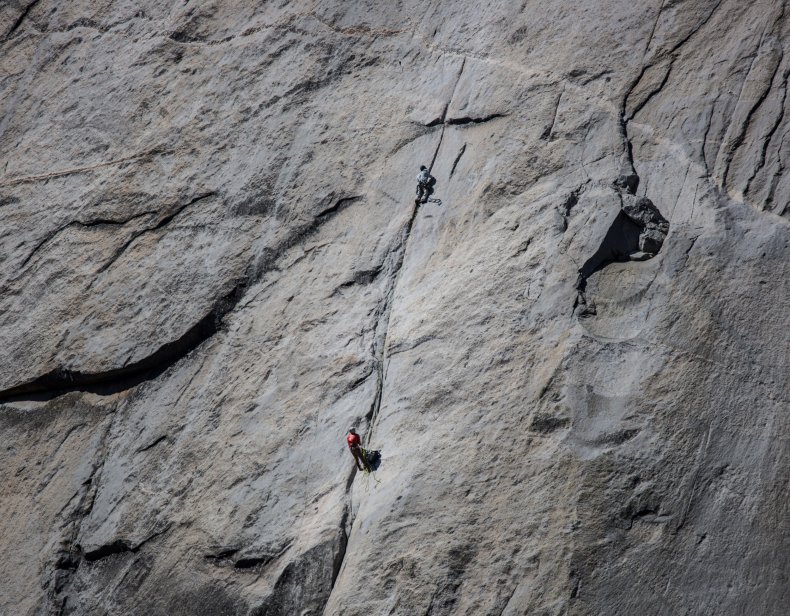 The legend of the Dawn Wall grew in January 2015, when Tommy Caldwell and Kevin Jorgeson completed the wall's first free climb in the span of 19 days. In November 2016, Czech climber Adam Ondra completed the feat in just eight days.
Alex Honnold completed the first free solo climb of El Capital in 2017, which was documented in the film, Free Solo.
Vanhee and Berthe made their own trek up the goliath on January 9 of this year.
"When Seb asked me to join him crossing the ocean by sailboat and try to free climb Dawn Wall I was excited, for both adventures," Vanhee posted on January 18 on his Facebook page. "I had to make a choice though and chose to join him just on the Dawn Wall. After the last two years having made several hard multi-pitch ascents in Europe, it made sense to go and try this masterpiece in Yosemite."
Vanhee updated his followers on social media about his progress, with the entire experience lasting weeks. The experience became increasingly "uncomfortable," he said, eventually calling it "for sure the most complete challenge I've ever had."
"We got to say how it is; we got our a** kicked!" he added. "But nonetheless, we believe in the power of time, stubbornness and practice. Yosemite's climbing is very particular, we both need some time to get used to the style and footwork."
However, one climber's push to extremes is not felt by most others. That is evident by the amount of comments on Reddit expressing no desire to chase such thrills.
"Not a chance I'm ever going to do that!" one user said.
"Stupidity, bravery and insanity are only separated by the degree of knowledge the person doing it has about what they're doing," another said regarding the risks associated with this climb.
The tents and their quality also received quite a bit of attention, with one user joking that they hoped the stitching was top notch.
Newsweek reached out to Vanhee for comment.