The Rock Comes to 'Bridgerton' as Cast Raps Along to His Hit 'Face Off'
Dwayne "The Rock" Johnson comes to Netflix's Bridgerton as one of the stars shares a viral video of the cast rapping to his hit song "Face Off."
Florence Hunt, who plays Hyacinth, the youngest member of the Bridgerton family, shared a video to TikTok that has received over 2 million likes and has been seen over 11 million times. Some of the cast members tried their best to sing the lyrics to "Face Off," a song rapped by Johnson that has gone viral on the video-sharing platform.
"The Rock x Bridgerton????" Hunt, under the username @flothe2nd, wrote.
Other cast members included in the video were Jonathan Bailey, Claudia Jessie, Luke Thompson, Luke Newton, Ruth Gemmell and Will Tilston. Each verse of the song was given to one cast member; most got the lyrics down, but a few? Well, they tried their best. The video gave a behind-the-scenes look as the cast continued to film the series.
The TikTok community shared their thoughts, praising Hunt for the behind-the-scenes look.
"JONATHAN ATE THAT," one TikTok user exclaimed.
Hunt responded to the comment above, "Oh Johnny knooows how to slay a tik tok."
"petition to have the rock in s3 soundrack," another user requested.
"flo is really proving the bridgeton bts that is needed," one pointed out.
One user is convinced Bailey has his own TikTok account, "jonathan 100% has a secret acc he's too good at these."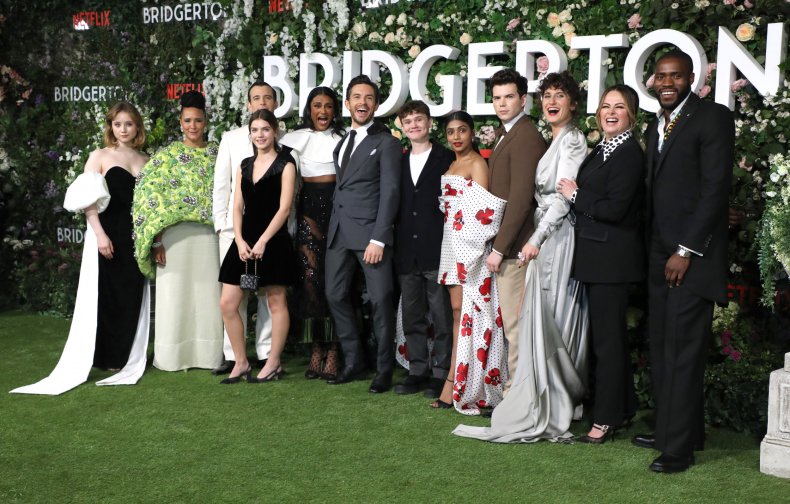 "I love how Jonathan always seems to LOVE getting involved in the Tik toks," another said.
"I'm obsessed with y'all," a user stated.
A TikToker wrote, "okkk lip syncing queens and kings."
"The crossover we didn't know we needed," one exclaimed.
"Okay but we need a classical version of this next season," another laughed.
One TikToker user pointed out, "The Bridgerton cast doing medern things in costume is my favourite thing."
"not one word was lip synced correctly and i admire that," wrote another.
Season 2 of the hit series premiered on Netflix on March 25 which had the return of Season 1 favorites and introduced viewers to new characters and storylines. Based on the books written by Julia Quinn, the period drama follows the Bridgerton family as each sibling tries to find love during the Regency era in 1800s England.
Bridgerton was named by Variety the most popular English-language TV series of all time, as of April 17. The show reached about 627.11 million hours viewed since the premiere in late March.
Season 3 will begin filming this summer, and will focus on the blooming relationship between Colin Bridgerton and Penelope Featherington.