'The Rock' Endorses Joe Biden, Calls Vice Presidential Nominee Kamala Harris a 'Badass'
Dwayne 'The Rock' Johnson released a video on Sunday endorsing Democratic presidential nominee Joe Biden and vice presidential nominee Kamala Harris.
Biden's campaign emphasized in an email to Newsweek that this marked Johnson's "first ever presidential endorsement." The actor and former professional wrestler previously identified as a Republican and even spoke at the 2000 Republican National Convention. However, in 2017 he told USA Today that "right now I'm an independent."
In a video featuring former Vice President Biden and Senator Harris uploaded to the celebrity's Instagram and YouTube, Johnson stressed that he saw the Democratic candidates as the clear choice in 2020.
"I've never publicly endorsed a presidential candidate or vice presidential candidate in my life," Johnson said. "You guys are both experienced to lead, you've done great things. Joe, you've had such an incredible career, and you've led, in my opinion, with such great compassion, and heart, and drive—but also soul."
Speaking to Harris, Johnson said: "You have been an attorney, a district attorney, a state attorney, a U.S. senator—smart, tough. I've seen you in those hearings, and in my opinion you're a certified badass."
Biden and Harris thanked the Fast & Furious star for his endorsement in the clip, pledging to serve the American people with integrity and honesty. Biden said that he and Harris would lead by "doing what we say we're going to do, by keeping our word."
Notably, Johnson has previously expressed political ambitions of his own. In a 2016 interview with British GQ, the actor said running for office was something he was considering.
"I'll be honest, I haven't ruled politics out. I'm not being coy when I say that, but at the moment I am not sure. I can't deny that the thought of being governor, the thought of being president, is alluring. And beyond that, it would be an opportunity to make a real impact on people's lives on a global scale," Johnson said. "But there are a lot of other things I want to do first."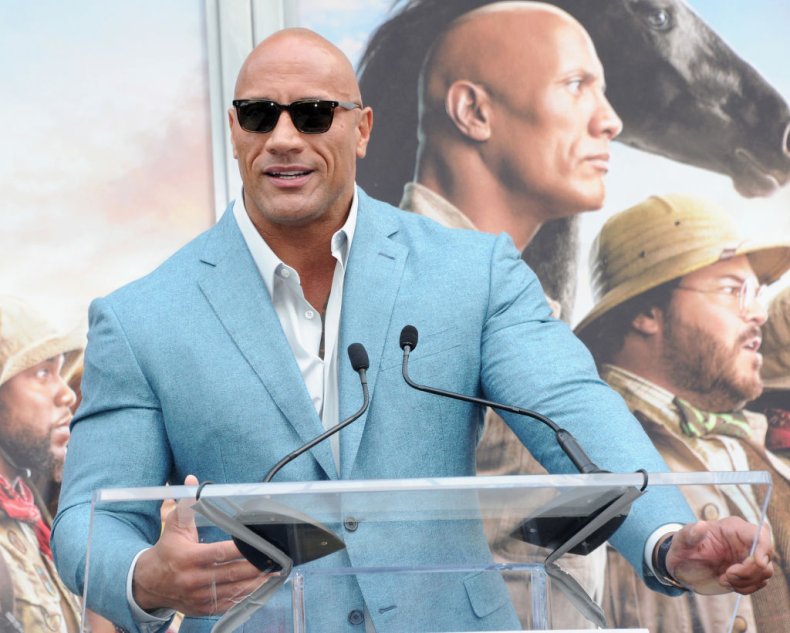 Later in a December 2017 interview with Variety magazine, Johnson suggested he'd consider running for office in 2024.
"Realistically, as we go into 2018, when you look at my slate as we're developing and shooting into 2019 and 2020, the slate goes deep into 2021, so it feels like the realistic consideration would be 2024," the celebrity said.
Johnson told USA Today the same month that his interest in running was driven by fans and supporters who believe he'd be a good leader who could win. "I can tell you with all honesty that the consideration comes at the desire from a large amount of people that would like to see this happen," he said.