I used to own a gym in South Park, San Diego and I was very involved in the community there. I had 150 clients, they were great and we did a lot of community service work. I rallied people for toy and shoe drives and we worked with Urban Street Angels, a young homeless outreach program. I am also a U.S. Navy veteran and I did community work with my church including with an organization called HOPE worldwide that helps those in poverty. I've traveled to Tijuana to help children in orphanages there.
I moved to LA in 2018 to pursue a career in acting and entertainment, but I didn't want to stop that type of community work, so I found an F45 gym in Culver City and helped rally the community. I helped with shoe drives and organized people for community service work, including helping victims of domestic violence.
In March, someone from Seven Bucks Productions, Dwayne "The Rock '' Johnson's production company, contacted our gym looking for healthy, inspiring people to be involved in a project. I ended up speaking to someone from their team about my life and the work I have done, but that project didn't end up happening. Then, on November 10, someone from Seven Bucks Productions reached out to me through Instagram and said they would love for me to be a special guest at the movie screening in Baldwin Hills, Culver City on November 21. I was shocked. I thought maybe they needed another body at the screening and they had me on a list already from talking to me before.
I took my friend Patrick and wore some red in my outfit, because it was the Red Notice. When I got there, I saw this big line of people, but my friend and I were told to go to the front and were taken in through a side door. We thought it was crazy that we got a special entrance. They got us to do a COVID test, which I thought was interesting because nobody else appeared to be having one.
Then we took our seats and waited for The Rock to come out. I thought that either he would show up or there would be a video of him greeting everyone. Then he appeared. I stood up right away; yelling, cheering and clapping.
The Rock started talking about the movie and the different things he was doing, and he started rapping too which was really cool. Then, at the very end he said there was a dude in the theater that he wanted to acknowledge. As soon as he said that, my heart and mind became conflicted. My heart wanted it to be me, but my mind couldn't comprehend that he would say my name. Then he did. It was unbelievable.
I walked to the front of the theater and gave him a handshake and a huge hug. It was so good to hug him that I didn't want to let go! The Rock talked about the work I have done in the community and I said a few words then I went back to my seat, thinking that was the highlight of the day. I was so over the moon. Then The Rock told everyone to enjoy the show and left out the back of the theater with his crew. Except one of them came up to me and said that "DJ" wanted to talk to me.
I was thinking that he would want to have a bit more of a private moment. But it wasn't private at all! The minute I walked out, I saw cameras and photographers and a gift bag. I was wondering what was going on, and felt like maybe I was being "Punk'd". But it was actually the opposite!
I saw The Rock standing there and was excited that I got to meet him again. We started chatting about my gym and he asked me about my time in the Navy. A mentor of mine, called Rico, and The Rock kind of know each other from back in the day, so I asked The Rock and he remembered my friend. I was really excited.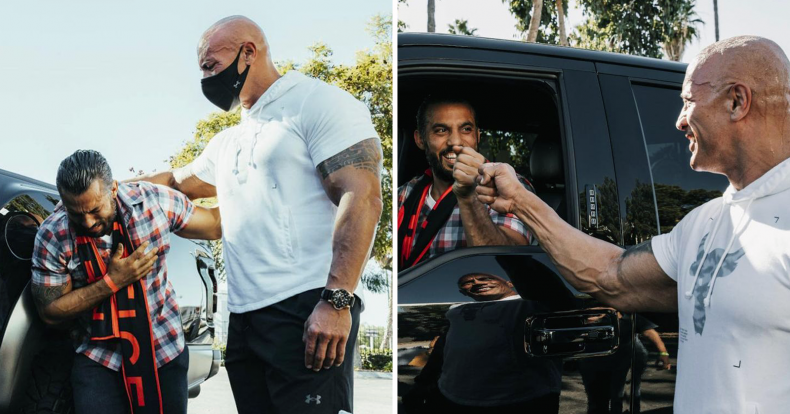 He said he had got me something, and he pulled out $500 worth of Project Rock Collection gear. I got sweats, shoes, a shirt and lots of great stuff. Then he gave me a gift card for $1,000. It wasn't necessarily the money, it was the gesture; I was super grateful. I actually started hyperventilating and bit and had to get some water.
Then The Rock told me he'd written me a special card and it was in the front seat of his pickup truck. I went up to the front seat and saw a card with my name on it. I grabbed it and opened it up. It said: "Oscar, Thank you for your service brother and enjoy your new truck, DJ." They asked me to read it aloud but I couldn't even say the word truck, I just collapsed. My heart was so full; I couldn't believe what was happening.
At first I had thought it was The Rock's truck, but when he told me to "enjoy (my) new truck", I thought it must be a new truck. Then The Rock explained it was his personal customized truck. I realized I would get to ride the truck that The Rock has driven around. I was so blown away, I had to call my girlfriend, which you can see on social media. Then I was wondering how The Rock was going to get home. I actually asked him if he needed a ride!
We didn't chat very long, and I was in shock, but he told me he was going to cover all the truck's costs and he and his team would take care of everything, and in a couple of days I would have the truck in my possession.
There was something in particular he said to me that was very impactful. He told me that every time I drive the truck I should think about all the good I have done, all the good I'm doing and to keep doing it. That was perfect.
I have the truck at my home now. But I don't want to just drive it to work. I want to drive it with friends and enjoy it. I have it parked at my house but I've been driving it every day. I feel honored and blessed to have this truck from someone super successful who has impacted so many lives. I could never afford a truck like this at this stage of my life. The Rock inspires me to work hard, be kind to people, and to always be authentic. Through him, I feel like God is looking down on me and saying: "Great job, keep it going."
The reaction to this has been amazing. People all around the world, from England to India, Australia and Chile, have been messaging me in different languages. They've been telling me "good job" and "you deserve it!"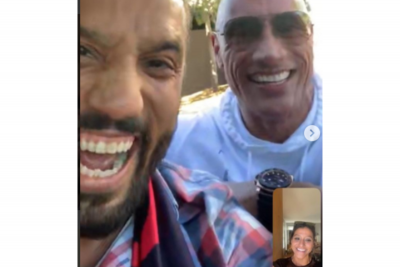 My mom thinks it's insane. She's fought so hard for me throughout her life, she's loved me through everything, made sacrifices and never judged me. Being a single mom is tough. All I want, the day she passes away, is for her to feel content with the son she has. This experience has energized me to go out there and do more.
The Rock and I have been in contact through Instagram since and he follows me now. I'm hoping one day to work out with him. That would be my next dream—why not keep dreaming?
Oscar Rodriguez is an actor, producer, fitness leader and Navy Veteran living in L.A. You can follow him on Instagram @coach_orod. He also works with Westside Church LA, who are on Instagram @westsidechurch.la.
All views expressed in this article are the author's own.
As told to Jenny Haward.