Rock Jaw T5 Ultra Connect Review: Versatile Bluetooth 5.0 Wireless Earphones for Commuting and Working Out
The Rock Jaw Audio T5 Ultra Connect Bluetooth wireless earphones pitch themselves as a competitively priced, robust, premium audio product that will suit a wide range of common usage scenarios. It also boasts a clever trick—a selection of interchangeable audio filters that produce a different sound profile to suit user preference.
With certain popular cell phone makers ditching the 3.5mm audio jack in recent years, a good set of wireless earphones are now practically a necessity, and indeed there are plenty of options on the market clamoring for your attention and cash. When you're being asked to drop a fair amount on a pair, they should strike the right notes in terms of form, features and function. Enter the Rock Jaw Audio T5 Ultra Connect which hits the mark with all three.
Finding myself bogged down with a growing collection of wired earphones and their required dongles, I was keen to find a set that ticked a number of boxes: wireless freedom for daily routines of commuting and exercise; good battery life; clever design aesthetics; and of course, excellent sound quality. Can the T5 Ultra deliver?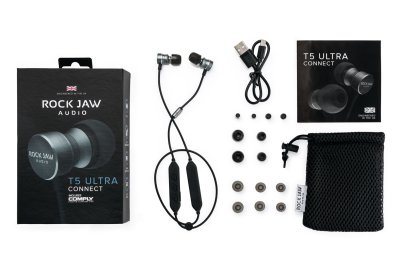 Rock Jaw Audio T5 Ultra Connect Key Features
Price: U.S. = $99.99; U.K. = £74.95; Europe = 84.49 euros
Warranty: 1 year international
Three custom audio tuning filters
Ear tips included: Comply Foam (S/M/L) | silicone (S/M/L)
Battery: 11 hours
Bluetooth 5.0
Drivers: Titanium-coated diaphragm and copper-clad aluminium voice coil
Chipset: aptX & AAC
Impedance: 24 ohms (+/-15%) @1KHz
Microphone: MEMS
Sensitivity: 102dB (+/-2dB) @1KHz, 1mW
Frequency response: 15 – 25,000Hz
IPX5 water resistance
iOS / Android / Windows compatible
USB-C charging
Rock Jaw Audio T5 Ultra Connect: Design and Features
When you first lay eyes and hands on the Rock Jaw Audio T5 Ultra Connect you are taken by the refined and attractive symmetry. Machined aircraft-grade aluminium houses the drivers, which themselves boast some features that audiophiles will love to debate over (titanium-coated diaphragm and copper-clad aluminium voice coil).
The T5 Ultra uses Bluetooth 5.0 wireless connectivity which compared to previous generations means less power consumption, greater broadcast range, lower audio latency, and more bandwidth for high quality audio. The audio chipset features aptX and AAC, both high-quality encoding standards found on various Android and Apple devices. Despite these advances in Bluetooth and codecs, the classic Bluetooth issue of audio lagging behind video remains, albeit far less obvious than in older iterations.
Although wireless in the sense that you aren't tethered to your audio player, there is of course a rubberized cable linking the two earpieces making for a length of 68 centimeters. Moving along the cable you have a battery pod on the left, and the in-line controls with USB-C charging port and protective cap, and microphone on the right, all sheathed in rubber.
When wearing the cable down the front the weight is balanced, so you won't feel lopsided. While the cable might flap around a little when in the throes of a vigorous dance or exercise routine, this can be mitigated somewhat by using the built-in rubber clasp to cinch the cable tighter to the neck.
When wearing the cable draped behind your neck, the weighted portions can sometimes shift to one side or the other; not a problem if you are sitting still or walking normally, but more of an irritation when they shift around during workouts. The rubber clasp can be used to draw the cable closer to the neck, which mitigates the shifting weight issue, but makes the in-line controls clumsier to operate. Overall, not a massive problem.
The kit carries an IPX5 rating, an engineering standard meaning it is rated to withstand a prolonged blasting from a water jet. Therefore it should easily survive sweaty excursions or being caught in the rain. However, the 'X' in the rating means there is insufficient data to produce a particle resistance score.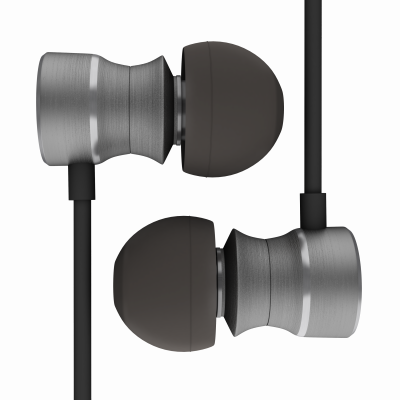 For the crucial earphones tips, Rock Jaw teamed up with Comply, a company that specializes in memory foam tips for earphones, to include a selection of small, medium and large. These work superbly in giving a snug fit by first compressing the foam and inserting it in the ear, and waiting a few moments for the foam to expand and create a seal that also blocks out most ambient noise. The downside to these tips is that they do tend to degrade over time having come in contact with oily ear detritus, and so replacements will eventually have to be sourced.
Replacement Comply earphone tips can be purchased directly from the company's website, with the T5 Ultra Connect catered for specifically: Replacement Comply Foam Earphone Tips for Rock Jaw Audio T5 Ultra Connect. Rock Jaw said it will also soon stock these Comply tips for purchase directly from its website.
Rockjaw also includes their size range of standard silicone tips in the package, which are hardier and also provide a comfortable and snug fit. Replacements can be sourced from the Rock Jaw website with free worldwide shipping.
Both the silicone and Comply foam tips are attached to the audio tuning filters (discussed below) and once in place should not be going anywhere until purposefully removed.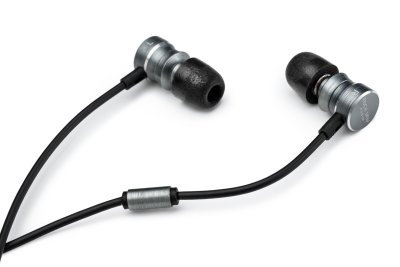 Rock Jaw Audio T5 Ultra Connect: Comfort and Fit
Initially the housing comes off as a little chunky and uncomfortable, but once you have become accustomed to the fit, your choice of tip has settled in your ear, and you hear the big sound produced, that concern ebbs away. The round and flat design of the rear of each earpiece allows them to snap together magnetically, another nice touch that keeps the earphones relatively secure around your neck when not in use.
Rockjaw's mention of the earphones being suitable for the gym and outside use seem to be more in keeping with the IPX5 rating than an assertion of their athletic credentials. While I had no problem with the earphones staying put during standard stretching and weight exercises, more vigorous movements can result in the earpieces slipping out. The round and lengthy dimensions of the enclosures coupled with the weighted cable jiggling around makes this inevitable. Using a suitably sized ear tip will help them stay in place, but you won't get the same security as with earphones that have ear clips, stabilizers, or molded cable that runs over the top of the ear.
Rock Jaw Audio T5 Ultra Connect: Battery
An upside of the conjoined design is that it allows the T5 Ultra to outlast its completely wireless rivals in the battery life stakes (and you won't have to carry around a charging case). I found the claimed 11 hours to be largely accurate and thanks to this ample window I rarely found myself caught without enough juice to last a regular day. However, there is no precise way to tell how much is left in the tank, aside from when you hit the last 20 minutes or so of battery life which is announced with an incessant beep. While some cell phones might report the percentage of battery left, this did not seem accurate on my own.
Rockjaw has opted for a USB-C charging port and includes a short Type-A to Type-C cable in its package. I found that the set would not charge when connected to a charger with a high voltage output, (such as the 5V chargers that come with cell phones) so you will be using lower voltage chargers or USB ports.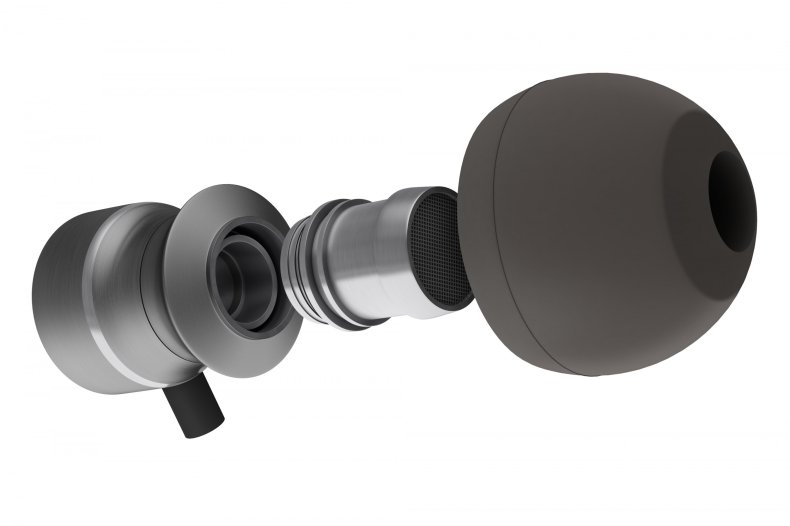 Rock Jaw Audio T5 Ultra Connect: Audio Tuning Filters
Rock Jaw's signature design element across its range is interchangeable audio filters, and these are back with the T5 Ultra Connect. Silver, gold and black filters respectively highlight bass, deliver a neutral sound, and highlight treble. This is sold as a way for the user to customize their desired listening experience. While this might sound like a gimmick at first, they do make a difference to the perception of sound.
Testing each across a selection of favorite tunes, there is a distinct difference between each filter. It isn't enough to significantly alter the music experience (or test results below) but it certainly does work and might be appreciated by those who want to lean in either a bass- or treble-enhanced direction, or simply stick with the neutral option.
The filters are easy to screw on and off within seconds (although might prove tricky for those with large fingers), allowing users to experiment and find their preferred filter. As these filters are rather small it is not hard to imagine they could be misplaced—or if disaster strikes and you have not screwed them in tightly enough they might just fall off without you noticing (as befell me, although I luckily recovered the lost filter). Replacement audio tuning filters will soon be available via the Rock Jaw website, the company said.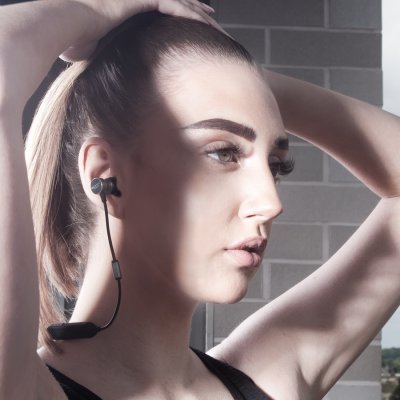 Rock Jaw Audio T5 Ultra Connect: Sound Quality
Overall I was very happy with the T5 Ultra Connect, which provided hearty, punchy and clear bass, and crisp, defined treble which did not wash out the mid range sounds. The earphones can achieve ample volume, and even my battered ear drums did not need to run them at 100 percent to get a satisfyingly loud experience.
Once an acoustic seal has been created using the right ear tips and the music is playing, ambient noises are easily shut out. There is a barely perceptible hiss of wireless frequency white noise in the background, but once any audio is playing that vanishes.
Below are my test results from the AudioCheck.net website. The results show that the T5 Ultra Connect is well-built with no obvious issues that can be caused by cheap components or crummy design, and it returns an even result across and full audio spectrum. Note that the measurements below reflect my own hearing capabilities and therefore someone with sharper ears might report a slightly different set of numbers.
| | | | | | | | | |
| --- | --- | --- | --- | --- | --- | --- | --- | --- |
| Device | Frequency response (low) | Frequency response (high) | Dynamic Range | Quality (bass shaker) | Driver matching | Wiring (Center) | Wiring (Twisted) | Binaural test |
| Rock Jaw Audio T5 Ultra Connect | 20Hz+ | 17-18KHz down | 60-66db below full scale | Excellent, no rattles, clear tone | Excellent, no discernible deviation | Well defined, accurate | Hard to define, accurate | Excellent realism,robust bass |
Our verdict
Rock Jaw T5 Ultra Connect earphones
The Rock Jaw T5 Ultra Connect wades into a busy market of wireless earphones contenders and plants itself firmly in the middle of the road in terms of price while boasting some standout features such as the audio filters and lengthy battery life. The price isn't too eye-watering and in return you get an excellent sound system, a unique and refined look, and enough versatility that they can be used in various scenarios, from surviving the daily commute and breaking a sweat in the gym, to considered listening when relaxing with your favorite music.
Rock Jaw Audio provided Newsweek with a sample product for review.
Rock Jaw T5 Ultra Connect Review: Versatile Bluetooth 5.0 Wireless Earphones for Commuting and Working Out | Tech & Science