Remembering the Friendship Between Bowie and Gervais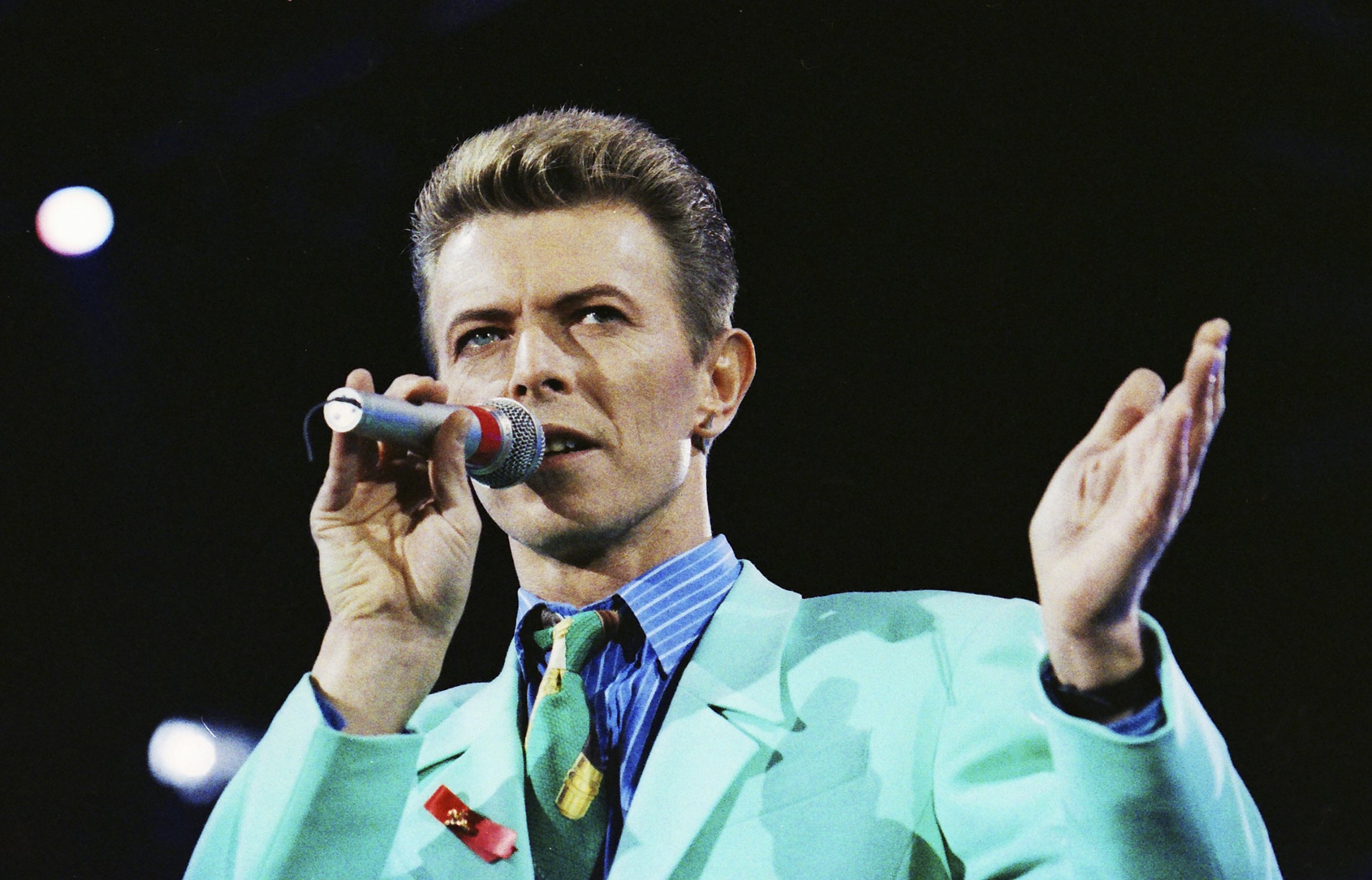 Of all the hilarious scenes that were ever filmed on Extras—do you recall Daniel Radcliffe, as himself, accidentally flinging a condom onto the head of Dame Diana Rigg as she sips soup in a diner?—the most unexpected featured an encounter between the show's star, Andy Millman (Ricky Gervais), and David Bowie.
The two men meet behind the velvet rope of a VIP section of a club and at least one of them belongs there. Millman, the star of a "crap sitcom" called When The Whistle Blows, unburdens himself to Ziggy Stardust, expressing doubts over the compromises he has made in return for commercial success. Bowie, the fearless artist who invented androgyny in rock 'n' roll, listens intently and compassionately. He then turns 180 degrees in his chair to a piano, upon which he composes an impromptu ditty skewering the the man who sold the world his soul.
"He sold his soul for a shot at fame
Catchphrase and wigs and the jokes are lame
He's got no style, he's got no grace
He's banal and facile, he's a fat waste of space…"
On Sunday Gervais hosted the Golden Globe Awards ceremony while Bowie, the godfather of glam rock and so much more, succumbed to cancer, two days after his 69th birthday. Gervais needled celebrities, as is his wont, during the telecast ("Caitlyn Jenner…didn't do a lot for women drivers"), but afterward he tweeted out a brief but earnest salute to the Thin White Duke: "I just lost a hero. RIP David Bowie."
The wonder of the scene from Extras is that, in some fashion, it mirrored the way in which the two British celebrities first met. As Gervais explained to an interviewer while promoting the film Ghost Town a few years back, shortly after his breakout sitcom, The Office, became a hit on BBC, he was invited to attend an event featuring Bowie. Greg Dyche, then the president of the BBC, ushered a reluctant Gervais into a room to introduce him to Bowie, of whom Gervais had been a fan since before puberty.
"We go down and meet Bowie," Gervais says. "Mental. The next night I was in the pub with my mate, Johnny, and he said, 'What did you do last night?' And I went.… What was I gonna say? 'I was hanging out with David Bowie; what did you do?'"
Gervais felt certain that Bowie did not know who he was, but a short time later he received a brief email from the man who once had a hit with a song called "Fame." "I watched. I laughed," wrote Bowie. "What do I do now?"
A friendship was born, and it lasted for the rest of their lives. Gervais, who is 15 years younger, once wrote Bowie on the occasion of his birthday. "Happy birthday" he wrote. "Fifty-eight? Isn't it time you got a proper job?"
"I have a proper job," Bowie replied. "David Bowie, Rock God."
The conceit of Extras was that there was a show—a banal but popular sitcom titled When The Whistle Blows, starring Millman—within the show. Extras lasted only two seasons. The first chronicled Millman's struggle to become a working actor, hence the title, while the latter asked the rhetorical question, "Is there anything worse than getting everything you've ever dreamed about?"
Millman, a working-class extra, has his pilot picked up by the BBC only to see the network rip any soul from it that it may have possessed and replace that with bad wigs and a catchphrase ("Are you 'avin' a laugh?").
The irony, and the icing atop the cake for Gervais, was that like Bowie he achieved fame and wealth without ever compromising his artistic ideals. The Office, his real-life When The Whistle Blows, was both critically acclaimed and popular. What Gervais specializes in, from The Office to Extras to his hosting gigs at the Golden Globes, is what the Brits refer to as "taking the piss out of" things. Locating someone's falsely placed pride or their Achilles' heel and picking that scab. What makes Gervais endearing—at least to some of us—is that he is just as giddy when someone takes the piss out of him.
In a story that he wrote six years ago, Gervais explained that Bowie had been one of his childhood heroes. "I was a skinny kid, with long hair, fangs and preferred art to football," Gervais wrote. "I had no role model I could identify with. And then I discovered David Bowie. I wore him like a badge of honour."
Bowie was a true original, an artist whose talents transcended genre, gender and even different media. Gervais is more rooted in one forum, comedy, where his specialty lies in puncturing bloated artifice. What a joy it must have been for Gervais, then, to invite his boyhood hero, who it turned out was a kindred spirit, on his show not to praise his alter ego, but rather to mercilessly and musically crucify him.
"See his pug-nosed face/Pug, pug, pug, pug..."