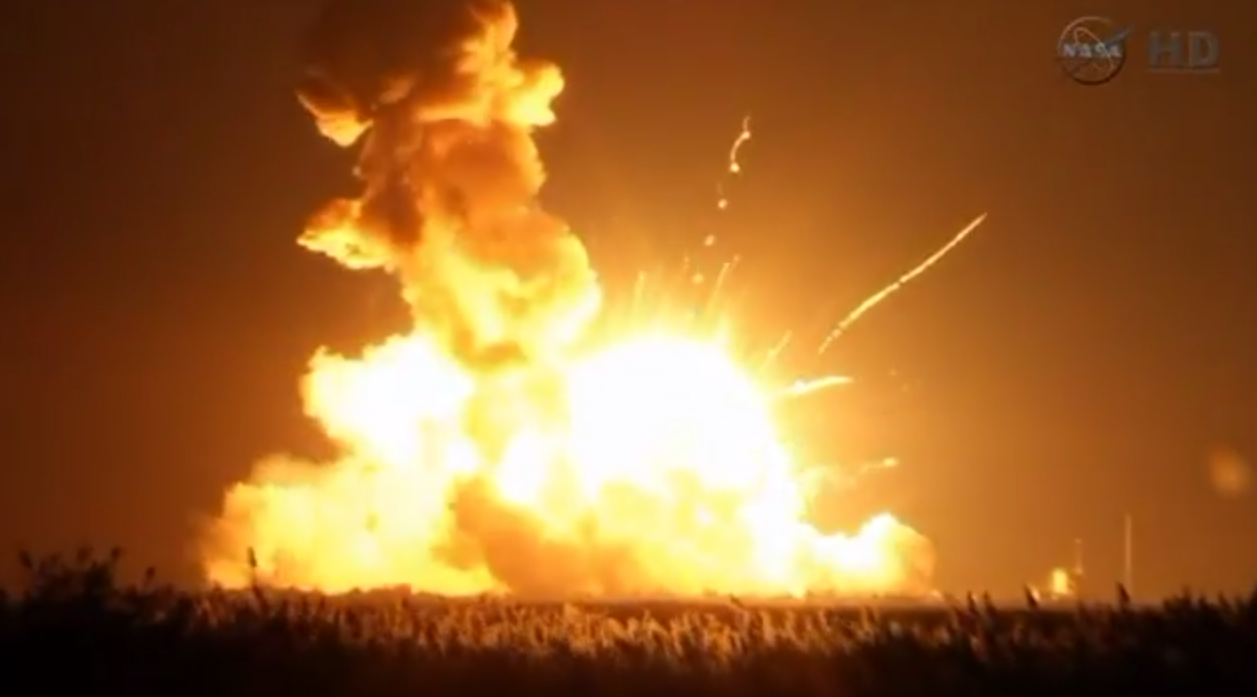 WALLOPS Va. (Reuters) - Authorities on Wednesday started investigating what made an unmanned U.S. supply rocket explode in a fireball moments after lifting off from a launch pad in Virginia, destroying supplies and equipment bound for the International Space Station.
The 14-story Antares rocket, built and launched by Orbital Sciences Corp, blasted off from the NASA Wallops Flight Facility on Wallops Island at 6:22 p.m. on Tuesday but burst into flames moments later. It was the first disaster since the National Aeronautics and Space Administration turned to private operators to run cargo to the space station.
Shares of Orbital, which agreed to buy Alliant Techsystems Inc's aerospace and defense business in April, fell as low as $25.02 and were last down 15.7 percent at $25.60.
The explosion is unlikely to unravel the deal, sources familiar with the situation said. The transaction, which is expected to close this year, was touted by the companies as a $5 billion merger of equals when it was announced.
An Orbital spokesman said the company would issue a statement shortly but declined to give details. Officials of Alliant, better known as ATK, could not be immediately reached for comment.
The rocket that exploded on Tuesday was carrying a Cygnus cargo ship with a 5,000 pound (2,273 kg) payload for the station, a $100 billion research laboratory owned and operated by 15 nations that orbits about 260 miles (418 km) above Earth.
The loss of the supply vessel posed no immediate problem for the orbiting station's six crew: two from NASA, one from the European Space Agency and three Russians, officials said.
"There was no cargo that was absolutely critical to us that was lost on that flight. The crew is in no danger," NASA Associate Administrator William Gerstenmaier said.
Russia's Roskosmos space agency said it was ready to help ferry extra U.S. cargo to the space station if NASA requested. The station is overseen by Russia and the United States, whose relations are at a low ebb over the Ukraine crisis.
The unmanned Russian Progress supply vehicle launched from Baikonur Cosmodrome in Kazakhstan hours after the explosion and the capsule, carrying more than 5,000 pounds of food, fuel and supplies, reached the station at 9:08 a.m.
No one was hurt in the U.S. accident but witnesses said the explosion shook buildings for miles around and described a massive ball of fire lighting up the evening sky.
In the control room, reaction was a mix of "shock and professionalism," said Frank Culbertson, Orbital Executive Vice President and mission director.
In a few days investigators would have a good idea of where the failure began but "what exactly caused it may take a little bit longer and corrective action probably will take some time, from weeks to months," he added.
The area around the launch facility was cordoned off on Wednesday and a helicopter circled overhead.
The Cygnus mission was non-military but the company's Antares program manager, Mike Pinkston, said the craft included "some classified cryptographic equipment, so we do need to maintain the area around the debris in a secure manner".
The Cygnus carried a prototype satellite owned by Redmond, Washington-based startup Planetary Resources Inc., which is developing technology to mine asteroids.
RUSSIAN ROCKET ENGINES
The Antares is powered by the AJ-26 engine built by GenCorp Inc division Aerojet Rocketdyne. In May, an AJ-26 exploded during a ground test at NASA's Stennis Space Center in Mississippi. GenCorp shares on Wednesday lost 6.6 percent to $16.04.
The accident also renewed questions about the use of Russian engines in U.S. rockets. Congress has been concerned about Russian-made RD-180 engines that power United Launch Alliance's Atlas 5 rockets, used primarily to fly U.S. military satellites.
The RD-180 has had no technical problems but Russia has threatened to suspend exports in response to U.S. trade sanctions prompted by Moscow's annexation of Ukraine's Crimea region. United Launch Alliance is a partnership of Lockheed Martin and Boeing.
The rocket and the cargo ship it carried were valued at $200 million, Culbertson said.
It was unclear how much Tuesday's explosion would cost Orbital. The rocket was insured for around $40 million to $50 million of losses, insurance sources said. One source pinned the loss at $48 million.
A London spokesman for U.S. insurance broker Willis Group Holdings Plc confirmed it was the broker for the insurance risk but declined to comment on the insured loss.
Dulles, Virginia-based Orbital Sciences is one of two companies NASA has hired to fly cargo to the station after NASA's space shuttles were retired. Tuesday's flight was to be the third of eight under the company's $1.9 billion contract with NASA. Its next launch had been slated for April 2015, according to internal NASA schedules.
The second U.S. supply line to the station is run by privately owned Space Exploration Technologies, or SpaceX, which is preparing its fourth flight under a separate $1.6 billion NASA contract, slated for Dec. 9.