Why the Disney Streaming Service Needs Rocket & Groot
The James Gunn scandal delayed Guardians of the Galaxy Vol. 3, but Marvel fans could get their fix sooner rather than later, if new rumors prove true. According to The Hashtag Show, Disney+ was pitched a Rocket and Groot series. It is unclear if the series is actually in development. However, it's a safe bet that if Bradley Cooper and Vin Diesel's beloved Marvel characters actually do end up coming to Disney +, it's going to break the internet.
Rocket and Groot were partners long before they teamed up with the Guardians for the first film, so a show focusing on their backstories wouldn't be a stretch. Previously, they traveled through space picking up bounties, and that's a story any creative team would be lucky to write for Disney+. They both have an extensive criminal record with Nova Corps… look, this story writes itself.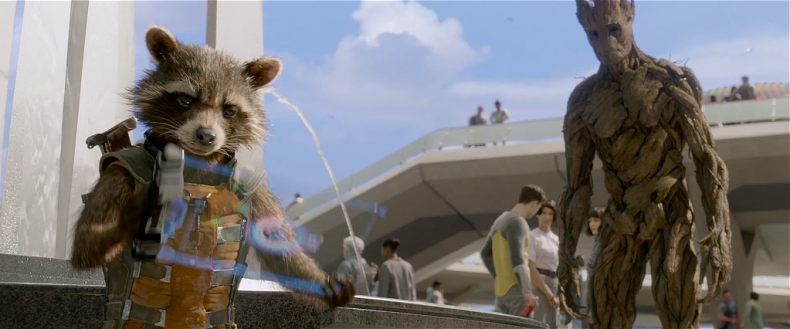 Disney CEO Bob Iger confirmed a Loki solo series starring Tom Hiddleston last week. (Considering he's "dead" in the MCU right now, it's not clear how that's going to work yet). There's also plans for a Winter Soldier and Falcon series, which will explore the budding friendship between Sebastian Stan and Anthony Mackie's characters in Captain America: Civil War. Scarlet Witch, played by Elizabeth Olsen, will also get her own series. Vision is expected to be a main character as well, since their relationship barely gets any screen time in any of the Marvel flicks.
Star Wars and Marvel shows are big franchises for Disney +, each with followings that rival anything on Netflix, Hulu or Amazon. If Loki, Scarlet Witch and Bucky and Falcon shows feel tired to you — considering they've been the focus of like, a lot of Marvel movies already—well, you're not alone. A Rocket and Groot series could really be the real Disney magic the new streaming service needs.
What do you think about the prospect of Rocket and Groot on Disney +? Sound off in the comments. The Disney streaming service is expected to launch in 2019.