Rocket Launcher Attack Threatens to Open New Front in East Ukraine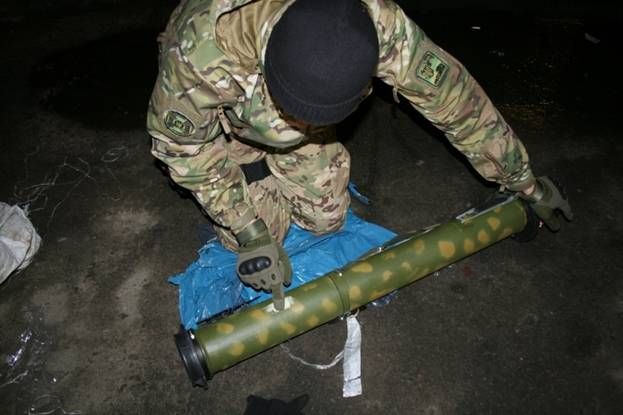 The Ukrainian security services accused Russia of arming and training a group of terrorists who allegedly launched a deadly attack on a peaceful demonstration the as yet untouched Eastern Ukrainian city of Kharkiv yesterday.
An explosion, thought to have been caused by a rocket attack, ripped through the crowd at a march towards a vigil in honour of Ukrainian soldiers killed fighting in neighbouring Donetsk and Luhansk, killing three people and injuring ten, in what authorities have branded a "terrorist attack". A 15-year-old boy was among the dead.
The attack which took place in the city of Kharkiv, the capital of the Kharkiv region which borders both war-stricken Donetsk and Luhansk, killed two instantly - one Ukrainian policeman and one civilian - as citizens were lining up in front of the Palace of Sport begin the march.
The boy and another person were rushed to hospital, where they were reported in critical condition, until the mayor of Kharkiv's office reported the teenager had died today afternoon.
Four suspects have been arrested and found in possession of a rocket launcher and other arms believed to have been used to cause the explosion which brought the peaceful march a halt, according to Ukraine's security services.
Alexander Turchinov, secretary general of Ukraine's national security council told press last night that anti-terrorist operations have ensued in the city.
According to Ukraine's security services the suspects are believed to have been trained in Russia, in the city of Belgorod and are linked to a regional militant group which has risen to prominence in the wake of the Ukrainian crisis called the Kharkiv Partisans.
The security services allege that the group were planning further attacks on the city in public places such as the city's shopping centre, busier streets, cafes and parks. Kharkiv city is only 25 miles from the Russian-Ukrainian border.
Authorities identified the rocket launcher as a Russian-made RSG-1 device, which has an effective shooting range of somewhere between 150 - 200 metres, posting images and a video of the arrest.
The group has previously been linked to an attack against a Kharkiv court house, which left 12 people in critical condition last month, while Ukraine's secret services have reported arrests of members of the groups several times since.
Eleven days ago the security services reported arresting a member of the group who was in possession of explosives and was planning to blow up the nearby arms-manufacturing Malyshev plant.
Yesterday's incident has raised Kharkiv's terror alert to the highest level, according to Turchinov.
Neither the Kharkiv local authorities nor the regional desk of the security services were available to comment on whether Kharkiv will become the next target for separatists.
The region borders both Donetsk and Luhansk to its southeast, where the majority of fighting during the Ukrainian crisis has taken place and it also borders Russia to the north.
Rocket Launcher Attack Threatens to Open New Front in East Ukraine | World