'Rocket League' Cross-platform Parties Update Coming Next Month
It's almost time to call up your friends and head to the virtual pitch: cross-platform parties for Rocket League should be here next month. This information comes from a post on the Rocket League website.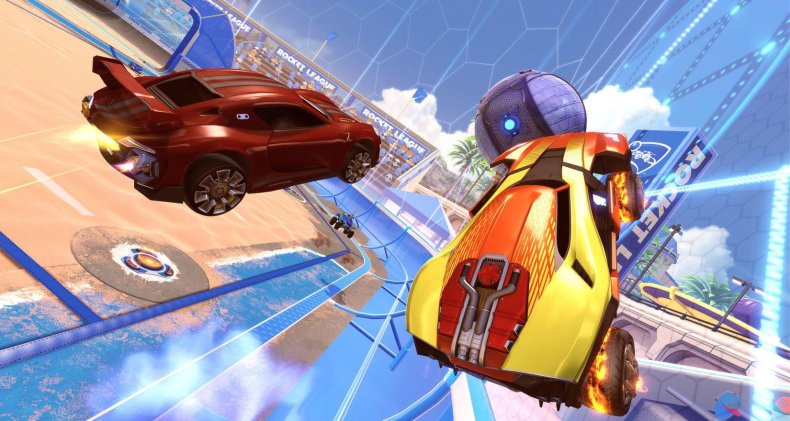 In the post, developer Psyonix explains that cross-platform parties will work thanks to a new system called RocketID. The developers wanted to have RocketID out in time for this month's update, but the service didn't meet Psyonix' level of quality. RocketID should be available in September's update, pending first-party certification.
Once RocketID is live, players from just about every console will be able to join in a group together to play Rocket League. Participating platforms include Xbox One, Switch and PC. More information on RocketID will be released as the launch date draws closer.
Along with RocketID, we already know a bit about what to expect from Rocket League's September update. Along with the start of Competitive Season 9, every game mode will be getting its own Ranked tab. This means you can play Rumble, Dropshot, Hoops and Snow with rankings. Additional social features have been teased for the update, but details will be announced later.
As for other changes to Rocket League, the first Rocket Pass launches a week after the August Update. Rocket Pass is an overhaul of Rocket League's progression system, and seems like it will work similarly to Fortnite 's season passes. Players can unlock new loot by gaining XP, or unlock everything by paying $9.99 per Rocket Pass. It's unclear how long each Rocket Pass will last, but Psyonix has stated there will be several offered per year. More information on Rocket Pass can be found here.
Rocket League is now available on Xbox One, PS4, PC and Switch.
So what do you think? Are you excited to start playing Rocket League with your friends across consoles? Will you join in the competition for the other Rocket League game modes once Ranked play is released? Let us know your thoughts in the comments section below.