'Rocket Man' Also Weatherman? North Korea Claims Kim Jong Un Brought Sunshine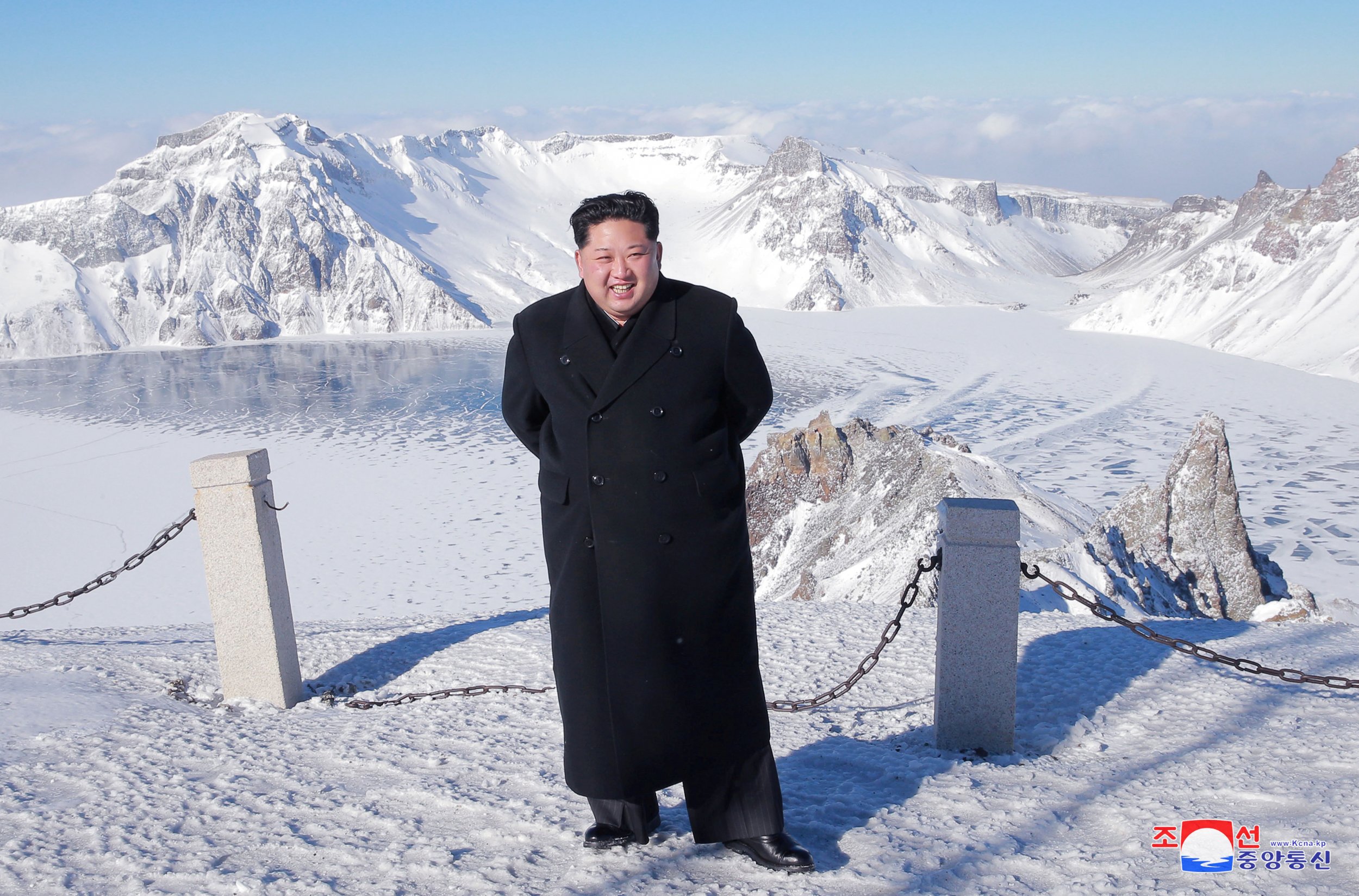 North Korea leader Kim Jong Un, whom President Donald Trump dubbed "Rocket Man" for his missile tests, has another power, Pyongyang claims: controlling the weather.
When Kim "ascended" to the top of 9,000-foot Mount Paektu over the weekend to celebrate the recent launch of his country's possibly most powerful missile yet, a blizzard cleared up for "fine weather unprecedented," the North Korean government said in a statement disseminated by state media.
"Mount Paektu presented charming scenery showing magic peaks and dazzling sunshine on its clear and blue waves," North Korea's official state newspaper Rodong Sinmun said. The "peerlessly illustrious commander" can control "the nature," the statement read.
Kim apparently had a revelation about his nuclear development efforts atop the active volcano.
"Imposingly standing on Janggun Peak, the respected Supreme Leader gave a familiar look for a while at the dizzy cliffs and the sea of trees, recalling the emotion-charged days when he realized the great historic cause of completing the state nuclear force without yielding even a moment and with the indomitable faith and will of Paektu," the state newspaper printed.
In September, a few days after Kim launched a powerful missile, Trump called him "Rocket Man" on Twitter and uttered the nickname during a speech before the United Nations.
"No nation on Earth has an interest in seeing this band of criminals arm itself with nuclear weapons and missiles. The United States has great strength and patience, but if it is forced to defend itself or its allies, we will have no choice but to totally destroy North Korea," said Trump, concluding, "Rocket man is on a suicide mission for himself and for his regime."
The nickname has stuck, and Trump has continued to use it in his verbal warfare with Kim.
The North Korean government's claim that Kim may also be a weatherman isn't the first unusual event at Mount Paektu.
Kim's father, Kim Jong II, said he was born there, at a secret military camp, while a double rainbow appeared in the sky. The former leader's biography also claimed that Kim Jong Un began driving when he was 3 years old and has discovered treatments for cancer and Ebola, among other diseases.
North Korea ended a two-month break in testing when it launched the Hwasong-15 missile on November 29 that, it contends, could reach anywhere in the U.S. mainland. The North's government warned that large-scale air drills by the U.S. last week put the region on the "brink" of war.