'Rocketman': Russia's 'Gay Propaganda Law' Prompts Censorship of Sex Scene in Elton John Movie
The Russian version of the Elton John biopic Rocketman omits scenes depicting drug consumption and sexual encounters between men, prompting condemnation from Amnesty International.
Rocketman premieres in the U.S. on Friday and in Russia on June 6. Ahead of its official release, actor Taron Egerton, who portrays John, was praised for his acting and the film was labeled a "blast."
While the film was commended for being a must-see, Russia's version was criticized for censoring parts of the movie that violated the law titled "aimed at protecting children from information promoting the denial of traditional family values," also referred to as the "gay propaganda law." Censored scenes included those that showed kissing or sexual encounters between men and drug consumption, according to Amnesty International.
The closing credits, which allegedly show John and his husband David Furnish, were also censored from the Russian version, Amnesty International said.
"This homophobic censorship of a film about Elton John is as ridiculous as it is insulting for LGBTI people and anyone in the country who stands for dignity and non-discrimination," Natalia Zviagina, Director of Amnesty International's Representative Office in Russia said in a statement. "It is a sad irony that Sir Elton John himself promised back in 2015 that he would try to positively influence [Russian President] Vladimir Putin's gay rights attitude."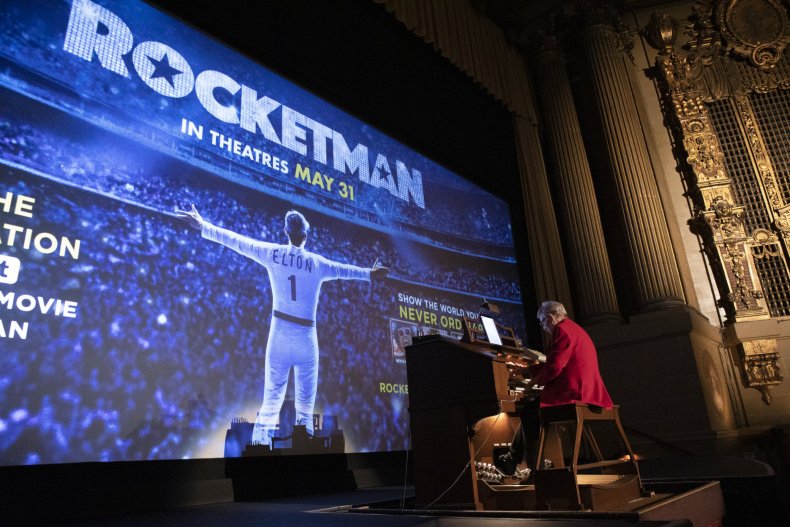 Zviagina added that the censorship "insults and dehumanizes same-sex relationships" and called for distributors to take steps to immediately restore all the deleted scenes.
Passed in 2013, the "gay propaganda law" bans the "promotion of nontraditional sexual relations to minors," according to the international non-government organization Human Rights Watch.
Amnesty International noted the film was rated 18+ so minors would not be permitted into the theater, therefore, it questioned if the censorship was even necessary under the law.
Anton Dolin, a Russian film critic, posted on Facebook about the deleted scenes, which he called "very obvious" and took particular issue with the film's ending. Instead of telling viewers John found love, they're told the musical icon founded a nonprofit dedicated to aiding the fight against AIDS.
A spokesperson for Central Partnership company, the movie's distributor, told TASS, a Russian news agency, that scenes were cut to comply with Russian law. The Russian Culture Ministry said it did not recommend removing any scenes and placed the decision solely on the distributor.
John previously wrote in an article for The Guardian that some studios wanted to tone down the drug use and sexual encounters so it could be rated PG-13, but he didn't lead "a PG-13-rated life."
'Rocketman': Russia's 'Gay Propaganda Law' Prompts Censorship of Sex Scene in Elton John Movie | U.S.