Rockets Plunge Odesa into Darkness, But Determined Residents Carry On
Since October 10 of last year, Russia has been waging a missile and drone campaign aimed at crippling Ukraine's electricity grid. While controlled power outages are a frequent occurrence all across the country, they have been especially severe in the southern city of Odesa, which enjoys access to fewer potential electricity transmission routes than more centrally located Ukrainian cities such as Kyiv.
"It's clear that this problem will not be solved quickly," Oleksandr Kharchenko, the director of Ukraine's Energy Industry Research Center, said as part of a briefing at the Kyiv Media Center on February 3. "Every time we make repairs in one location, we experience strikes in other places."
"The worst situation is in the Odesa and Kherson regions," Kharchenko added, "and I don't expect there to be an improvement in the overall situation for at least another two or three months."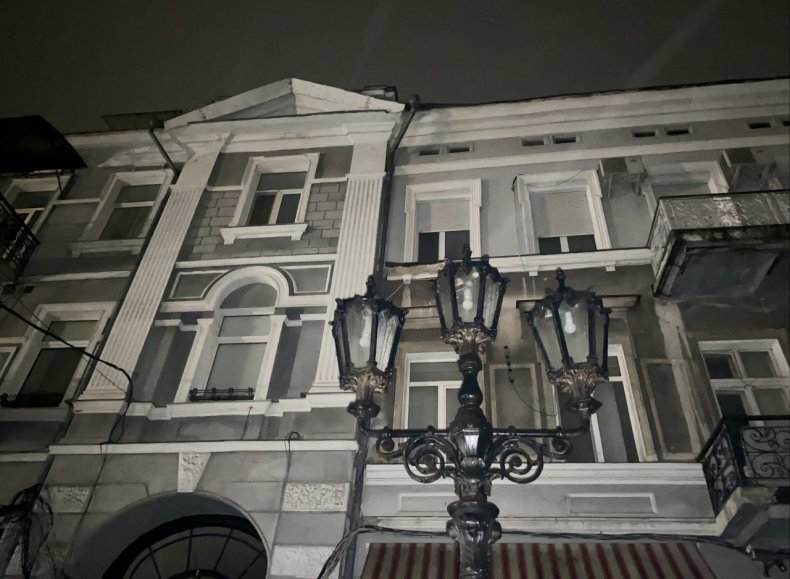 The Russian campaign may not have bombed Ukraine back into the Stone Age, but it has made life decidedly more 19th Century in character. Candlelight dinners — both at home and in several of the culinary capital's cafes and restaurants — have become an almost everyday occurrence. Running water is now a luxury, with residents sometimes waking up at 5 a.m. in order to shower or run the washing machine before the next hours-long power cut kicks in. And evening strolls have become an adventure in which residents must navigate around cracked sidewalks and planter boxes without the aid of streetlights.
Due to the unreliability of home refrigeration, people have started planning out menus so as to avoid keeping meat and dairy products in their refrigerators for more than one or two days. Power banks are left plugged into outlets overnight in order to charge up during nighttime windows of electricity supply. Residents with gas stoves — as opposed to electric models — find themselves hosting more guests than usual.
The situation is not a "blackout" in the technical sense of the word. Although most residences in the greater Odesa area are without power most of the time, a constant but strictly limited supply of electricity is still available.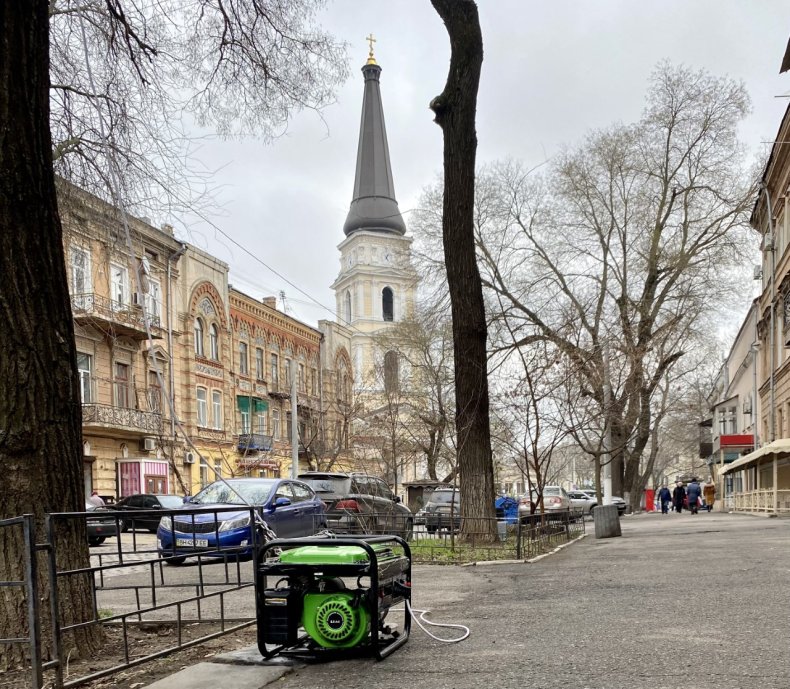 "Due to the Russian rocket attacks, the volume of electricity going to our city has significantly decreased — sometimes to as low as 30% of normal," Petro Obukhov, a member of the Odesa City Council, told Newsweek.
This means that local power dispatchers must prioritize between competing needs in order to ensure that objects of critical infrastructure continue functioning. Often, there is only enough power left over to provide homes and businesses with a few hours of electricity each day.
"Hospitals and military sites cannot be disconnected, and boiler stations used for heating cannot be shut off for more than 24 hours without running the risk that water in the system will freeze," Obukhov explained. "Sometimes, this means that citizens only receive six or so hours of electricity in a day, and often some of those hours are, for example, between 3 and 6 in the morning."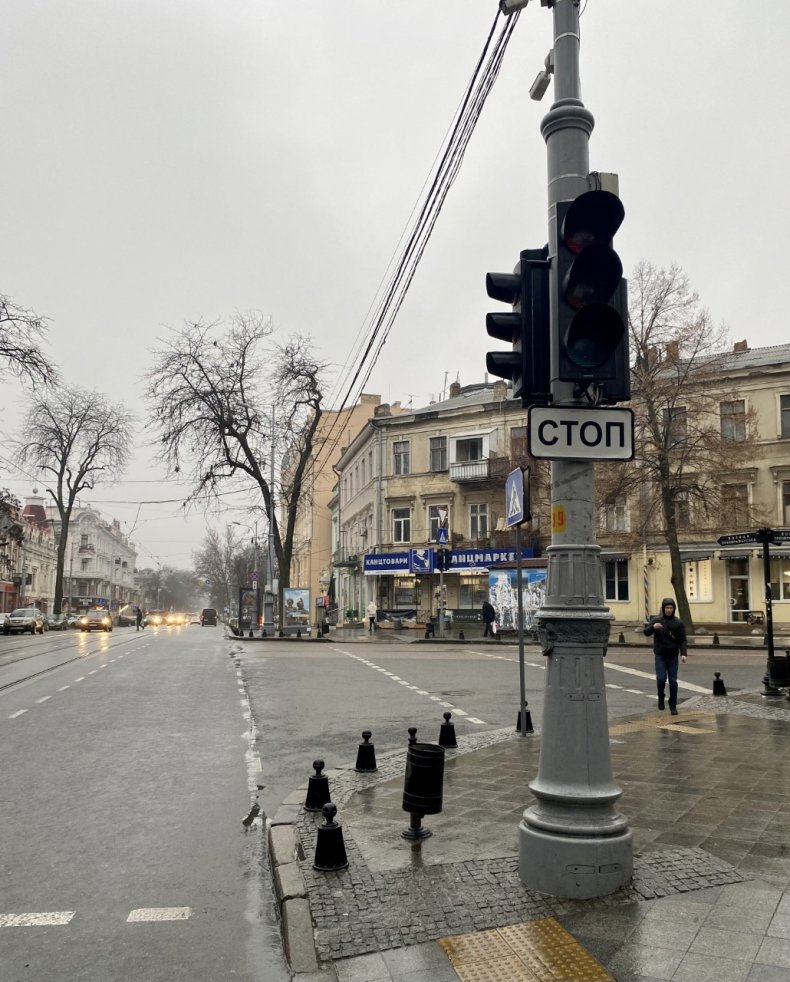 In order to ensure that the maximum amount of electricity remains available for private consumption, the city has cut back on certain services that Odesa residents were already taking more or less for granted more than a century ago. At night, most streets are lit only by the headlights of passing cars and by the headlamps and telephone flashlights of adventurous pedestrians. Service on electric-powered mass-transit, such as streetcars, is often either reduced or is cancelled altogether. Even stoplights stop functioning for hours at a time.
"There are a few more accidents, but for the most part, drivers got used to navigating through intersections within a day or two of the first shut-offs," Denis, a local taxi-driver, told Newsweek.
"The biggest danger is to pedestrians. People will still try to cross the street on the middle of the block as if we can see in the dark," Denis added. "When they do that without even carrying a flashlight, they're putting their lives in danger."
In order to ensure that citizens always have access to a well-heated space supplied with power for charging devices and a kettle for heating tea, "Invincibility Points" have been established around the city. While most of these spaces consist of a corner of a supermarket that is equipped with a sufficiently high-powered generator, one space set up by the city government in the center of town even features a wood-burning stove.
"Our generator can't operate around the clock," an administrator at the Invincibility Point on Oleksandrivsky Prospect told Newsweek. "Every six hours or so, we have to let it rest, and so, in the event that we can't heat the space during that time, we have a backup plan."
In the early days of the Russian rocket campaign, when power outages were still a rarity, Invincibility Points attracted a fairly sparse clientele. As the Russian attacks have increased, however, they are getting increasingly heavy use.
"Everything depends on the situation with electricity," the administrator explained. "With the situation as bad as it is now, we sometimes have up to 50 people in here at a time. It's everything from homeless people to students who need to connect to their online lectures."
If residents are willing to pay for the privilege of accessing electricity, they can almost always find a free table and set up their laptops at any of the several generator-powered cafes in the city center.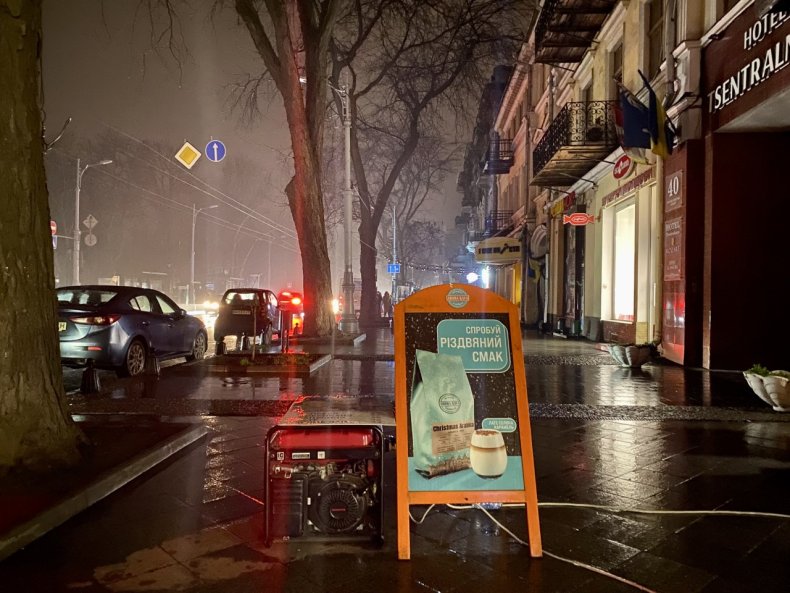 "People can come here and find a warm, comfortable, safe space to work or to just get a cappuccino," Nikolai, a barista at No Name Coffee Place on Koblevska Street told Newsweek.
"If you're closed for even a day, customers will simply stop coming, and so we bought a diesel generator for around $2,000 months ago when the power cuts began," he continued. "It costs around $15 every day for fuel, but since the economic situation is so bad, we haven't raised our prices. Everyone is just adapting to the extra expenses."
While the purchase of portable diesel generators has allowed coffee shops, restaurants, pharmacies, commercial stores and barbershops to remain open, their omnipresence on city streets means that both air and noise pollution have risen dramatically in recent months. Still, the situation is not all bad all of the time.
"Some of the consequences are kind of fun," Obukhov, the Odesa city council member, said. "I walk my dog in the park, and you see all of these other people walking around in the pitch black with their flashlights."
"If nothing else," he added, "it's a reminder that we're all in this together, even if we can't see each another."