Rockets Target Iraq Base with U.S. Contractors
Five rockets fell on the Balad Air Base in Iraq on Wednesday at 4 p.m. local time, according to the Iraqi military's security media cell. The base, located north of Baghdad, houses U.S. contractors. However, the rocket strike didn't result in any human or material losses.
The base is also used by the U.S. company Sallyport to service F-16 fighter jets flown by Iraq's air force, Arab News reported. At least one rocket also hit near an airport used by U.S. military aircraft, security officials told Reuters.
"It seems that continued #Iraqimilitia recent rocket attacks on #Baggdad #Ballad air bases are a pattern to force #US forces out," Hoshyar Zebari, the former Deputy Prime Minister of Iraq wrote in a tweet posted on Wednesday afternoon. "#Americans & #coalition forces should stand their ground & not be intimidated by unholy armed militias with foreign agendas."
The rockets were reportedly deployed using a "booby-trapped drone," according to the international news organization Agence France-Presse (AFP).
"This evening, there was an incident with unmanned aerial systems impacting at BDSC," a spokesperson for the U.S.-led coalition told Newsweek. "The incident is under investigation and more details will be provided as they become available."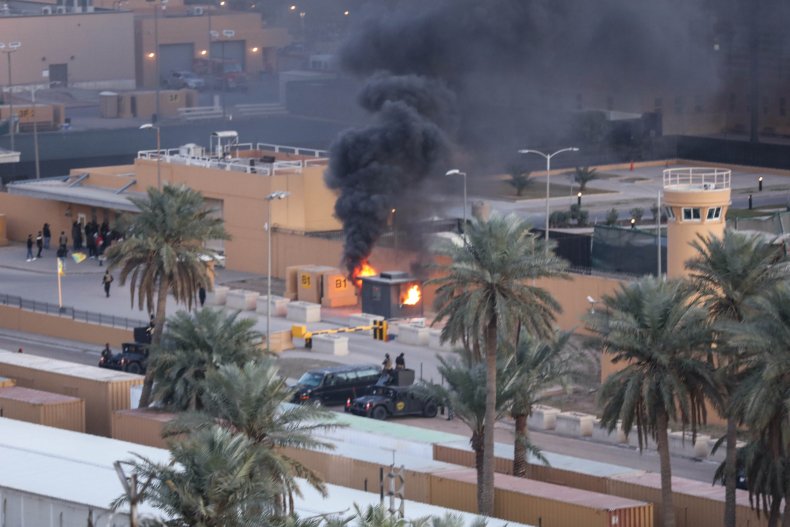 On June 7, General Kenneth McKenzie, leader of U.S. Central Command, blamed Iranian-affiliated militant groups for such attacks. The attacks seek to pressure the U.S. into removing all of its remaining military personnel, he added. The personnel is seen as an occupying force by the attackers.
In the last year and a half, there have been about 300 attacks by Iran-backed Iraqi Shiite militias on U.S. interests in Iraq, according to the BBC. The attacks have mostly involved rockets and improvised explosive devices meant to disrupt supply convoys. However, an increasing number of attacks involve flying drones which can be difficult for U.S. forces to detect.
The drones have become more sophisticated at a low cost, Michael P. Mulroy told The New York Times. Mulroy is a top Middle East policy official at the U.S. Department of Defense (DOD). The attacks have reportedly increased as Iran continues to suffer economically under U.S. sanctions.
The Balad Air Base has repeatedly been targeted by such attacks. Last month, the U.S. defense contractor, Lockheed Martin, withdrew its staff from the base over safety concerns, Arab News reported.
As of January 2021, 2,500 U.S. troops remain in Iraq, according to the DOD. As of the fourth quarter of 2020, an estimated 4,826 U.S. contractor personnel remain in Iraq and Syria, according to the Congressional Research Service.
The remaining U.S. troops are part of a military coalition to oppose the Islamic State of Iraq (ISIS), a terrorist group.
Newsweek contacted the DOD for comment.