Rod Blagojevich Declares Himself a 'Trump-ocrat,' Praising President for Efforts to Reform Criminal Justice System
Former Illinois Governor Rod Blagojevich, a Democrat, addressed supporters and journalists outside his Chicago home Wednesday morning, declaring himself a "Trump-ocrat" and expressing his and his family's "profoundest" and "deepest" gratitude to the president for commuting his sentence.
"From the beginning to end, this was persecution masquerading as prosecution," he said. "I got into politics to help people. I didn't get into politics to make money. I didn't get into politics to enrich my family or my friends. I got into politics because I was fortunate to live in the greatest country that has ever existed."
Blagojevich came out of his front door just before 11:30 a.m. local time with his wife and two daughters by his side. He dabbed his face with a tissue, noting in his remarks that he'd struggled to shave as he'd not had access to a normal razor in prison.
Saying that he had "10,000 reasons" to thank Trump, he lauded the president for his efforts to reform the nation's criminal justice system. Blagojevich called the system "racist," comparing it to "Jim Crow laws" that were long used in the south to discriminate against black Americans. He criticized the "squalid" conditions he and others faced in prison, noting that he'd been locked up with murderers, cartel members and drug dealers.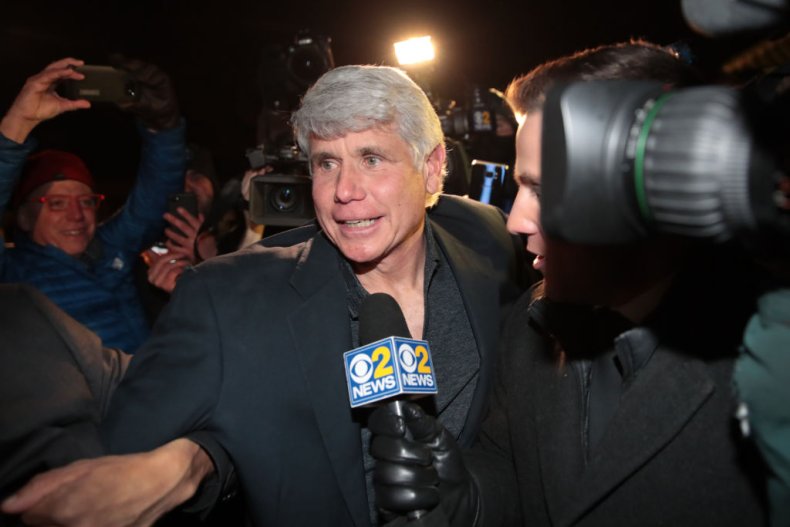 Blagojevich added that he would "try to do" what he "can to improve" what he believes to be a "broken" and in "many cases" a "corrupt criminal justice system." He noted that the U.S. "incarcerates six to 10 times more people than any other industrialized nation in the world."
The former governor returned to Illinois from his Colorado prison Wednesday morning, after Trump formally commuted his sentence. "I didn't do the things they said I did and they lied on me," he told local WGN-TV.
Blagojevich in 2011 was convicted on corruption charges for attempting to sell former President Barack Obama's vacated Senate seat. In 2009, the former governor was unanimously removed from office by the Illinois state Senate. Prior to that, he was nearly unanimously impeached in the Illinois House, with only one state lawmaker voting against the indictment.
After he was removed from office, Blagojevich was a contestant on Trump's former reality television show The Celebrity Apprentice. He was later convicted and sentenced to 14 years in prison over his alleged pay-for-play scheme.
Trump said he was influenced to commute the sentence by Blagojevich's wife's defense of her husband in Fox News interviews. He also said that he felt that the disgraced Democratic politician was treated unfairly, similar to how he feels he has been treated through the Russian election interference investigation and the Democratic-led impeachment inquiry.
Democrats and Republicans in Illinois were highly critical of Trump's decision to commute the former governor's sentence.
"In a state where corrupt, machine-style politics is still all too common, it's important that those found guilty serve their prison sentence in its entirety," Tim Schneider, chairman of the state's Republican party, said in a statement.
The state's Democratic Governor J.B. Pritzker shared similar sentiments. He argued that the president "has abused his pardon power in inexplicable ways to reward his friends and condone corruption, and I deeply believe this pardon sends the wrong message at the wrong time."