Trump Considers Commuting Rod Blagojevich's Sentence Because of 'Fantastic Wife' and James Comey
President Donald Trump told reporters on Air Force One that he was strongly considering commuting the sentence of Rod Blagojevich, the disgraced former governor of Illinois, and referenced both his "fantastic wife" and former FBI director James Comey.
Blagojevich was arrested in 2008 (while still governor) for using his position of power to solicit bribes, and Trump returned to the issue on his trip back to Washington D.C. after meeting with victims of the El Paso shooting which killed 22 and injured two dozen more this weekend.
"His wife I think is fantastic and I'm thinking about commuting his sentence very strongly. I think it's enough, seven years," Trump told reporters of Blagojevich who was sentenced to 14 years in federal prison for participating in several "pay to play" schemes (including trying to take back an $8 million contribution Illinois made to Children's Memorial Hospital because the hospital's CEO wouldn't make a campaign donation).
Blagojevich notably attempted to give former Illinois Senator Barack Obama's vacant seat to the highest bidder but was not officially convicted for it. Recordings obtained by government officials have Blagojevich saying of the seat, "I've got this thing and it's (expletive) golden, I'm not just giving it up for (expletive) nothing."
Still, in 2011 he was convicted on 17 charges for wide-ranging acts of corruption.
"I thought he was treated unbelievably unfairly; he was given close to 18 years in prison. And a lot of people thought it was unfair, like a lot of other things," Trump said on Wednesday. "He's been in jail for seven years over a phone call where nothing happens—over a phone call which he shouldn't have said what he said, but it was braggadocio, you would say. I would think that there have been many politicians—I'm not one of them, by the way—that have said a lot worse over the telephone."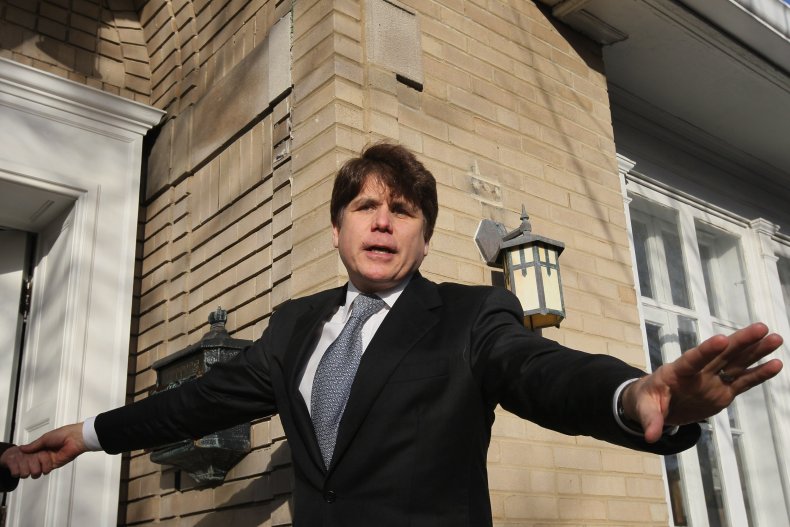 The president added that "it was the same gang, the Comey gang and all these sleazebags that did it." Trump was referring to James Comey, the former FBI director that Trump fired after taking the Oval Office and who is a frequent target of the president's ire. Comey's close friend and associate, former U.S. attorney in Illinois Patrick Fitzgerald, led the prosecution against Blagojevich.
This is not the first time the president has floated the idea of freeing Blagojevich, an old friend from his Celebrity Apprentice days.
Blagojevich joined Trump on the ninth season of The Celebrity Apprentice in 2010 (one year after he was removed from the Governor's Mansion for abuse of power and corruption) where the president praised his "tremendous courage and guts" but ultimately fired him on the fourth episode for his lack of Harry Potter knowledge. "Your Harry Potter facts were not accurate. Who did the research?" the president asked after Blagojevich failed to create a successful display to help launch the "The Wizarding World of Harry Potter" amusement park.
Last year, the president said he was "seriously thinking of a curtailment," for Blagojevich who he said was convicted "for being stupid and saying things that every other politician, you know that many other politicians say."
After Trump's first round of comments, Blagojevich filed official clemency paperwork with the president.
"No other elected official has been held to this standard with respect to campaign fund-raising. Few if any politicians could convince a jury that there was 'no connection' between campaign contributions and official acts, as Blagojevich was required to do," said his lawyer, Leonard Goodman, in a statement at the time.