Toronto Mayor Rob Ford's Funeral Draws Thousands of Mourners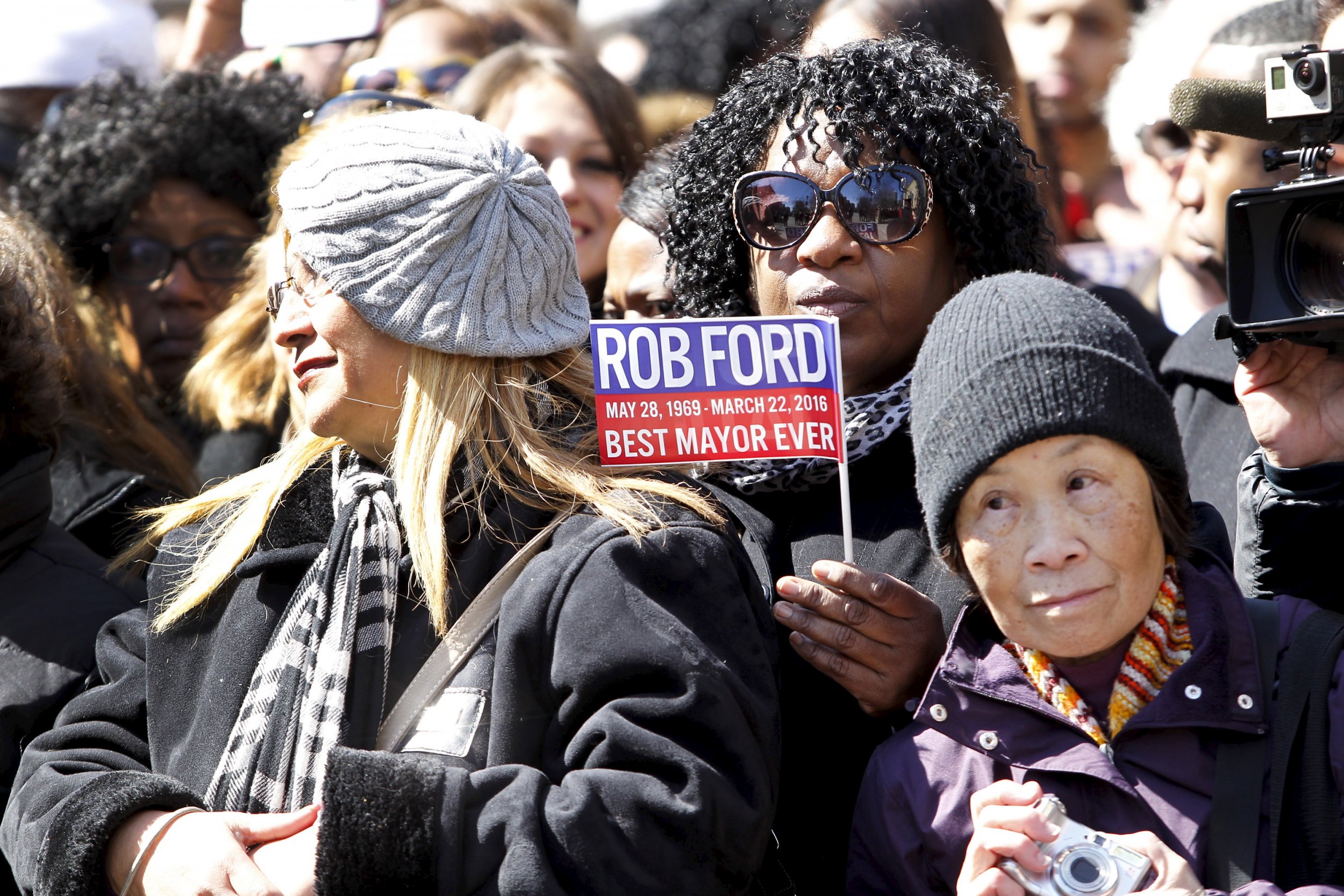 Thousands of people turned out on Wednesday for the funeral of former Toronto Mayor Rob Ford, whose tumultuous four years as the leader of Canada's largest city included an admission that he smoked crack cocaine and a history of erratic behavior.
Supporters lined the streets of downtown Toronto to witness the funeral procession from city hall, where some 5,000 people had passed Ford's casket during a two-day public visitation, to the church where he was remembered for his populist appeal.
Ford, who was married and the father of two young children, died March 22 at age 46. At the time of his death, he was a city councillor and undergoing treatment for an aggressive form of cancer.
While he gained global notoriety for his drug addiction, controversial public statements and a string of videos showing him behaving badly, supporters and political adversaries alike remembered him as a man with huge appeal among ordinary voters.
"He was a down-to-earth man," said taxi owner and supporter Behrouz Khamseh, 58. "He wasn't shy about expressing his opinion. He wasn't two-faced."
Ford, a Conservative, came to office in October 2010 on a groundswell of populist support despite his own wealthy beginnings. He has drawn comparisons to U.S. Republican presidential candidate Donald Trump for his frank and often offensive speech and his devoted following among those who felt left out of elite politics.
Thousands of supporters walked behind the hearse carrying Ford's casket through downtownToronto, while others lined up at dawn in hopes of getting a seat in the cathedral where thefuneral was held. Television screens were set up in tents outside so the overflow crowd could watch the service.
Retired healthcare worker Noreen Murphy, 51, held a "best mayor ever" flag outside of the cathedral.
"Nobody else cared about the people," she said. "He was the one who would go out and make a difference."
Some of Canada's political elite and Ford's family members alike delivered eulogies. His brother called Ford the "mayor of Canada," and his 10-year-old daughter Stephanie said her father was a great man who had helped lots of people.
Ford pulled out of his campaign for re-election after being diagnosed with a rare and hard-to-treat cancer in September 2014. He was elected a city councillor instead.
While he was mayor, he admitted to smoking crack cocaine, buying illegal drugs and driving after drinking alcohol. He refused calls to resign but checked into a rehabilitation clinic in May 2014 after admitting his alcohol use was out of control.
Ford once told Fox News that he hoped to run for prime minister one day.