Rod Rosenstein Said Jeff Sessions, John Kelly Might Support Using 25th Amendment to Remove Trump: Report
Deputy Attorney General Rod Rosenstein suggested he could convince Cabinet officials to invoke the 25th Amendment against President Donald Trump to have him removed from office, according to The New York Times on Friday.
Rosenstein also reportedly offered up the idea of secretly recording Trump to show how dysfunctional his White House was following the firing of former FBI director James Comey in May 2017.
The Times based its report on anonymous sources who were either part of or privy to conversations Rosenstein had with FBI and Justice Department officials. They included Rosenstein's talks with former FBI deputy director Andrew McCabe.
Rosenstein firmly pushed back against the report and said his experience with Trump was proof enough that the amendment should not be invoked.
"The New York Times's story is inaccurate and factually incorrect," he said in a statement. "I will not further comment on a story based on anonymous sources who are obviously biased against the department and are advancing their own personal agenda. But let me be clear about this: Based on my personal dealings with the president, there is no basis to invoke the 25th Amendment."
According to the report, Rosenstein told McCabe that he thought it could get Attorney General Jeff Sessions and John Kelly, then Homeland Security secretary, to start the process of removing Trump under the amendment.
While a Justice Department spokesperson stated Rosenstein had only sarcastically brought up recording Trump, the report stated that Rosenstein even suggested FBI officials who were interviewing with the president for Comey's old job could wear a wire.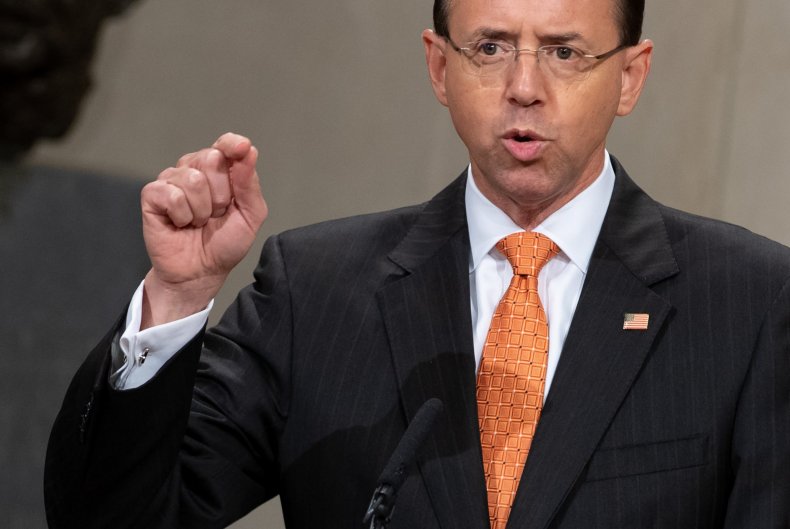 Rosenstein, who Trump has publicly ridiculed before, was reportedly visibly distraught after Comey's firing, the report said, and he even believed the president had used him as a means to get rid of Comey.
Trump initially said he fired Comey based on the recommendations of Rosenstein and Sessions. Rosenstein wrote a detailed letter explaining how Comey had acted improperly in his handling of Hillary Clinton's private email server probe during the 2016 election.
Trump later told NBC News just weeks after firing Comey that he was thinking about the Russia investigation when he decided to ax the man heading up the probe.
The 25th Amendment requires a majority of the Cabinet as well as the vice president to state that the president is unfit to serve. The amendment was first used to approve Gerald Ford as vice president in 1973.