Rod Rosenstein Expected to Depart From White House Once New Attorney General Is Appointed: Reports
Deputy Attorney General Rod Rosenstein is reportedly set to leave the White House once a new attorney general is confirmed in the coming weeks, according to multiple reports.
Rosenstein is known for being a favorite target of President Donald Trump and appointing special counsel Robert Mueller to lead the investigation into Russian interference in the 2016 election and alleged collusion between Russia and the Trump campaign. He has already informed the president and White House officials of his plan to leave the administration if William Barr, Trump's nominee for attorney general, takes office, reported ABC News.
Read more: Trump retweets image showing Rod Rosenstein behind bars
The ABC News report cited multiple sources familiar with the deputy attorney general's plans and was confirmed by CNN. It came after months of speculation over whether Rosenstein would resign from his role within the Justice Department following the termination in early November of former Attorney General Jeff Sessions.
Sources told ABC that Rosenstein had wanted to remain with the Justice Department until Barr's Senate confirmation to ensure a smooth transition within the department.
Trump has heavily criticized Rosenstein for months over his role in overseeing the Russia probe. The president has frequently railed against the deputy attorney general on Twitter and recently retweeted a picture depicting him and others behind bars. Trump later explained that he believed Rosenstein "belongs behind bars" because of his selection of Mueller to take over the probe in May 2017, shortly after the president fired former FBI Director James Comey.
Despite clear tension between Rosenstein and Trump, an unnamed source familiar with the situation told CNN that Rosenstein is not being forced out of the White House.
Barr's Senate confirmation hearing is expected to begin on January 15, with a confirmation vote expected to follow in the weeks after, likely in mid-February. It is unclear how long after Barr's appointment Rosenstein is expected to remain within the Justice Department.
If Barr is confirmed, he would likely assume oversight of the Russia investigation, which he has previously criticized.
In June, Barr sent an unsolicited memo to the Justice Department questioning Mueller's decision to look into whether the president obstructed justice when he asked then–FBI Director Comey to stop a probe into former national security adviser Michael Flynn over his communications with Russian officials, according to The Wall Street Journal.
Barr asserted that the president had been acting within his executive branch of authority when he made the request and said Mueller "should not be permitted to demand that the president submit to interrogation about alleged obstruction."
The attorney general pick also bashed Mueller's overall approach to law, which he condemned as "grossly irresponsible" with "potentially disastrous implications" for the presidency.
It is unclear how Barr's criticisms will affect his Senate confirmation hearing.
Trump has previously told reporters that Barr was his "first choice from day one," praising his pick as "one of the most respected jurists in the country."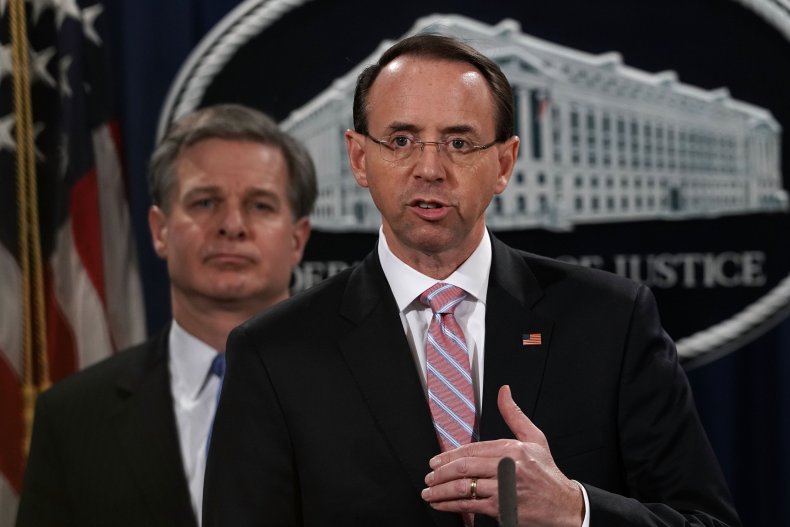 This is a developing story, and it will be updated as more information becomes available.