Top Republican Suggests Rod Rosenstein Could Be Impeached If He Doesn't Turn Over DOJ Documents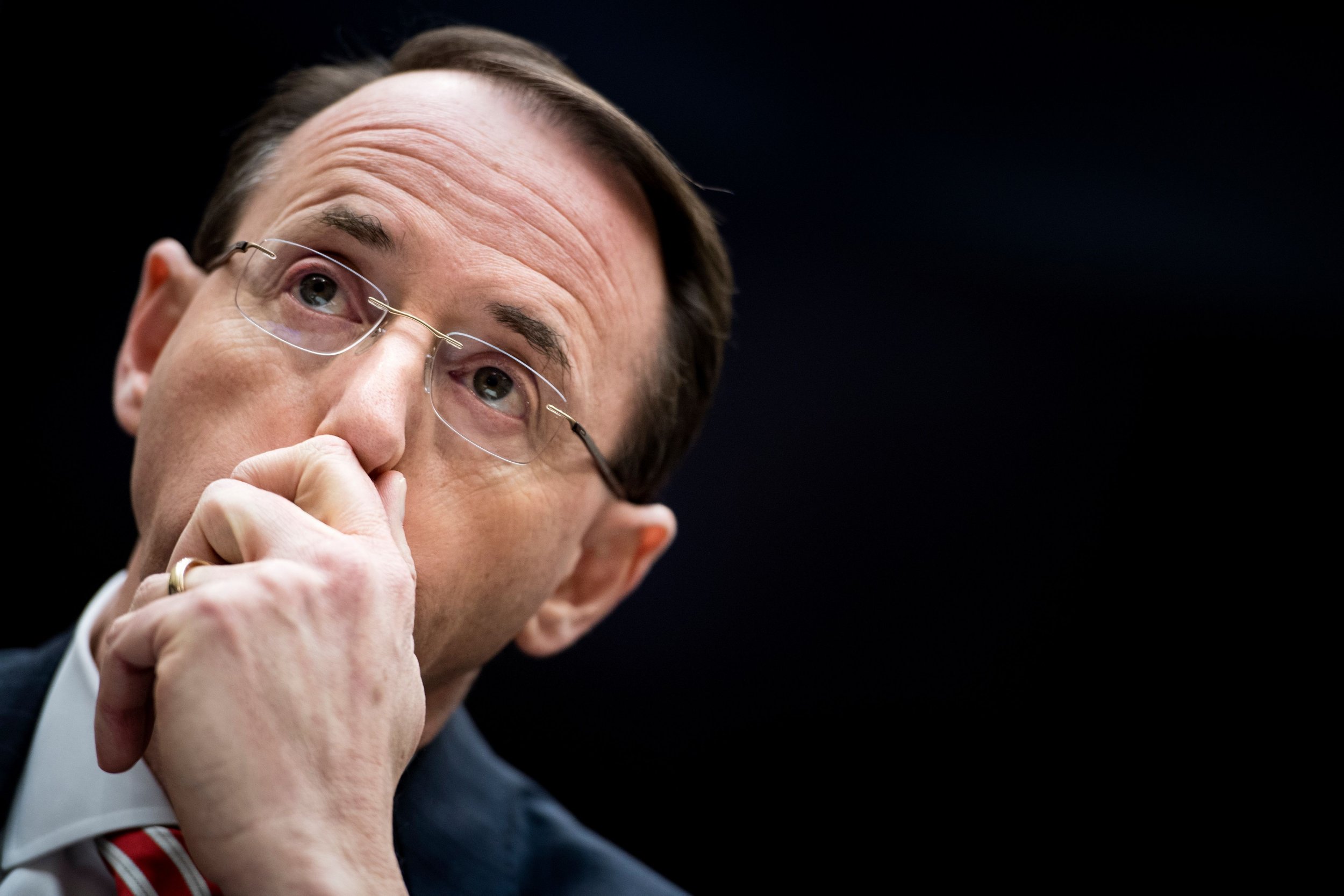 Deputy Attorney General Rod Rosenstein could "certainly" face impeachment proceedings if the Department of Justice fails to hand over requested documents relating to the investigation into links between the Trump campaign and Russia, a top House Republican warned on Wednesday.
Related: Rod Rosenstein Responds to Impeachment Articles: Justice Department 'Is Not Going to Be Extorted'
Representative Mark Meadows of North Carolina made the statement as the House prepares to vote on a resolution demanding the Justice Department comply with subpoenas for documents on the FBI's probe into possible election collusion and how the bureau handled former Secretary of State Hillary Clinton's emails.
"The Speaker has indicated that we will have a vote on the House floor tomorrow on that resolution," Meadows told reporters, according to ABC News. "If they're not here by July 6th, then certainly contempt and impeachment [of Rosenstein] will be in order."
Rosenstein, who is overseeing special counsel Robert Mueller's probe into ties between the Trump campaign and Russia, faces increasing pressure with the resolution. The nonbinding resolution's passage would signify the first time that the House, with a Republican majority, go on the record demanding the documents.
The document request also covers allegations by House Intelligence Committee Chairman Devin Nunes and House Judiciary Committee Chairman Bob Goodlatte of surveillance on former Trump campaign adviser Carter Page.
President Donald Trump complained that the documents have not been produced in a tweet Monday.
"I have tried to stay uninvolved with the Department of Justice and FBI (although I do not legally have to), because of the now totally discredited and very expensive Witch Hunt currently going on," he tweeted. "But you do have to ask why the DOJ & FBI aren't giving over requested documents?"
Democrats have criticized Republicans for going after Rosenstein and accused them of trying to discredit the investigations into Trump and Russia.
"What's really going on here is a bad-faith effort," Democratic Rep. Jerry Nadler said on Tuesday. "Members of the majority want that investigation compromised, members of the majority want that investigation interfered with, and this is part of the effort to do so."
"The constitutional underpinnings of the republic are at stake," Nadler said.