Attorney General Jeff Sessions came to his deputy's defense Thursday after House Republicans and ardent supporters of President Donald Trump filed articles of impeachment over claims of withholding documents and materials regarding the special counsel's investigation of Russia's interference in the 2016 election.
Sessions, who was at Boston's U.S. attorney's office to deliver remarks, offered his endorsement of Deputy Attorney General Rod Rosenstein's skills and character.
"My deputy, Rod Rosenstein, is highly capable. I have the highest confidence in him," Sessions told reporters.
The former Alabama senator and frequent target of Trump over special counsel Robert Mueller's ongoing probe, also said Congress should be focused on other issues such as illegal immigration.
"What I would like Congress to do is to focus on some of the legal challenges that are out there," Sessions, who announced the administration's "zero tolerance" immigration policy earlier this year, added.
Rosenstein, like Sessions, has been subject to criticism from House Republicans, specifically members of the Freedom Caucus, over what they claim to be the lagging release of information regarding the special counsel's investigation.
On Wednesday, 11 House Republicans, all part of the powerful conservative caucus, attached their names to articles of impeachment brought forth by Representatives Mark Meadows of North Carolina and Jim Jordan of Ohio.
The move was viewed by critics and Democrats as a means to sully Mueller's investigation, which has recently seen a dip in approval from voters, and perhaps even offer Trump justification for dismissing Rosenstein. After Sessions recused himself in March of last year, Rosenstein was automatically tapped to head up and monitor Mueller's inquiry.
Jordan claimed the resolution was part of Congress checking the Justice Department.
"We're tired of the Justice Department giving us the finger and not giving us the information we're entitled to do our constitutional duty," Jordan told Fox News after the articles were filed. "More importantly, the American people are sick of it. That's why we filed the resolution."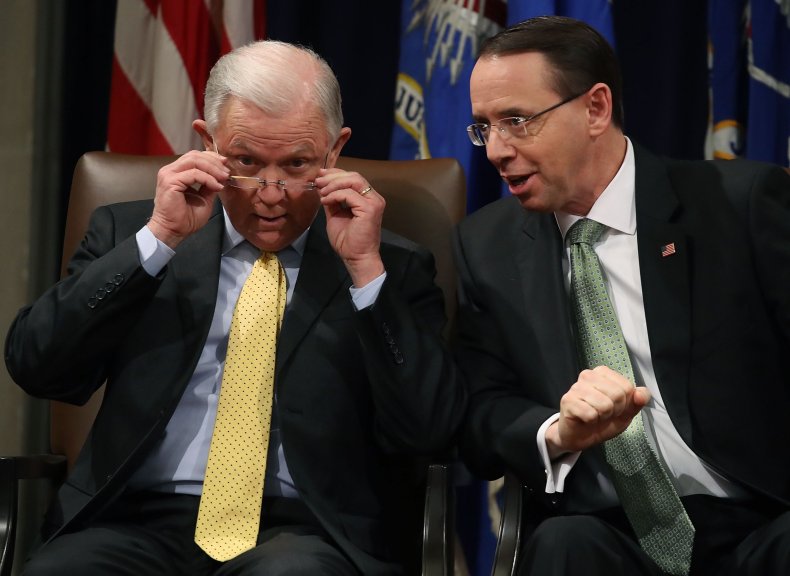 Rosenstein and Jordan had a testy exchange last month during a House Judiciary Committee hearing on the FBI and Justice Department's handling of the Hillary Clinton private email server probe. Rosenstein accused Jordan of attacking him personally.
While Meadows claimed a vote could be held as early as Thursday, no such vote has been scheduled and other Republicans have questioned even filing the articles against Rosenstein.
Sessions appeared to come to Rosenstein's defense earlier this year, as well. He and Rosenstein, as well as the number three at the DOJ, Solicitor General Noel Francisco, were spotted eating dinner at a Washington restaurant in February after the president leveled yet another attack against Sessions, Axios reported. However, an unnamed source told the outlet the dinner was not a "planned pushback" against Trump.