Rod Rosenstein Resigned or Fired? Donald Trump Regularly Criticized His Deputy Attorney General
President Donald Trump and Deputy Attorney General Rod Rosenstein will meet Thursday, White House press secretary Sarah Huckabee Sanders announced Monday, amid reports that Rosenstein was expected to leave his post at the Justice Department.
"At the request of Deputy Attorney General Rod Rosenstein, he and President Trump had an extended conversation to discuss the recent news stories," Sanders said in a statement. "Because the President is at the United Nations General Assembly and has a full schedule with leaders from around the world, they will meet on Thursday when the President returns to Washington, D.C."
Multiple reports earlier on Monday said Rosenstein was expected to resign or be fired, throwing into question who would then oversee special counsel Robert Mueller's investigation into Russian interference in the 2016 election.
The New York Times reported last week that Rosenstein had proposed secretly recording Trump and invoking the 25th Amendment to remove him from office in the wake of the president's firing of FBI Director James Comey. Rosenstein denied the report.
Even before the Times piece, the relationship between Trump and Rosenstein was defined by discord. The president repeatedly criticized Rosenstein and the Justice Department, taking particular issue with Mueller's probe.
"Lingering Stench"
Speaking at a rally in Missouri hours after the dramatic Times article was published, Trump railed against the Justice Department. "I want to tell you, we have great people in the Department of Justice. Great people. I really believe, you take a poll, I got to be at 95 percent," he said, according to CNN. "But you have some real bad ones. You've seen what has happened at the FBI. They are all gone. They are all gone. They are all gone. But there is a lingering stench, and we'll get rid of that, too."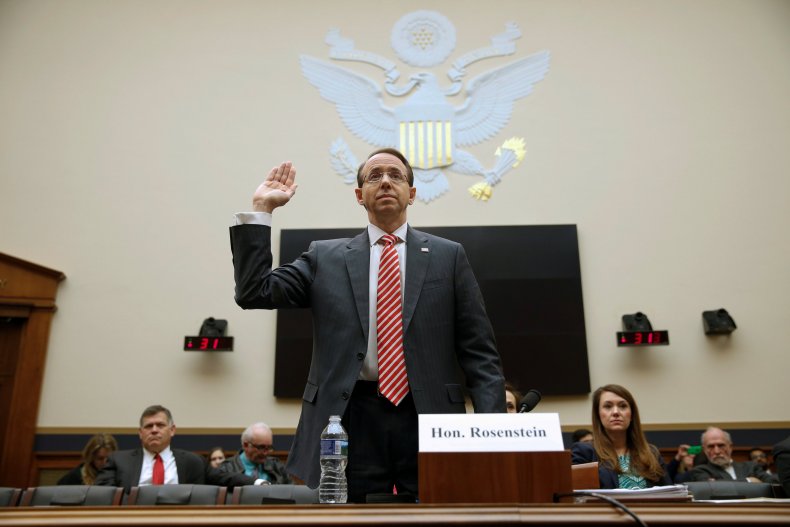 "Fake & Corrupt Russia Investigation"
The president tweeted criticism of the Russia probe on April 11. "Much of the bad blood with Russia is caused by the Fake & Corrupt Russia Investigation, headed up by the all Democrat loyalists, or people that worked for Obama." He wrote that Mueller "is most conflicted of all (except Rosenstein who signed FISA & Comey letter). No Collusion, so they go crazy," he wrote.
Trump repeatedly criticized the decision to grant a Foreign Intelligence Surveillance Act warrant related to surveil Carter Page, a foreign policy adviser on the Trump campaign.
Trump Considers Firing Rosenstein
Trump considered firing Rosenstein in April, Bloomberg and CNN reported. Trump denied the claims.
Privately Seething
The Washington Post reported in December that the president harshly criticized both Attorney General Jeff Sessions and Rosenstein over the Russia investigation. Trump reportedly mocked Rosenstein's congressional testimony and said he looked "weak."
Who Is He?
In statements that were less direct than some of his other harsh criticisms, Trump seemed to imply that Rosenstein's political background could be influencing his decisions. While discussing Sessions's decision to recuse himself from the Russia probe, Trump noted that Rosenstein was from Baltimore.
"Yeah, what Jeff Sessions did was he recused himself right after, right after he became attorney general. And I said, 'Why didn't you tell me this before?' I would have—then I said, 'Who's your deputy?' So his deputy he hardly knew, and that's Rosenstein, Rod Rosenstein, who is from Baltimore. There are very few Republicans in Baltimore, if any. So, he's from Baltimore," Trump told The New York Times in an interview in July 2017. Rosenstein is a registered Republican, according to The Washington Post.
"Witch Hunt"
In a tweet thought to be aimed at Rosenstein, Trump lashed out on June 16, 2017. "I am being investigated for firing the FBI Director by the man who told me to fire the FBI Director! Witch Hunt." Rosenstein had previously written a memo critical of former FBI Director James Comey.