Deputy Attorney General Rod Rosenstein: Robert Mueller Won't Be Fired Without Cause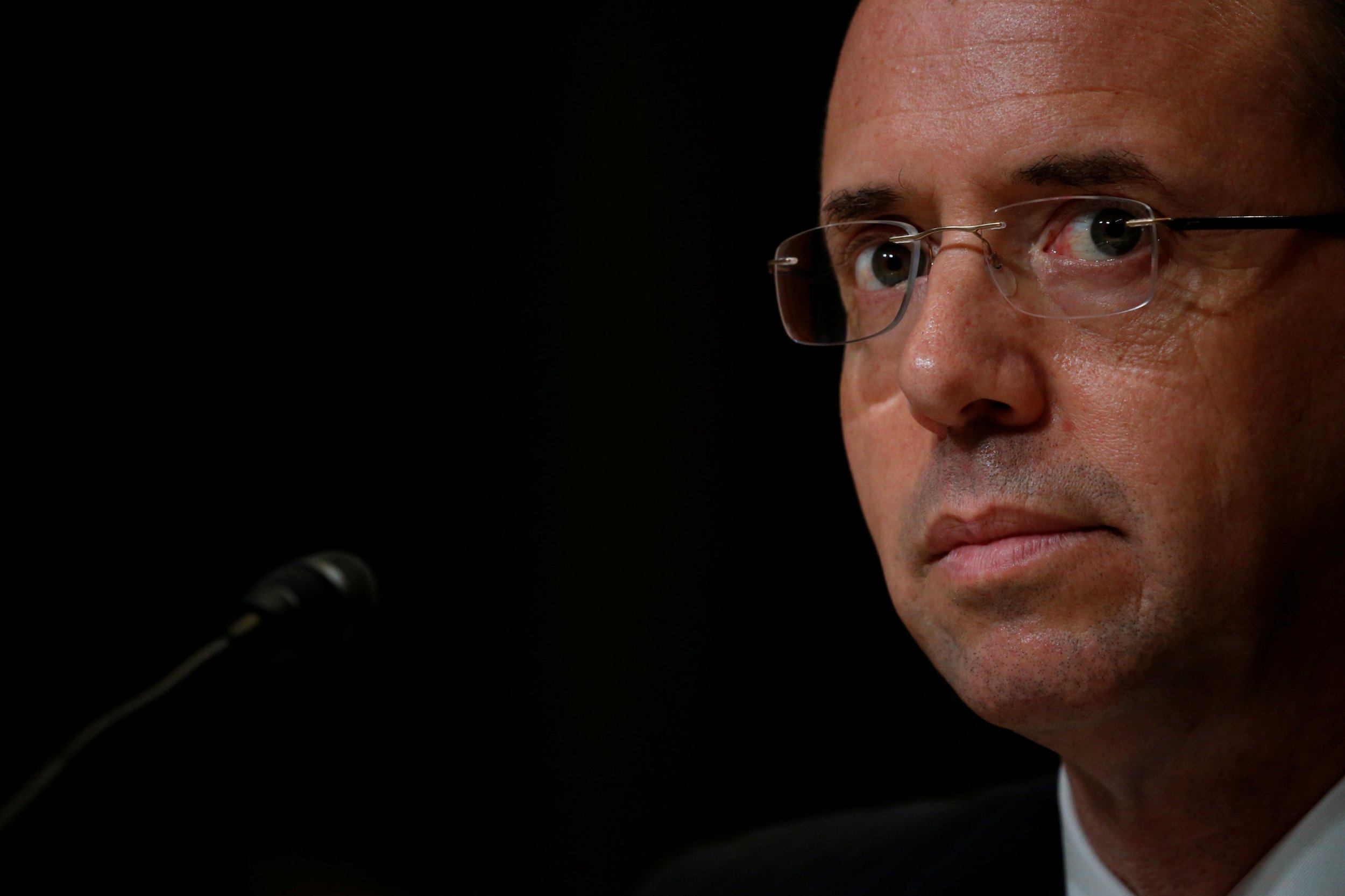 Robert Mueller will continue to serve as special counsel overseeing a federal investigation into Russia, Deputy Attorney General Rod Rosenstein told a Senate committee on Tuesday, shooting down rumors that President Donald Trump was considering calling for his termination.
In May, Rosenstein had announced the appointment of Mueller, a former FBI director, to serve as special counsel overseeing the FBI's investigation into Russia's meddling in the 2016 presidential election and possible collusion with members of the Trump campaign. But on Monday, Christopher Ruddy, who runs the conservative media outlet Newsmax and is friends with Trump, told PBS NewsHour that the president was thinking of calling for Rosenstein to dismiss Mueller.
"I think he's considering perhaps terminating the special counsel," Ruddy said on the program. "I think he's weighing that option."
Related: Experts: If Trump fires Mueller, it would trigger crisis
The comment received immediate criticism from both Democrats and Republicans. Representative Adam Schiff, the Democratic ranking member of the House Permanent Select Committee on Intelligence, which is overseeing its own probe into the Russia matter, tweeted, "If President fired Bob Mueller, Congress would immediately re-establish independent counsel and appoint Bob Mueller. Don't waste our time."
Speaker of the House Paul Ryan, a Republican, said during a press conference on Tuesday, "I think the best vindication for the president is to let this investigation go on independently," meaning the president should not interfere with Mueller's work.
Legal experts also warned against the possibility. "I would predict massive resignations within the [Department of Justice] and White House, among other places, if he does that," Jack Goldsmith, a Harvard Law School professor and a former assistant attorney general and special counsel to the Department of Defense, wrote in a blog post.
But on Tuesday, responding to a question about Mueller during a Senate Committee on Appropriations hearing about the Justice Department budget, Rosenstein said he hasn't seen "good cause" to fire Mueller, which is a requirement for such terminations.
The attorney general typically oversees the special counsel, but in this case Rosenstein is responsible for Mueller because Attorney General Jeff Sessions has recused himself from matters related to any Russia investigation. "It's certainly theoretically possible that the attorney general could fire him, but that's the only person who has authority to fire him. And in fact, the chain of command for the special counsel is only directly to the attorney general," Rosenstein told the Senate committee, "or in this case the acting attorney general, so nobody else in the department would have authority to do that."
The deputy attorney general added, "You have my assurance that we are going to faithfully follow that regulation and Director Mueller is going to have the full degree of independence that he needs to conduct that investigation appropriately."
Later during the hearing, he said in response to a question from another senator, "If there were good cause [to fire Mueller] I would consider it. If there were not good cause, it wouldn't matter to me what anybody says."
White House Press Secretary Sean Spicer has said that Trump hadn't discussed the Mueller matter with Ruddy, the Newsmax CEO.
Sessions was scheduled to testify later on Tuesday before the Senate Select Committee on Intelligence.