Deputy Attorney General Rod Rosenstein penned a mini-profile, published by Time on Tuesday, that praised Attorney General William Barr two days before Barr was expected to release a redacted version of special counsel Robert Mueller's report on President Donald Trump.
As the world awaits the release of the Mueller report on Thursday, questions loom around what information will be redacted and whether the summary Barr put out a few weeks ago reflects Mueller's conclusions or whether it downplayed Trump's legal jeopardy in the Russia collusion investigation.
In his write-up on Barr, who was named one of Time's 100 Most Influential People in the World, Rosenstein made no mention of the Mueller report. Instead, the deputy attorney general focused on the track record of the Department of Justice and wrote that "the rule of law is secure" with Barr at the helm.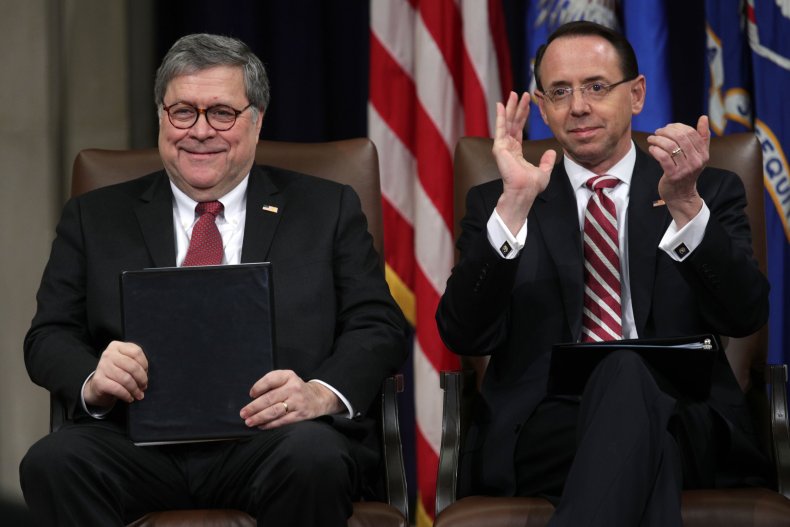 "The enthusiasm in and around the Department of Justice was palpable when President Trump announced his nomination of Attorney General William Pelham Barr," Rosenstein wrote. "A brilliant and principled conservative lawyer, Barr brings unique experience to the challenge of working at the intersection of law and politics."
Rosenstein highlighted that Barr, during his first stint as attorney general from 1991 to 1993, handled politically sensitive cases, delicate national security matters, contentious congressional oversight issues and appointed independent and special counsels.
"He earned widespread respect for his integrity and professionalism, and he enhanced that reputation in the private sector," the deputy attorney general wrote.
After Attorney General Jeff Sessions' forced resignation, Trump nominated Barr, and he began his second term as attorney general on February 14.
"Now Barr returns to public service with a hearty sense of humor, a lifetime of wisdom and a valuable perspective about the Department of Justice," Rosenstein wrote. "He knows the history, he understands the issues, he respects the employees, and he will defend the principles."
Rosenstein concluded: "With Bill Barr at the helm, the rule of law is secure."
Trump reportedly wanted Barr to be his chief defense lawyer with respect to Mueller's probe on Russian interference and collusion with the Trump campaign in the 2016 presidential election. Barr backed Trump's decision to fire FBI Director James Comey, which prompted an obstruction of justice investigation, and scrutinized the appointments of some prosecutors to Mueller's team because they donated to Hillary Clinton's campaign.
In his summary of Mueller's report, Barr wrote that it "did not find that the Trump campaign or anyone associated with it conspired or coordinated with Russia in its efforts to influence the 2016 U.S. presidential election." Mueller's investigation "did not draw a conclusion" on whether Trump obstructed justice but "does not exonerate him," Barr wrote.