Is Rod Rosenstein's Future in Doubt After Memo Suggesting He Gave Trump Cover to Fire Comey?
Questions have been raised over Deputy Attorney General Rod Rosenstein's future after a report on Wednesday disclosed the contents of a memo that suggested he may have provided cover for President Donald Trump to fire FBI Director James Comey.
A memo written by dismissed former FBI deputy director Andrew McCabe reportedly suggests he was concerned that Rosenstein gave Trump an excuse for dismissing Comey in May 2017.
In the confidential memo, McCabe described a conversation he had with the deputy attorney general at the Department of Justice in which the pair discussed another memo criticizing Comey, according to a source quoted by The Associated Press on Wednesday.
In this conversation, McCabe claims Rosenstein told him Trump had originally requested the deputy attorney general reference Russia in the Comey memo—something Rosenstein did not do. Instead the Comey memo outlined the then-FBI director's shortcomings with regard to the investigation into Hillary Clinton's use of a private email server during her tenure as secretary of state.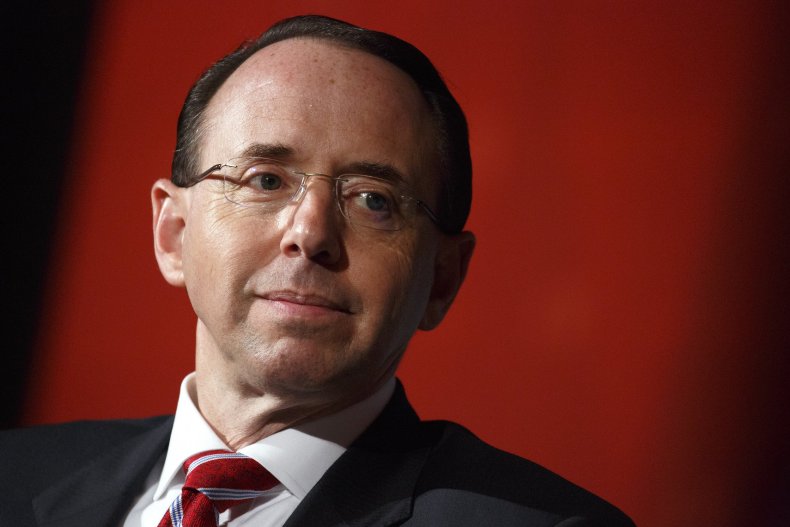 Following this conversation, McCabe reportedly feared that Rosenstein may have provided a cover story for President Trump to fire Comey over the Russia probe, by outlining the Clinton email investigation as the reason for Comey's dismissal, The New York Times reported Wednesday, citing sources familiar with the McCabe memo.
Trump's reasons for firing Comey are considered an important factor in a possible obstruction investigation.
McCabe, who became acting FBI director after Comey's dismissal, was fired in March in a move he suggested at the time was "because of the role I played, the actions I took and the events I witnessed in the aftermath of the firing of James Comey," Business Insider reported.
Despite McCabe's suspicions about Rosenstein providing cover for Trump's dismissal of Comey, the Times reported that someone briefed on the contents of the McCabe memo said the president's suggestion Russia was mentioned simply referred to Trump asking Rosenstein to note he was not personally being investigated in the Russia probe.
The alleged contents of the memo do however raise questions about Rosenstein's future. The deputy attorney general last year suggested he would consider recusing himself from the Russia probe if anything he did turned out to be "relevant" to Mueller's investigation.
"I've talked with Director Mueller about this," Rosenstein said in an interview with Associated Press last year.
"He's going to make the appropriate decisions, and if anything that I did winds up being relevant to his investigation then, as Director Mueller and I discussed, if there's a need from me to recuse, I will," he added.
A recusal by Rosenstein would bring further instability to the Russia probe; however, the alleged contents of the memo have already prompted bigger questions over Rosenstein's future. Indeed, The Hill reported on Thursday that the deputy attorney general is reportedly prepared for a potential dismissal.
Indeed, Fordham University Law Professor Jed Shugerman on Thursday raised the question over whether it would be appropriate for Rosenstein to recuse himself from the Russia probe.
"There aren't clear rules about recusal," he said in a series of tweets. "But the basic standard is that if there is "an appearance of bias," one should recuse. Though I support Rosenstein's handling of investigation after May 10, he seems to have made a mistake in his handling of the letter, and there is a legitimate case that one cannot supervise a case in which one is a witness. (And that's putting it generously). It pains me to say it, but there is a valid claim of an appearance of impropriety and bias. And this is a problem for the rule of law and legitimacy."
Updated | This story has been expanded to include additional information about a potential recusal.