Cadets at The Citadel, the famed military academy in South Carolina, are going on a hunger strike as rodents have been reportedly seen in the dining hall. Posts about poor conditions at the school are circulating around social media, including a rodent in a toaster, insects in the food and raw chicken being served.
According to local affiliate, WYFF, many cadets declined to appear on camera, but did confirm they were taking part in the hunger strike. "Long live the hunger strike," shouted one cadet. "I could go another 48 hours."
Citadel Vice President of Communication and Marketing, Col. John Dorrian (Ret.), told a WYFF reporter, "Right now, the cadets are irritated at us, because we haven't met their expectations. They are right to be irritated with us, because it's not good enough yet, and we're gonna fix that."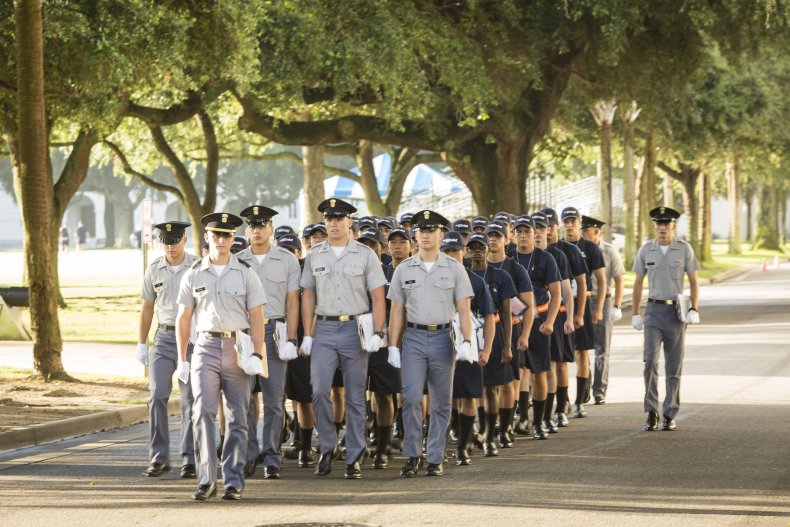 Some of those fixes include remediation work around the edge of the building to ensure there are no cracks in the foundation, additional rodent traps and the hiring of an outside contractor. The contractor will be overseeing Sodexo, the company in charge of food preparation in the Citadel's dining hall.
Administration at The Citadel is aware of the hunger strike, and claim that disciplinary action will not be taken against students who choose to participate.
In a recent health inspection, the Department of Health and Environmental Control (DHEC) found no evidence of rodent infestation, giving the dining hall a score of 96. One theory concerning the sudden appearance of rodents in the dining hall is that they were driven into the Citadel by Hurricane Dorian.
"With that being said," Dorrian told the Post and Courier, "we're not going to allow that to be an excuse, because we're not going to have any rodent activity, or any other pests allowed in our dining facility." The dining hall does receive monthly pest control treatments.
The fountains are also reportedly dispensing brown water. The Citadel is working on flushing their water pipes. "It's iron oxide," Dorrian said. "It's not unsafe, but obviously it's very unappetizing."
Historically, hunger strikes have been an effective way to call attention to untenable conditions. In 2015, activists in Chicago went on a hunger strike to protest the closing of Walter H. Dyett High School. Parents and members of the community refused to eat until the school was reopened as a Green Technology community high school.
The Dyett hunger strike lasted 34 days. In the end, they were able to push Chicago Public Schools into reopening Dyett High as an arts-themed, open-enrollment school.
No timetable has been announced for the hunger strike at the Citadel.