Free Rodney Reed: 100,000 Sign Petition to Stop Execution of Death Row Inmate in Texas
Family and supporters of death row inmate Rodney Reed are continuing to push for a reprieve with his execution planned to take place in less than three weeks. A change.org petition urging the execution be stopped and all new evidence in the case be presented to a jury has also recently gained more than 100,000 signatures.
Nearly 100 supporters gathered outside the Capitol building in Austin, Texas, on Saturday, November 2, to urge Governor Greg Abbott to show clemency for the man they believe to be innocent.
"There's so much evidence out there, there's so much doubt out there, and it just blows my mind that they can sit back, and let us sit in this state of uncertainty," his brother, Rodrick Reed, told CBS Austin during the demonstration. "That's torture."
Abbott is facing continuing pressure to halt Reed's execution. On October 19, Kim Kardashian tweeted to her 62 million followers: "Please @GovAbbott How can you execute a man when since his trial, substantial evidence that would exonerate Rodney Reed has come forward and even implicates the other person of interest. I URGE YOU TO DO THE RIGHT THING."
Rodney Reed has spent the past 21 years on death row after he was convicted of the 1996 rape and murder of Stacey Stites—a woman he was having a sexual relationship with—in Bishop, Texas. He is due to be put to death on November 20.
According to the Innocence Project, Texas is on the "verge of executing an innocent man," citing a number of contradicting confessions and evidence which implicates Stites's fiancé, Jimmy Fennell, a local police officer who was originally the prime suspect in her murder.
The project, along with Reed's attorneys, filed an application for clemency with the Texas Board of Pardons and Paroles on October 30 in the wake of a new affidavit sworn by Arthur Snow.
Snow, a former member of the Aryan Brotherhood and prison mate of Fennell, claims the officer admitted to killing his fiancée at the Stevenson Unit in Cuero in 2010.
The affidavit states that Fennell came to Snow to ask for protection from the white supremacist prison gang.
Snow said that during conversations with Fennell, he spoke of his fiancée with "a lot of hatred and resentment" because she was having an affair with a black man before later confessing, "I had to kill my n*****-loving fiancée."
Fennell was serving time for rape at the Texas prison when he allegedly made the confession.
Another sworn affidavit from former fellow Bastrop Sheriff's Officer Charles Wayne Fletcher claims that Fennell said he believed Stites was "f****** a n*****."
Fletcher also described how Fennell was acting "cold, empty and emotionless" at Stites' funeral.
"I was so disturbed by his behavior that it caused me to question whether he was involved in Stacey's death," Fletcher said.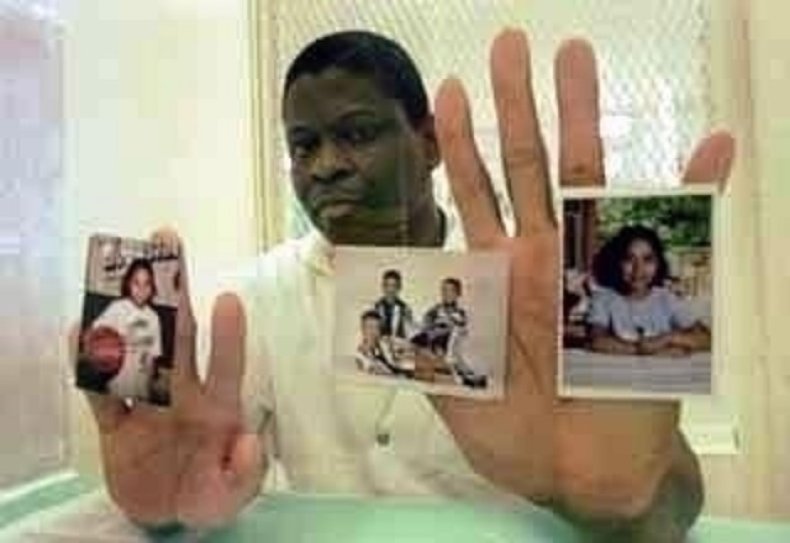 Two other people have since come forward to provide evidence against Fennell, including an insurance salesperson who claimed he threatened to kill Stites while applying for life insurance. An officer from the Lee County Sheriff's Office also alleged Fennell made "alarming and incriminating statements" at Stites' funeral regarding her body, according to the Innocence Project.
Innocence Project say that Reed was mainly found guilty because his semen was taken from Stites's body, which was attributed to the consensual relationship between them.
They say the murder weapon has never been tested for DNA and three forensic experts have admitted errors in their testimonies, including that the original time of death for Stites is inaccurate.
"Mr. Reed's execution is less than one month away, meaning Texas is frighteningly close to executing an innocent man," Bryce Benjet, a senior staff attorney at the Innocence Project and Reed's lead counsel, said in a statement after filing the appliction.
"Between the medical and scientific evidence, and multiple new, credible witnesses, the original case trial has been completely deconstructed and disproven.
"It should be clear to anyone who looks at the evidence in this case that Mr. Reed did not commit the sexual assault or murder of Stacey Stites. To execute Mr. Reed would be a grave miscarriage of justice that will create irreparable damage to public confidence in the accuracy and fairness of the Texas criminal justice system."
Fennell's lawyers did not immediately respond to a request for comment.
The graphic below, provided by Statista, illustrates which U.S. states still practice the death penalty.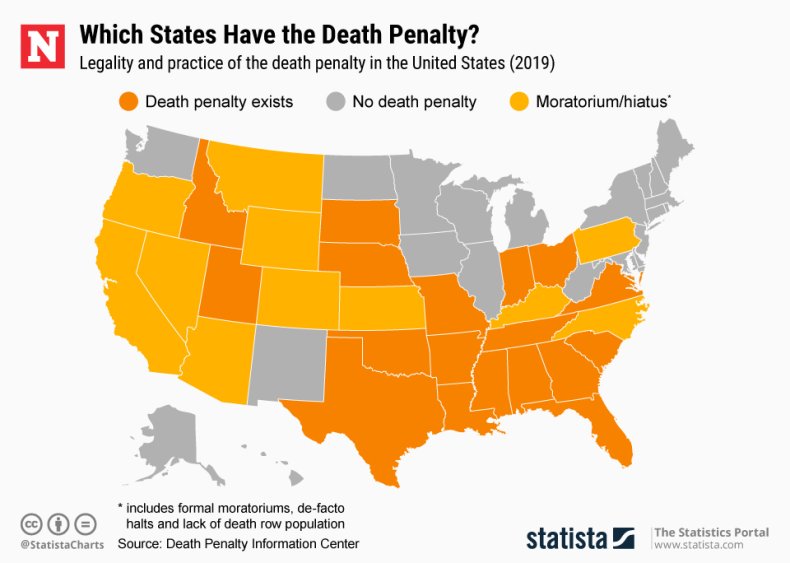 This article was updated to include an infographic.