Philippine President Rodrigo Duterte Sang Donald Trump a Love Song During Dinner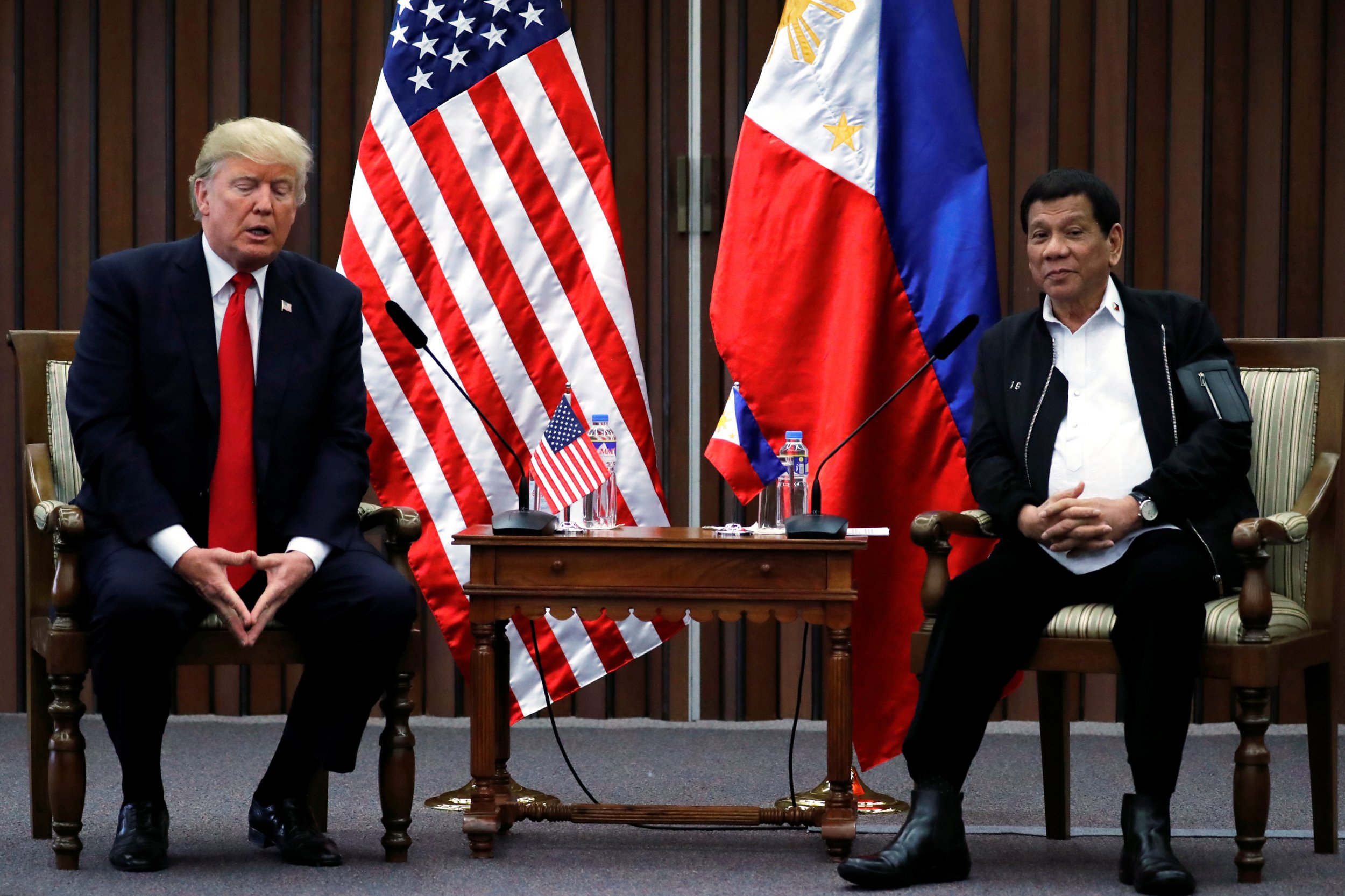 Philippine strongman Rodrigo Duterte isn't too much of a tough guy to woo Donald Trump with a love song.
"I can't stop the beating of my heart," Duterte sang at a dinner attended by world leaders on Sunday night. "You are the one I'm wishing for. You are the light in my world, a half of this heart of mine."
Duterte said he sang the popular song "Ikaw" ("You," in English) because Trump had specifically requested the serenade. The song is a traditional sappy pop song performed in the Filipino language.
Canadian Prime Minister Justin Trudeau, Indian Prime Minister Narendra Modi, Japanese Prime Minister Shinzō Abe, and Russian Prime Minister Dmitry Medvedev were also in the room. But it appeared Duterte was crooning to the American president.
Trump has proven to be susceptible to flattery and appears to believe that overtures of world leaders are made because they genuinely like him. Some experts fear that Trump, who is known to change his foreign policy positions based on his personal interactions with world leaders, may be manipulated by heads of state who know which strings to pull.
Chinese President Xi Jinping already succeeded in buttering up Trump with a red-carpet welcome. In return, Trump temporarily changed the backdrop of his Twitter account to a picture of himself and Melania Trump with Xi and China's first lady.
Later, he backed off his criticism of China's large trade deficit with the U.S., once a key part of his campaign rhetoric and "America first" position.
"I don't blame China. After all, who can blame a country for being able to take advantage of another country for the benefit of their citizens? I give China great credit," he told reporters in Beijing last week.
It is likely Duterte is looking for similar results. U.S.-Philippine relations had deteriorated over the past several years, as Duterte's police forces killed more than 3,000 people in a state-sanctioned war on drugs that critics said was a massive human rights violation. Duterte also had famously bragged about stabbing someone to death in his youth, and cracked jokes about the gang rape and murder of an Australian nun in the Philippines.
Following the dinnertime song, Trump highlighted his "great relationship" with the Philippine president and failed to mention human rights abuses. Instead, Trump and Duterte reportedly bonded over their mutual dislike of former President Barack Obama. Trump also praised Duterte's war on drugs in a phone call with the Philippine leader in April.
Experts say Trump's lack of interest in human rights will help to improve the relationship between the U.S. and the Philippines.
"I expect to see some normalization of U.S.-Philippine ties with both Trump and Duterte at the helm; the latter's serenade notwithstanding," said Miguel Chanco, an analyst at the Economist Intelligence Unit. "Crucially, Donald Trump simply isn't in the business of exporting democracy and human rights in Asia, making him a much easier partner compared with Barack Obama.
"I wouldn't read too much into Duterte's 'karaoke diplomacy.' It certainly isn't the first time that he has flexed his vocal muscles in an official capacity," Chanco added, referring to a moment when Duterte sang to Malaysia's Prime Minister last year.
People in the Philippines weren't exactly singing to Trump, however. Protesters in Manila burned a swastika-shaped effigy of him as he arrived, and police used water cannons to deter the activists.