Roe v. Wade Overturn Launches Battles for Women's Privacy in State Courts
Without federal protection for the right to an abortion after the U.S. Supreme Court's ruling in Dobbs v. Jackson Women's Health Organization last week, state courts are becoming the focus of legal battles to determine how a state constitution defines liberty and right to privacy in relation to abortion access.
At its core, last Friday's Dobbs decision overruled the landmark 1973 Roe v. Wade case in which the nation's highest court ruled that access to abortion services was protected by the U.S. Constitution. The majority wrote in Roe that under the 14th Amendment and the right to privacy, women had the right to be able to choose abortion.
State legislatures have taken steps to place their own parameters around abortion, with some promising to keep the procedure legal, while seven states prohibiting abortions as of July 1, according to The New York Times. All states that prohibit abortions allow exceptions if the life of the mother is at serious risk, and Oklahoma permits exceptions in case of rape or incest.
Experts say the differing opinions could leave patients confused and fearful of prosecution as many policies lack explicit protections for interstate travel and the right to health care privacy. University of Pittsburgh law professor Greer Donley told Newsweek that privacy for individuals who seek an abortion will be impacted by how states choose to prosecute anyone who receives or assists in an abortion outside of its legal parameters.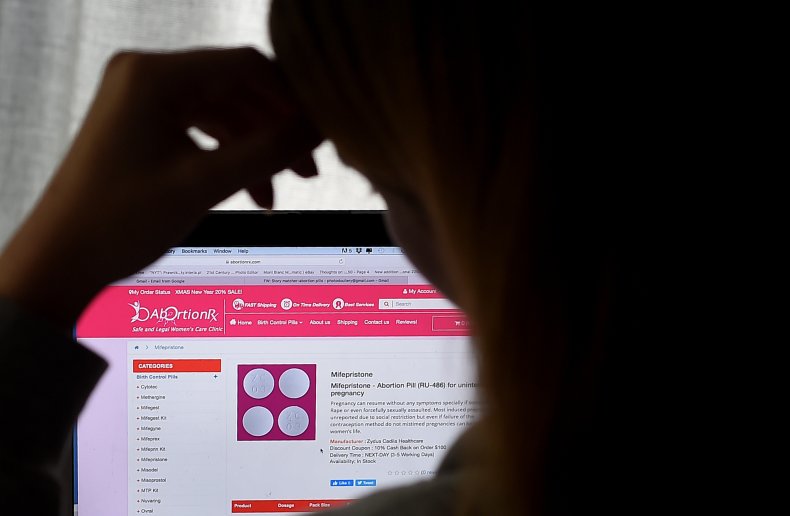 "They'll have to follow their same legal and ethical guidelines in terms of investigations, but you know, we know from other types of criminal law that people's privacy rights are often infringed in the context of criminal investigation," Donley said.
Many abortion activists have warned women to delete period-tracking apps that store sensitive information from the users, fearing such data could be used in abortion-related investigations. A study conducted by Atlas VPN found that many of the apps—which can collect everything from a user's history to their location—share stored data with third-party companies.
Donley said that she assumes a law enforcement agency would first have to obtain a warrant before asking for such sensitive information, but she agreed that it could be possible for data from period-tracking apps to be used as evidence against individuals who receive an abortion.
Donley also expressed concern about privacy for individuals who seek abortion care from crisis pregnancy centers. According to the Crisis Pregnancy Center Map website, the goal is to discourage women from having an abortion, and the centers typically do not offer many medical services. As of 2019, the Crisis Pregnancy Center Map had identified almost 2,500 crisis centers with a physical address across the U.S.
With a growing number of telehealth providers as well, crisis pregnancy centers can also disguise themselves online for patients who seek mail-in abortion-pill prescriptions, which the FDA has approved for use until the 10th week of pregnancy.
"In a post-Roe world, those crisis pregnancy centers can easily be used to just give people's information over," Donley said.
Interstate travel for patients seeking an abortion has also become a question for state legislatures, with some conservative lawmakers in states like Texas promising to push policies that would prosecute those who assist individuals who travel outside the state to terminate a pregnancy.
Temple University School of Law Interim Dean Rachel Rebouché points out that such legislation could face many obstacles before being passed, given that federal law protects an individual's right to travel as well as interstate commerce.
"But all that aside, it doesn't mean that states won't try," Rebouché said.
Abortion-rights activists have taken concerns about privacy under new abortion laws to courts in their states, arguing that policies in many trigger laws that went into effect following the Dobbs decision violate right to privacy in a state's constitution.
"Often how the federal constitution is interpreted aids how states interpret their own constitution," Rebouché told Newsweek. "But states can and have written constitutions that, for instance, have more explicit privacy rights or more robust rights for autonomy."
On Thursday, a circuit court judge in Tallahassee, Florida, temporarily blocked the state's 15-week ban on abortions that was set to take effect on Friday, saying that the law violates the state's constitutional right to privacy. Other state courts have temporarily struck down trigger laws using similar reasoning, including in Kentucky, Louisiana, Texas and Utah.
Rebouché said that abortion rights can also be fought at the local level, as cities have the power to pass legislation that could impact whether they will prioritize prosecuting individuals who violate the state's abortion policy. City government can also enact its own legislation regarding health care coverage for its employees as long as it falls within the parameters of the state's abortion policy.
In Ohio, where abortions are banned after a fetal heartbeat can be detected around the sixth week of pregnancy, the Cincinnati City Council unanimously voted on Wednesday to repeal an ordinance that restricted city employees from having elective abortion covered by health care. The city is also expected to implement travel reimbursement for employees who have to leave the state for health care service.
However, Rebouché added that a locality's jurisdiction over abortion care is subject to change if a state legislates to change a city's powers.
"We are in store for a very complicated, dynamic legal landscape that is going to be hard to navigate for anybody," Rebouché said.